Cord-cutting is becoming a common practice among people opting out of cable television while seeking variety. Content service providers are taking advantage of this behavioural pattern. A good alternative in the market is the Hulu subscription that allows you to stream TV shows and other content on their channel lineup. It is a compelling choice for starters as the subscription plans are enticing. Its membership doesn't have hidden charges, rental of equipment, or appointments for installation. Hulu packages is among top live TV streaming services like Youtube TV, Sling TV, Philo TV and FuboTV.

Hulu free trial
Get one month Hulu free trial
Hulu Subscription plans
Hulu subscription plans offer a good blend depending on the cost of the package you select. The Hulu packages come in three main bundles, as discussed below: –
Hulu – The Hulu monthly cost for this package is $6.99 and grants you unlimited viewership to the streaming library. The package has a free trial period for one month to potential subscribers with ads in the content. You get access to basic channels and a catalog of over 85,000 episodes and movies for your entertainment. If you are a fan of movie series, you get access to full seasons, kids' programs, and Hulu originals. You can stream two devices simultaneously under this package. What's more? You are free to upgrade to other plans when you feel.
Hulu no ads – Just as the name suggests, this Hulu subscription does not contain ads in the streaming content. You get to enjoy all under the Hulu basic plan with no ads appearing as you stream your content. The cost of this package is $ 11.99 per month, with no commercials in most of its programming. Unfortunately, due to rights issues, there are a handful of programs that will run with ads under this package, such as New Girl and Grey's Anatomy.
Hulu + Live TV – The package is a premium one that has everything you may be looking for! The Hulu price for this plan is $ 64.99 per month. The package grants you unlimited access to the streaming library with few ads in the content. Besides, you get to enjoy hit movies, kids shows, Hulu Originals, among others. The package has more than 65 Live TV channels that include sports, entertainment, and news. The channels include Fox News, CNN, ESPN, Discovery, Cartoon Network, and Food Network. Cloud DVR storage comes as part of the package with 50 hours of storing recorded Live shows.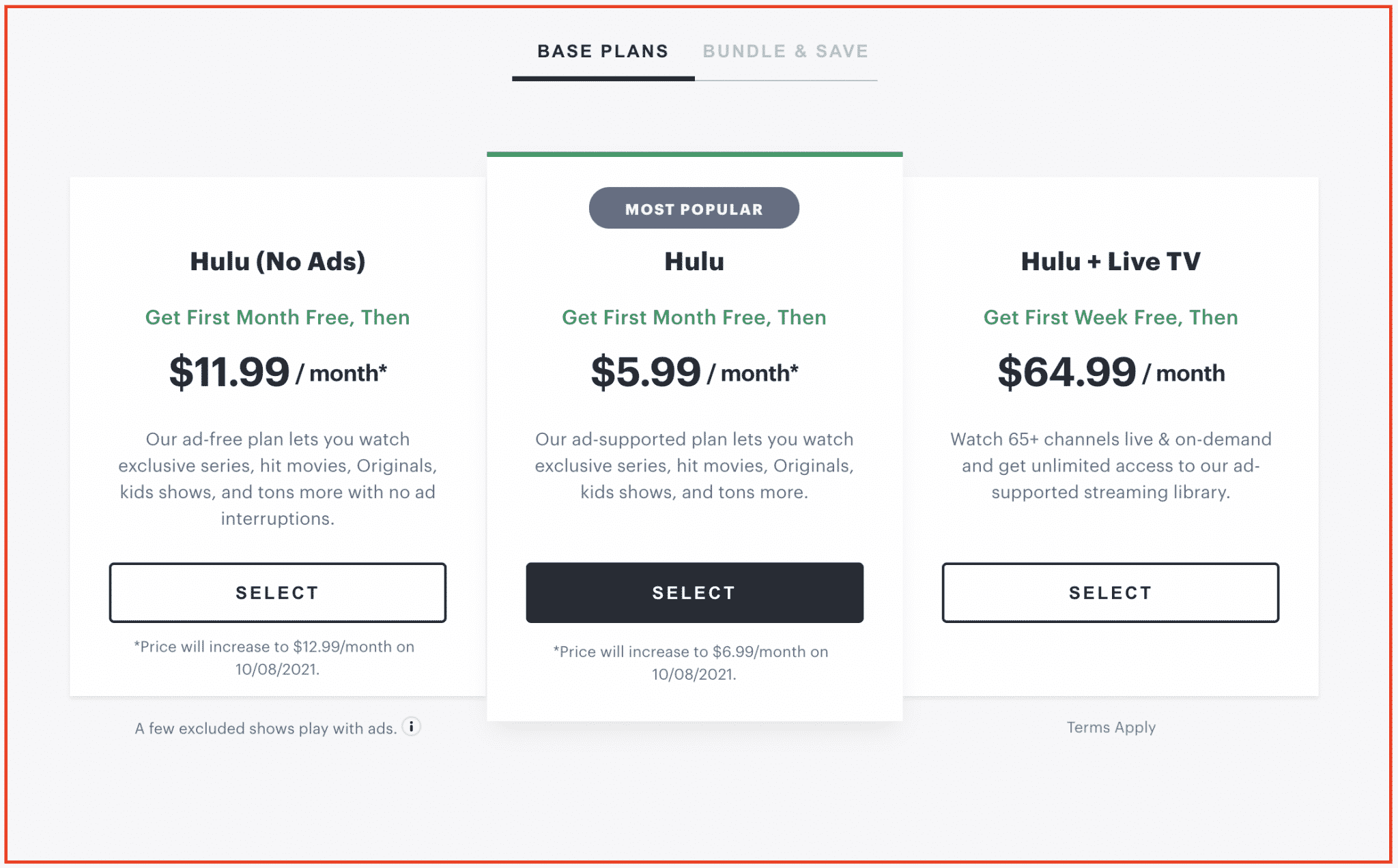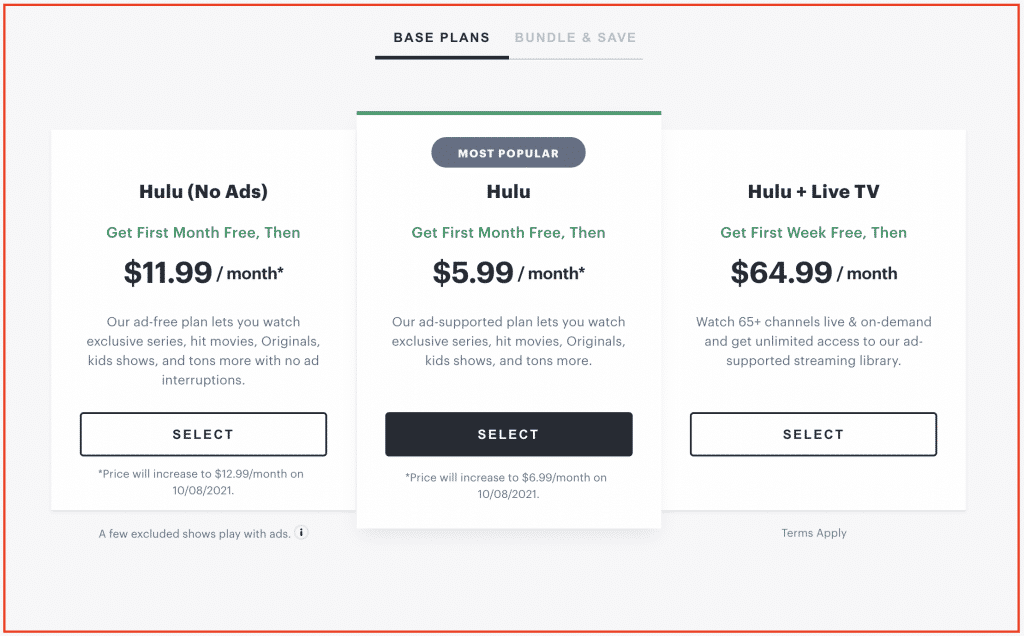 Below is a tabulation of the Hulu packages
Hulu Premium Add-ons
Hulu membership offers you a range of premium add-ons you can choose to bolster your current package. The add-ons can be added to any of the four packages. They include the following: –
HBO
It comes at an additional $ 14.99 per month for any of the four packages. You can watch popular movies, favorite shows, documentaries, pre-recorded content, and live matches from different sports. This add-on grants you access to popular movie seasons and episodes with no need to subscribe to multiple providers. You can try HBO Max free trial for 7 days with a Hulu subscription.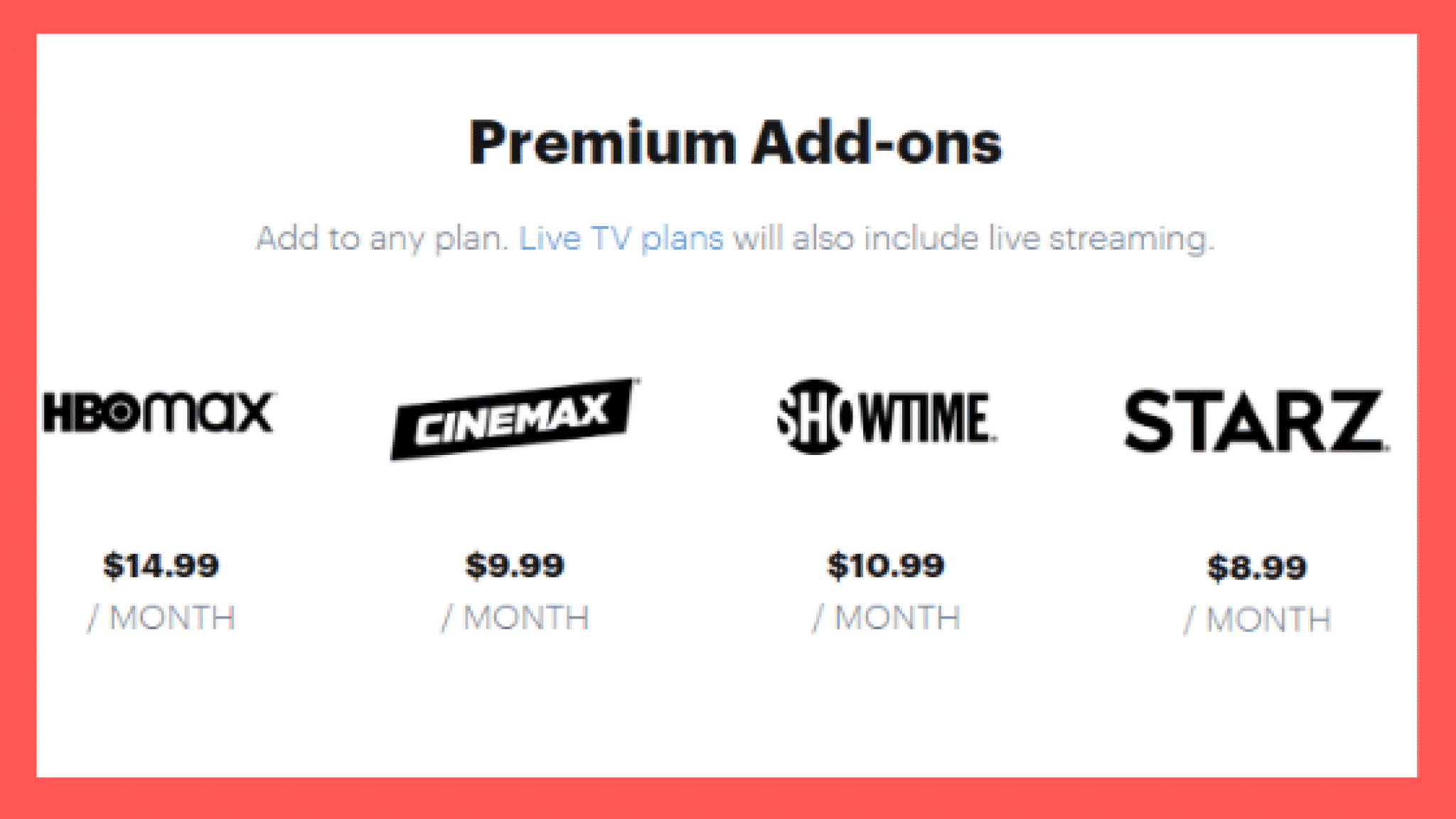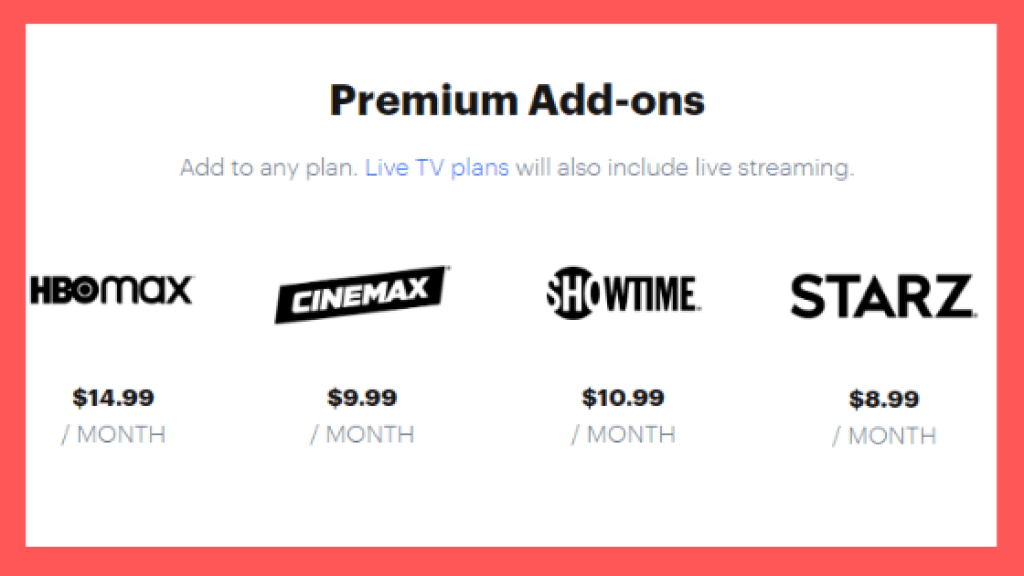 SHOWTIME
You can enjoy this add-on with an additional $ 10.99 every month over your existing package. You can also watch your favorite shows that come in the form of pre-recorded episodes. Your current Hulu credentials will work on this add-on.
Cinemax
If you are a fan of action-packed movies, this add-on is for you. It comes at a Hulu rate of $ 9.99 per month over your existing package. You also get to access behind-the-scenes shots of your favorite action movie.
Starz
The subscription bundling allows you to watch movies from Starz on your Hulu device for one week at no cost. If you are happy with the content, you can pay $ 8.99 per month as your new Hulu cost.
Hulu Packages Feature Add-ons
If you are subscribing to Hulu packages with Live TV, you can opt for feature add-ons, which give you additional capabilities over your existing plan restrictions. They include the following: –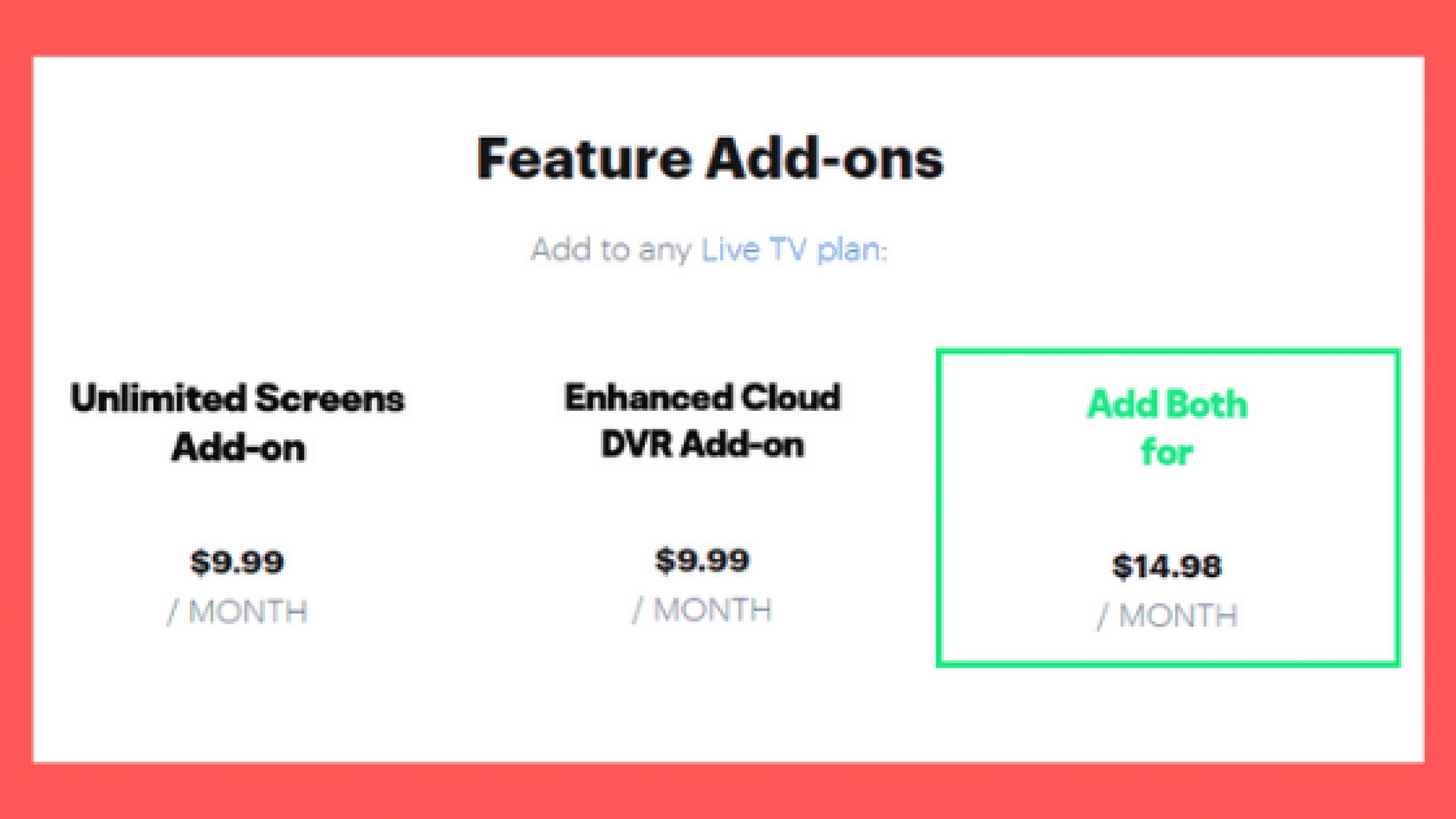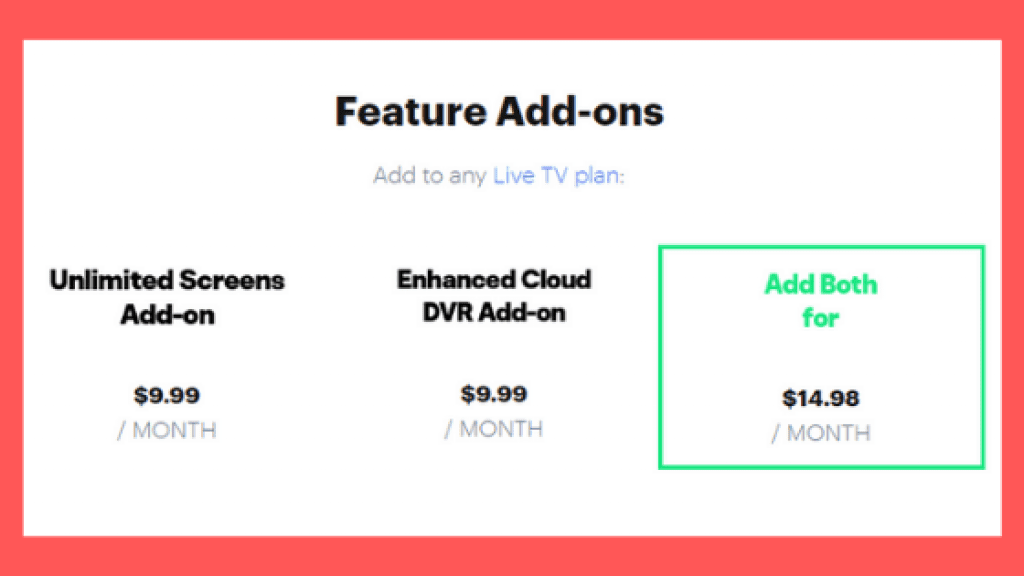 Enhanced Cloud DVR – The standard Cloud DVR recording comes with a limited recording duration of 50 hours. If you wish to get more, you can upgrade to 200 hours at an additional cost of $ 15 every month.
Unlimited Screens – This is an upgrade that comes on Hulu packages that have Live TV. From the standard two streams, the upgrade grants you an unlimited number of streams at home. What's more? You get an additional three screens for streaming away from home. The add-on comes at the cost of $ 15 per month and is ideal for big families where there is a varying preference of what each person needs to watch.
Network Add-ons
With network add-ons, Hulu Live TV subscribers have the option of bolstering their existing channel base. The add-on allows you to get extra content through additional channels. They include the following: –
Entertainment – If you have a bias for lifestyle channels, then this is your ideal add-on to your current subscription. The additional channels you get include Discovery Family, Cooking Channels, Destination America, CNBC World, American Heroes Channel, Science Channel, FYI, DIY, and Discovery Life. You only need to part with $ 8 per month to enjoy all these.
Espanol – If you are a fan of Spanish, Espanol add-on gives you additional channels with a focus on the Spanish language such as ESPN Desportes, Universo, Discovery Familia, and CNN en Espanol. You get access to this add-on at the cost of $ 5 per month over your current Hulu cost.
Hulu Subscription bundles
Bundling subscriptions with Hulu plans is an added benefit for subscribers for more value on their package. Subscription bundles from different companies, in conjunction with Hulu, allow you to have a mix of more channels for variety. Currently, Hulu has a subscription bundles deal with the following subscribers: –
Disney Plus
If you are a subscriber billed by Disney, this bundling allows you to watch movies, series, Disney content in short form, Star Wars, Marvel, Pixar, and National Geographic, among others for $ 6.99 a month. The bundling gives you Hulu with ads. If you would like a better package or add-ons, you have to pay separately for Hulu.
ESPN Plus
Subscribers of ESPN plus can now get access to Hulu under their current plan that goes for $6.99 a month. The bundle gives you live content and sports on demand that include shows, highlights, news, and games. Besides, you can sign up for a bundle that includes Disney plus, Hulu, and ESPN plus for $ 13.99 a month.
Spotify
If you decide to bundle this package, you will pay $ 9.99 and get Hulu with ads for free. This is ideal if you prefer streaming TV shows and music as Spotify has a rich playlist. You need to sign up through Spotify Premium, which will be handling your monthly bills. Unfortunately, if you want to upgrade your current Spotify plan, you will have to pay for individual Hulu and Spotify accounts.
Sprint
You can add Hulu with ads to your existing Sprint plan at no extra cost. This bundling is ideal if you like to get data, text, and talk (Sprint service) while enjoying viewership from Hulu's vast streaming library. If you would like to enjoy Hulu Live TV on your Sprint subscription, you pay the Hulu monthly cost of $ 54.99 per month.
Hulu packages complete review
Cord-cutters are getting more options as they switch from cable TV. With an entry Hulu TV price of $ 5.99 per month for basic Hulu, you get access to 85000 episodes and movies. If you are unsure of the service, the free trial period across all packages will give you hints.
Eighty-five thousand episodes are more than what you will ever need. Live TV gets you more than 60 channels, with the basic Cloud DVR allowing you up to 50 hours of recording. For a superior experience, you can opt-in premium add-ons, feature add-ons, and network add-ons. Looking at competitors like Fubotv plans & Sling TV packages and what they offer, Hulu gives you a better deal.
Conclusion
Viewers are in a constant search for better deals from content service providers. The continuous search has pushed content service providers to come up with innovative ways of pleasing viewers. Hulu packages remain a favorite option among cord-cutters that cater to different viewership categories. Subscription bundling is also spreading its reach to subscribers of other services like Spotify.