Wondering about the Acorn TV subscription and what it entails? Acorn TV is a dream come true for many fans of British shows, mystery series, and crime documentaries. But what exactly is Acorn TV? Discover here all about Acorn TV, its subscription options, channels, supporting devices, and all essential details.
What is Acorn TV?
Acorn TV is a video-on-demand service, which is part of the Acorn Media Group. It was launched in 2011 and offers its services to several countries including the US, the UK, Canada, New Zealand, and Australia. Acorn TV offers first-rate documentaries, dramas, comedies, mysteries, and so much more.
Besides, the platform mainly provides shows from the United Kingdom, but its subscribers can also enjoy shows from Ireland, New Zealand, Canada, and Australia.  With an Acorn TV subscription, you will get a chance to binge-watch trending shows like A Place to Call Home and Acorn TV originals like Agatha Raisins and Detectorists. 
How much does Acorn TV subscription cost?
Currently, Acorn TV offers two subscription options:
Monthly Subscription: Acorn TV price was previously $5.99, but was increased to $6.99 per month. Get to enjoy titles with HD quality of 720p as well as four streaming plans. 
Annual Subscription: The Acorn TV annual subscription costs $69.99 a year, which was previously $59.99. This is a discount if compared to the monthly price in a year. Annual membership can also be purchased as a gift for a loved one, whereby they will get a one-year subscription. With this Acorn TV plan, members will enjoy hundreds of dramas, comedies, and mysteries. It is worth noting that when you subscribe to the annual membership, your credit card will be charged once after 12 months. 
Both these Acorn TV subscriptions offer the same features. The only difference is the duration of how you will be paying for them. Such features available in both plans include:
Foreign language selections: You can watch shows in multiple languages including Italian, Spanish, Portuguese, English, and so much more. 
Exclusive content: Get a chance to watch some exclusive shows when you subscribe to Acorn TV.
Coming Soon Feature: With an Acorn TV monthly or annual subscription, you will see what content will come soon. 
Commercial-free library
Customizable closed captions
You can also try out the Acorn TV free trial. The latter is available for only seven days and after you have signed up with a credit card. You can cancel the free trial at any time before the week is over to avoid paying.
What channels are on Acorn TV?
Acorn TV offers shows from several producers and distributors including BBC Studios, All3Media, Channel 4, ITV, ZDF, Content Media, and DRG. Some of the most popular shows that the Acorn TV cost covers include:
The Brokenwood Mysteries
The Other One
Murdoch Mysteries
Midsomer Murders
The Heart Guy
Cuffs
The Good Karma Hospital
Janet King
You, Me, and Them
Under the Vines
Agatha Raisin
Dominion Creek
Monty Don's Japanese Gardens
London Kills
Line of Duty
Queens of Mystery
In short, with a subscription, you get to watch Acorn TV Originals, comedy, drama, crime shows, documentaries, mysteries, and award-winning shows.
Supporting Devices
With an Acorn TV subscription, you can watch it from multiple devices as long as you have a good internet connection. Below is the full list of compatible devices:
iPhone/iPad: iOS 9.0 and later
Android phone and tablets: version 4.2 and later
Apple TV: 4th Generation and later
NextGem TV: Netbox 4K and Netbox HD
Google Chromecast
Roku: Roku TV and Roku Stick
Amazon Fire TV: Fire TV, Fire TV Stick, Fire TV Cube
Smart TVs
PC and Mac laptops: Via web browser through Google Chrome
Desktops: Via web browser through Google Chrome
There is also an Acorn TV app that you can install on your mobile devices.
How many devices does it support at a time?
Acorn TV allows its users to watch with one account on four devices at the same time.
Streaming services where you can watch Acorn TV?
You can stream some of Acorn's TV shows from Netflix and Amazon Prime. Acorn TV is not free in either of these streaming services. Instead, you will be paying $6.99 per month for Acorn TV Roku, Netflix, and Amazon Prime. However, this should not be a problem if you already have a subscription. Simply add Acorn TV on any of these platforms and log in to your Acorn account to continue watching the programs.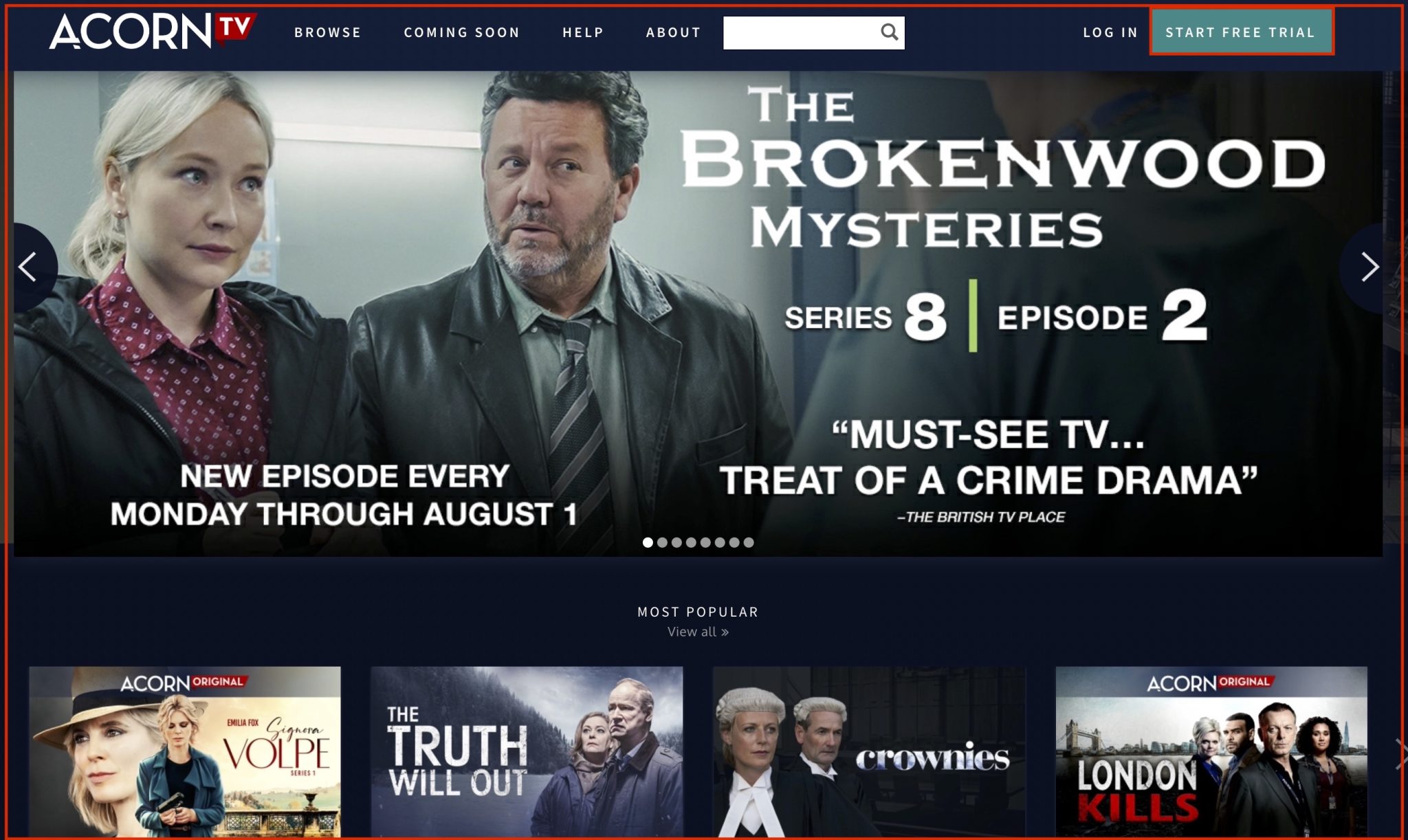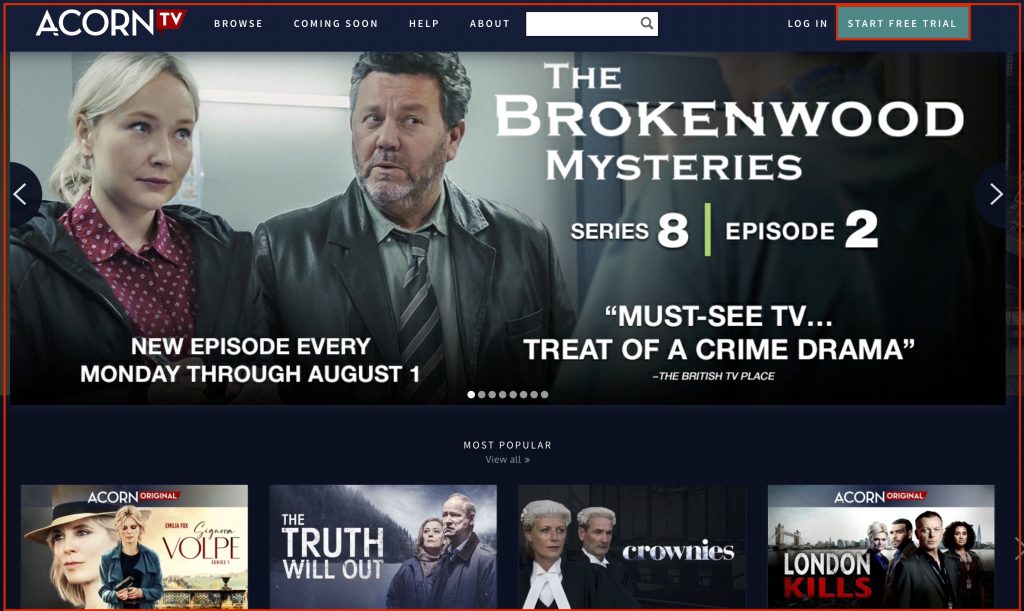 Is Acorn TV worth the money?
If you are a fan of British dramas, mysteries, documentaries, and crime shows, then an Acorn TV subscription is worth the time. The shows are interesting and of high quality. They are also engaging and twisty and will keep you hooked. Additionally, Acorn TV offers a diverse number of shows and keeps on adding new ones regularly. So, you will always have something to watch. Besides, the platform is affordable as compared to other streaming services. 
How do I add Acorn TV to my Amazon Prime?
It is possible to watch Acorn TV through Amazon Prime Video. But, instead of viewing the shows from the app, you will watch them over the Amazon app on your phone, tablet, or TV. Adding Acorn TV Amazon Prime allows you to get smoother streaming, gives you the convenience of managing all your subscriptions quickly, and makes it easier to watch on your smart TV.  
Below are steps on how you can add acorn TV to your Amazon Prime:
Sign in to your Amazon account on your device
Go through the list of channels. You can locate Acorn TV under the "International" section. Select it
Next, click "Start Free Trial"
Enter the pin if required
Confirm your details
Can I get Acorn TV on Netflix?
You can find Acorn TV shows and movies on Netflix, but, not all of them are available on the platform. Some content may be missing from Netflix since the streaming service removes shows every month. So ensure to check whether your favorite shows are available on Netflix.
Can I stream Acorn TV on my smart TV?
You can stream Acorn TV on your smart TV, but this will also depend on the television type. For instance, if using Samsung TV, launch the app store and search for Acorn TV. Next, select "Add to Home" and wait for the installation process to complete. Once installed in your smart TV, log in using your credentials. If you do not have an account, sign up using the official Acorn TV website. Now you can stream Acorn TV shows from your smart TV.
Conclusion
There you have it. We have discussed some of the most important detail you need to know about an Acorn TV subscription. By now, you are familiar with all its plans, supported devices, compatible streaming services, and how to add Acorn TV on Amazon Prime. Overall, Acorn TV may not be a total replacement for other top streaming services. However, it streams highly rated dramas, comedies, and mysteries from all over the world. It is affordable and provides the best features as compared to other platforms that are similar to it.