Like other alternatives to cable TV, Starz is one of the platforms birthed by the streaming revolution. And if you're a cord-cutter, chances are, you're familiar with popular names in the streaming industry such as Amazon Prime, Netflix and Vidgo TV.
However, Starz stands out among competitors in terms of pricing and original programming. Besides purchasing a Starz subscription as a standalone service, you can also use it as an add-on channel on various streaming services such as Apple TV, Amazon Prime Video, and Roku.
But is Starz worth your money? Here is a review of Starz subscription price, Starz features and how you can get a Starz free trial.
Starz Subscription Cost
Coming at an extremely affordable price off the bat and offering massive discounts for the first three months, Starz subscription is definitely one of the best options price-wise. You pay $8.99/month or $74.99 for the annual subscription plan.
Here is how Starz compares to other services in terms of pricing:

STARZ Special offer with Free Trial
Get STARZ subscription at $5/Month
Offer valid for first three month only
Starz Hulu Subscription
Enjoy the best of both worlds by bringing your entertainment together on one platform with the Starz add-on on Hulu. You only need a Hulu base plan and Starz subscription to watch Starz on Hulu. Streaming Starz anywhere with Hulu is as simple as using your Hulu credentials to create a Starz app account.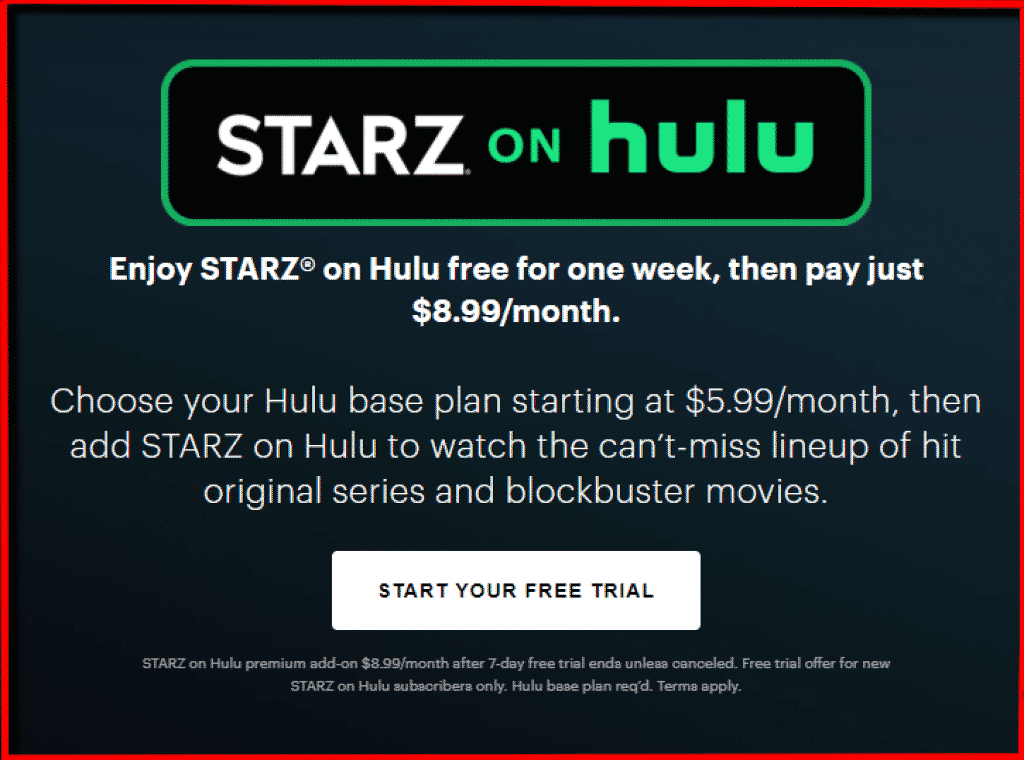 With the Hulu + Live TV plan provides access to live and on-demand TV from 65+ top channels including news and sports and on-demand shows.
You can have the Starz Hulu add-on on the Hulu.com web app or via supported devices:
If you have the Starz Premium add-on, you'll also get access to Starz live streams. What's more, you can record live TV to your Cloud DVR. The best part is that subscribers who upgrade to Hulu+ Live TV plan with unlimited Screens add-on get to watch Starz on up to 5 screens at once.
Starz Amazon Subscription
When you subscribe to Amazon Prime Video membership, Amazon lets you access more movies and shows through Prime Video Channels. Subscriptions to these Premium channels and third-party networks and streaming platforms cost $5-$16 monthly. To add Starz subscription on Amazon, you pay $9/month after the one-week trial.
To add Starz to your Prime Video subscription:
Sign in to your Amazon account
Go through Amazon's list of available channels
Select Starz channel
Click on the main banner above the list of shows and movies
Select the signup link or click on a free trial
Enter your pin and confirm purchase details
That's all. Amazon will charge your account monthly for the cost of Starz channel. If you don't want to continue subscription, cancel auto-renewal.
Starz Free Trial
Want to explore Starz before making a subscription? The streaming service offers a 7-day trial which you can access on multiple devices. This includes Amazon channels and Hulu.
Keep in mind that your credit card will be automatically charged by the end of the free trial.
The easiest way to access the 7-day Starz free trial is on the app or web platform.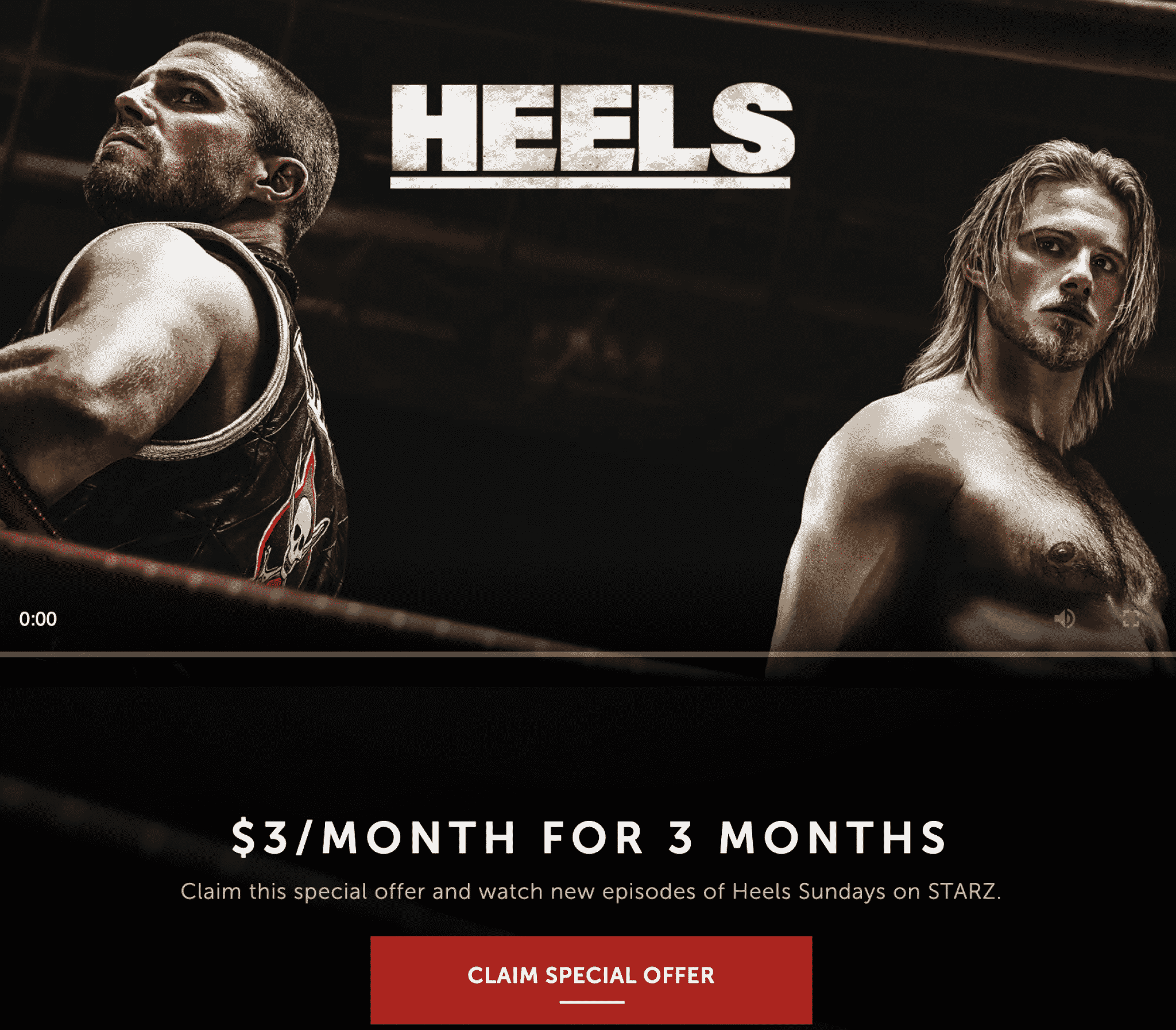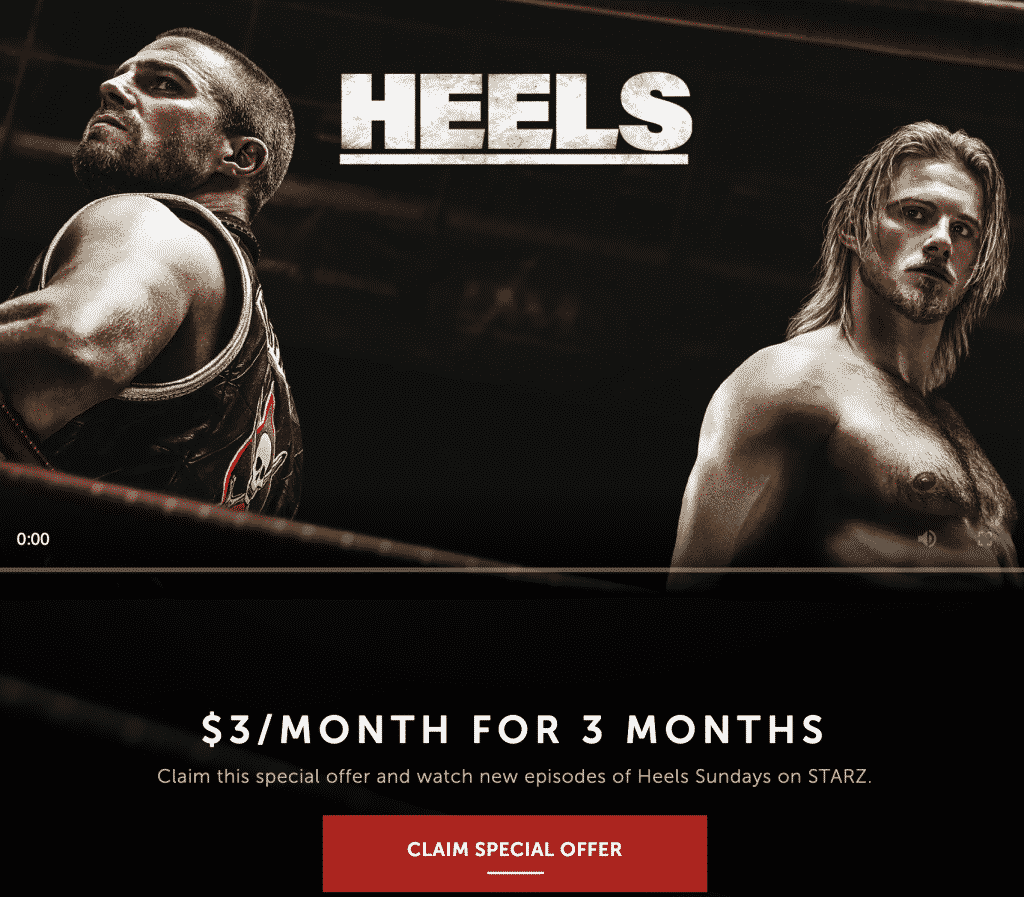 Follow these steps to get your free trial:
Go to the Starz web page or download the app
Click on the start7-day trial
Create your Starz account
Starz also offers free trials through other streaming services. You can access the device on all devices, including mobile devices, computers, and streaming devices.
If you use Mac or PC, you'll see a "Start Your Free Trial" red box in the corner of the Star website. Click on it and enter your email address. Then click on "Continue".
On the next page, select whether you want a monthly or annual STARZ subscription, and then enter your PayPal or credit card details.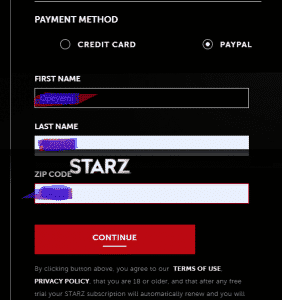 To access Starz free trial on mobile, download the app and follow the in-app instructions to create a Starz account. Enter your account details and voila, you're in. Your 7-day free trial will begin.
Starz subscription Features
The streaming service will enable you to enjoy your favorite content and shows with only an internet connection and shows in addition to the following advantages:
Support for Various Platforms
Starz supports a variety of devices and operating systems including:
Windows 10 or higher and OSX 10.5.7 or higher
Xbox
Chromecast
Apple TV
iPhones and iPads running iOS 10.3 or higher
Android phones and tablets running Android OS 5 or higher
Edge, Chrome, Firefox, and Safari browsers
Personalized Content Library
With Starz, you can customize your content by creating multiple simultaneous streams. You will see more personalized recommendations based on your viewing history. The dashboard is similar to that of Amazon Prime or Netflix. You'll also get a Live TV option for the Starz channel if you add Starz on a service such as Hulu Live. The service remembers your behavior and provides recommendations that suit your viewing habits.
Download on Multiple Devices
You can download content to watch later on iOS and Android. Note that any content that you download will remain in the device where you downloaded it. It can't be transferred to another device and will be automatically deleted after two weeks.
Intuitive Interface
Starz interface is consistent across different platforms. Whether it's on Roku, Amazon Prime, laptop or phone, the dashboard and viewing options are the same. Content is categorized into "TV" and "Movies" for seamless sorting. There are also subcategories for content, the most popular being:
Comedy
Kids
Horror
Black Cinema
Hollywood Blockbusters
Crime Drama
Documentary
Just Added
Black Cinema
Action
Award winners
Romantic comedies
Multi-Device Viewing
Your Starz subscription provides four simultaneous streaming in HD. This means you can access your content on up to four screens at once. Besides, switching between devices and Smart TVs is seamless as the Starz app works across devices. You can pause, play, and continue watching on any device. However, Starz does not offer DVR storage. If you're connecting with a third-party platform, check with your service provider for the DVR storage option. For instance, Hulu offers cloud DVR storage in its upgrade plan for an additional fee.
STARZ subscription Channels List
Your $8.99 Starz subscription cost gives you access to content from over 17 premium channels.
Starz Channels include:
STARZ
STARZ Comedy
STARZ Edge
STARZ in Black
STARZ Kids & Family
STARZ Cinema
STARZ Encore Action
STARZ Encore
STARZ Encore Black
STARZ Encore Classic
STARZ Encore Family
STARZ Encore Suspense
STARZ Encore Español
STARZ Encore Westerns
Movie Plex
Retro Plex
Indie Plex
The main Starz channel usually premieres recent theatrically released hit movies. These films debut on the channel within eight months to one year on average from when they are released. The channels also air some original series. As such, you'll stay updated on new movie releases, as they feature on Starz before airing on TV.
Starz Movies List 2022
Starz lives up to its hype as a flagship service: from international pictures to original programming, hit movies and Hollywood blockbusters. With over 1,000 titles, Starz is always updating its movie library.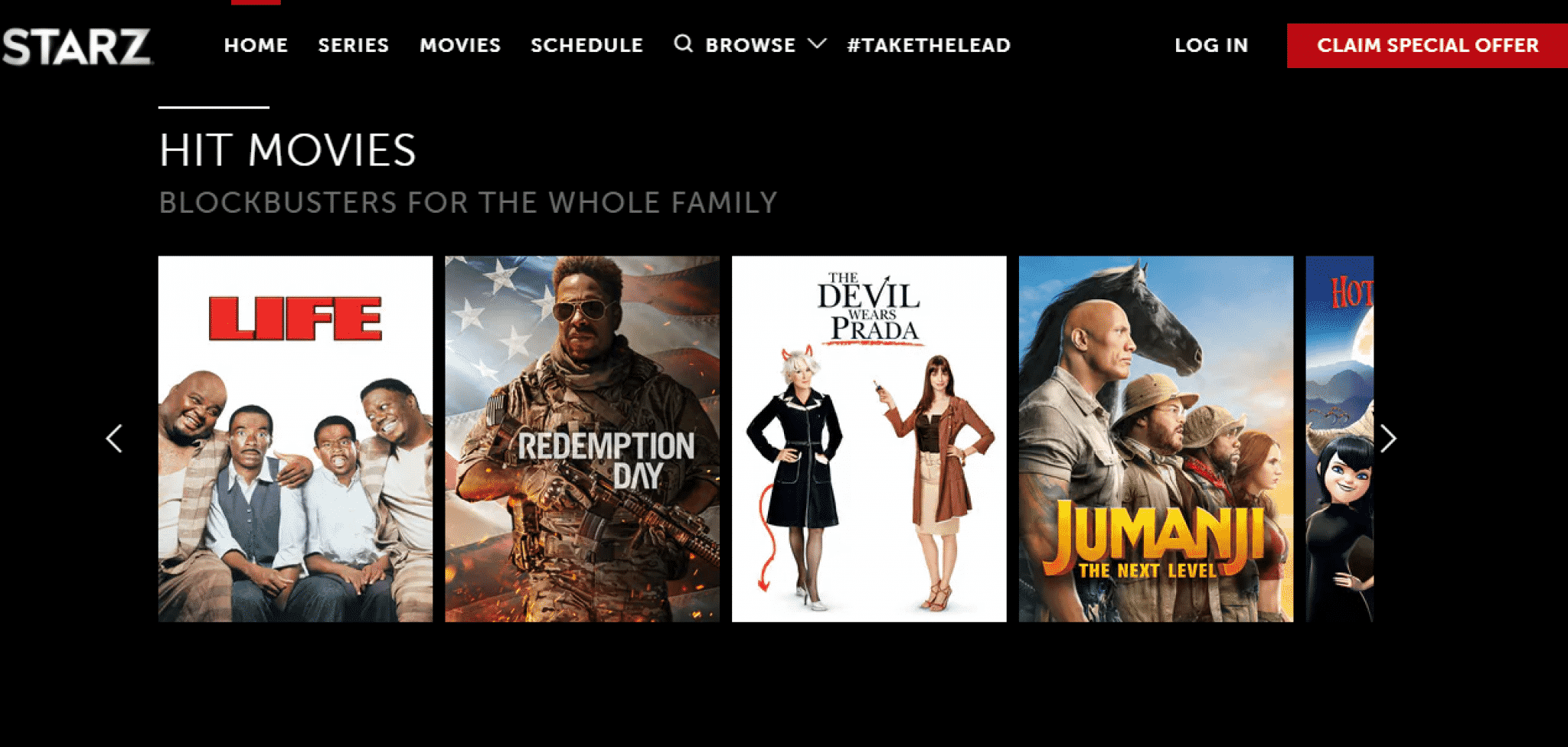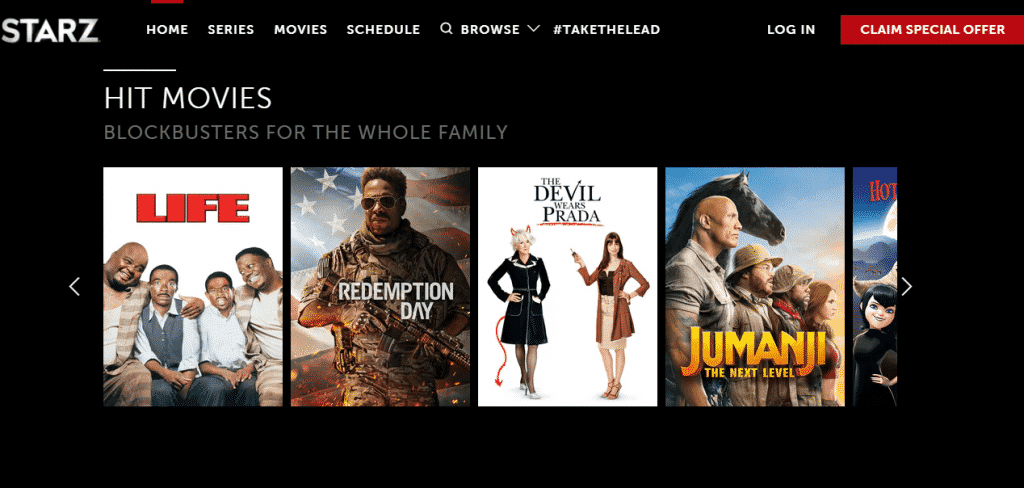 The current movie lineup includes:
Life
Redemption Day
The Devil Wears Prada
Jumanji
Hotel Transavania
Bad Boys for Life
Scary Movie 4
Spider Man: Far from Home
There's Something About Mary
Bachelorette
Blood Shot
Are We Done Yet
Taxi
Redemption Day
CB4
The Take
Men in Black
ICE AGE
Titanic
Spider Man 3
Pirhana 3D
Disturbing the Peace
Meet the Blacks
Pirates of the Caribbean
The Call
The Craft Legacy
Think Like a Man
Jeepers Creepers
Zack and Miri Make a Porno
Return of the Living Dead
Starz Original Series and Exclusives
A Star subscription will give you access to all of the service's current and past original programs. You can stream a whole collection of series and past shows. However, note that the list of original programming is not as exclusive as those of other competitors like Philo TV or Fubo TV.
Starz Series include:
Run the World
Blind Spotting
Power Book III: Raising Kanaan
Little Birds
The Girlfriend Experience
Power
Outlander
Men in Kilts
Death and Nightingales
Confronting a Serial Killer
The Gloaming
American Gods
In the Long Run
The Spanish Princess
The White Princess
Hometown
Vida
Dublin Murders
The Rook
Party Down
Flesh and Bone
Survivor's Remorse
Boss
Warriors of Liberty City
Magic City
The Pillars of the Earth
The Missing
Is Starz subscription Worth Getting?
No doubt Starz offers lots of great movies and keeps updating with new releases. In addition, the service has an excellent collection of original TV shows to stream for just $8.99 monthly. Besides, being able to access the Starz series and live TV means you're not tied up to only one method. In sum, Starz is a worthy premium service as a standalone as well as an add-on to other premium services. If you're not certain Starz is for you, try it out with the 7-day free trial before paying for a Starz subscription.
Final Review
Best streaming service for originals and movies lover
Starz monthly subscription is great for those looking for original movies at an affordable cost. Alternatively, pair the Starz with a Live TV streaming service subscription for a more robust TV experience. While the streaming service has its drawbacks, it is worth a try, especially if fair cost and a huge movie library are your top considerations.
Original Shows and movies
9.8
PROS
Unique original Programming
Great movie line up
Expansive movie library of almost 1,500 titles
Available on various platforms
Fair price compared to competitors
Can download movie and series to mobile devices
Streams on four devices
Wide device support
CONS
The app experience is not as premium as HBO or Showtime
No sports channel.
Frequently asked questions
How much is Starz Subscription?
Starz monthly subscription costs $8.99 monthly or $74.99 annually. To cut costs, look out for Starz subscription deals. There's currently an ongoing deal to get Starz at only $5 for the first 3 months. You can also get a 7-day trial on partnering platforms to have a taste of the entertainment that Starz offers. 
Is Starz free with Amazon Prime? 
Starz is not free with Amazon Prime. You'll pay $9/month after the 7-day trial.
Is Starz free with Netflix?
No, you'll pay Starz subscription of $8.99 in addition to your Netflix subscription cost. 
Is Starz free with Hulu?
It costs $8.99 to access Starz on Hulu after your 7-day trial.
Is Starz free on Roku TV?
The Starz Roku add-on costs $8.99 after the free trial
What channels are on Starz?
Starz offer over 15 channels including Starz main channel. Other channels are STARZ Comedy, STARZ Edge, STARZ in Black, STARZ Kids & Family, STARZ Cinema, STARZ Encore Action, STARZ Encore, STARZ Encore Black, STARZ Encore Classic, STARZ Encore Family, STARZ Encore Suspense, STARZ Encore Español, STARZ Encore Westerns, Movie Plex, Retro Plex, and Indie Plex
Can you cancel Starz at any time?
Yes, you can cancel your Starz subscription or free trial anytime. Ensure you cancel before the trial ends if you don't want