Learning is a never-ending journey and it does not stop after graduation. And that is what One Day University is all about. Whether you are a student or you graduated college years ago, there are still a lot of topics you can learn. If history intrigues you, or perhaps you are interested in learning more about the world and underlying mysteries, then One Day University courses will help. 
In this post, we are going to share details more about One Day University, its membership, and its features. 
How does One Day University work?
One Day University, just like its name implies, is an online learning platform that gives you a chance to attend lectures from top-tier professors. It has thousands of students who wish to learn about topics such as civil war, historical figures, the universe, and other fascinating subjects. However, to access any of these classes, you will have to subscribe to the options provided. 
With a subscription, members can join the new live-streamed lectures, which are normally aired five days a week at 4 pm Eastern time. After the lecture, the videos are uploaded to the extensive library so that you can enjoy them on your own time. 
One Day University membership cost
The platform offers three subscription plans which you can cancel at any time. One Day University membership plans include:
Monthly: The monthly subscription plan costs $8.95 per month. It features unrestricted access to the platform's video library of over 400 talks, five new talks a week, and live questions and answers with topnotch professors. 
Yearly: It costs $89.99 per year. With the yearly plan, you will get live question and answers sessions with first-rate professors, five new talks a week, and unlimited access to over 400 video talks. 
Two Years: The two years plan costs $139.99 in two years. Besides, the two years plan features the same benefits as the monthly and yearly plans. This means you will get five new talks a week, limitless access to 400+ talks, and a Q&A session with topnotch professors.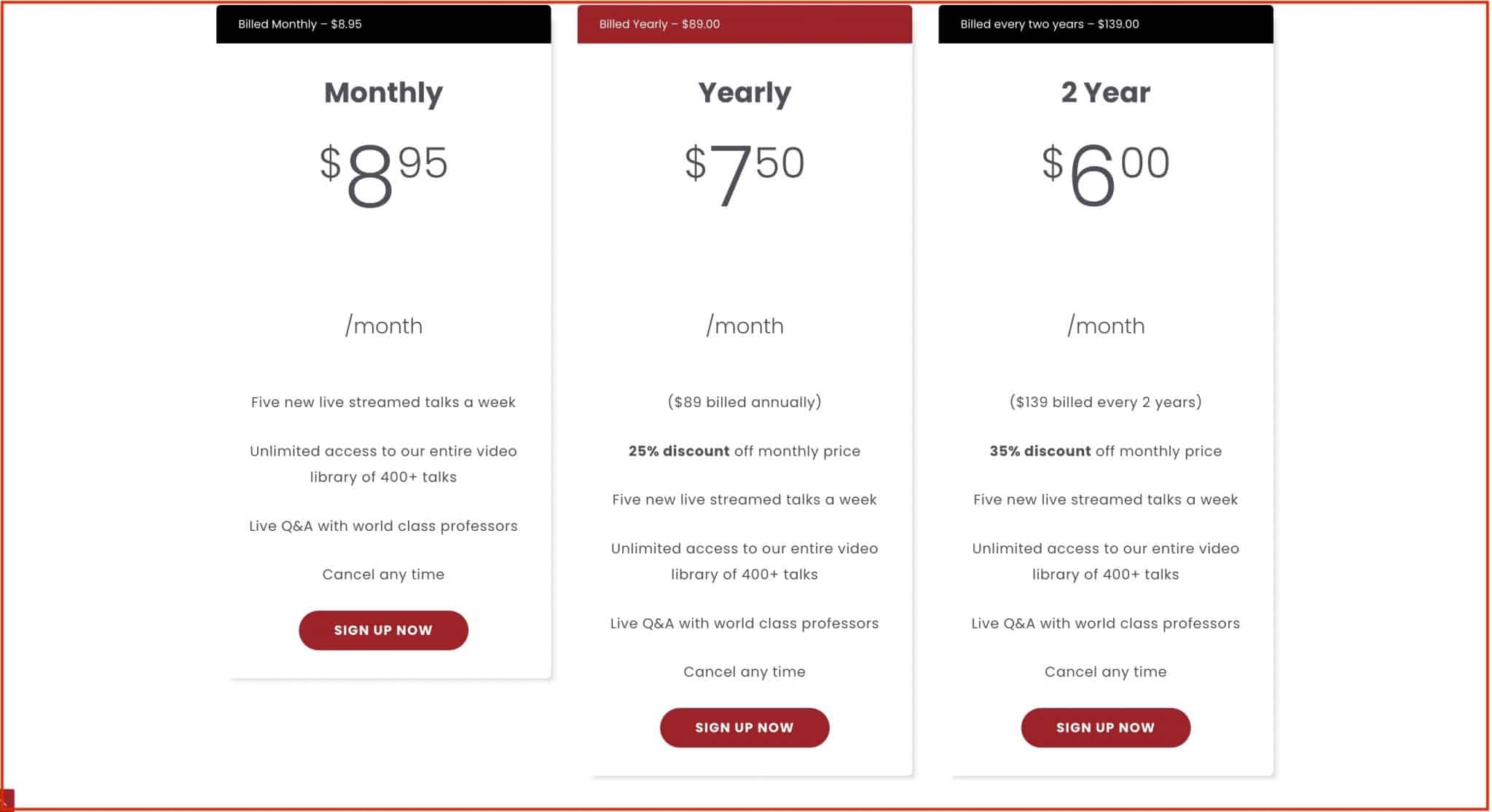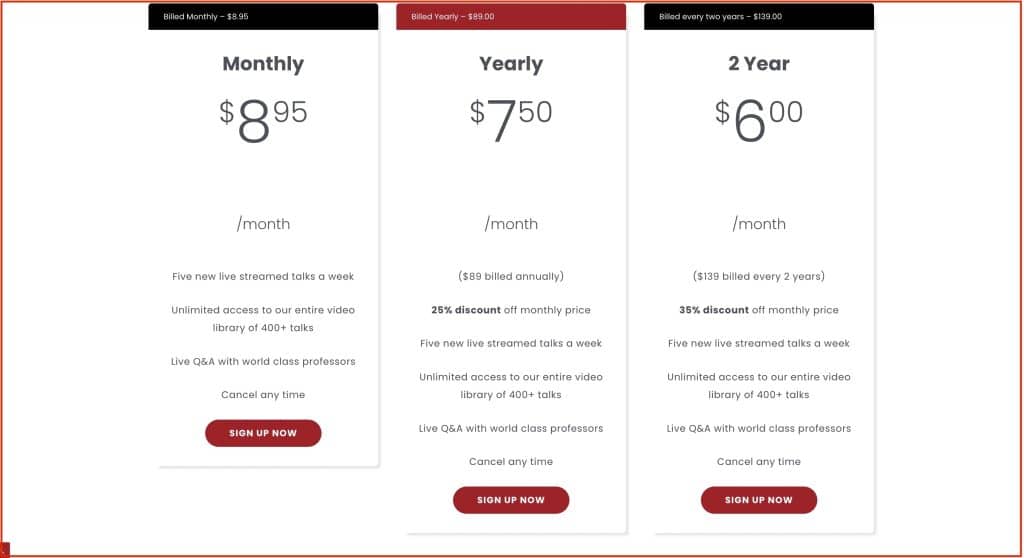 One Day University Free Trial
Apart from the above subscription plans, One Day University also offers a free trial. The free trial period lasts 14 days.
Each of the three One Day University cost options comes with 14-days free, which you can cancel at any time. To get the free trial, launch the One Day University official website and pick any of the available subscription plans. 
Note that you will have to provide your credit card billing details such as your name, card number, the expiration date of your card, and card type. The money will then be deducted from your card after the 14 days are over. But if you find that One Day University is not the platform for you during the free trial, then cancel your subscription before the two weeks are over. 
Courses & Lectures
For only $8.95 per month, you will get unlimited access to over 500 of the finest lecturers from their popular professors. Their professors have earned the highest ratings from their students as well as won numerous awards. So, with a membership, you can expect some of the best lectures there are in the learning institution.
With that said, let us look at some of the best lectures and One Day University courses you will find on this site:
The Science of Happiness: In this class, you will get to learn the role of money, marriage, friends, etc., plays in making us happier. 
The Mind of Abraham Lincoln: Get to know more about Abraham Lincoln and explore some of his writings. 
The Exceptional Life of Mahatma Gandhi: 
Other lectures you should watch include:
America First? The History of an Idea.
The Blitz of 1940: Germany's Attacks on London.
A History of Gaming: From Pinball and Monopoly to Minecraft and Worlde.
The Bill of Rights Revisited: A Brief, Surprising History.
Chernobyl: Causes and Consequences of the World's Worst Nuclear Disaster.
The Thanksgiving Dilemma: Reevaluating our Annual Celebration. 
Once you have an account, go to the "Upcoming Talks" section to catch up on all the latest and scheduled lectures. 
How long are the lectures on One Day University?
Normally, the classes at One Day University go for 50 minutes. However, if you are a lifelong learner who wants to experience more than 50-minute lectures, you should subscribe to the Premium Program. As you may expect, the Premium Program features extended sessions of some of the fascinating courses offered and the chance to interact with the professors. The Premium Program gives learners a chance to dig deeper. 
In short, with this program, you will get:
Extended lectures and an extensive live questions and answers session.
You will be able to video record any of these exclusive classes. Thus, you will be able to watch them on-demand. But keep in mind that the recordings are only available for two months.
It is worth noting that not all lectures are available in the Premium Program. Moreover, you will need to pay another small fee for any of the extended classes you select. For instance, the "A New Way to Negotiate" premium class goes for $29. 
One Day University detail review
According to One Day University reviews online, its students think that this is a great learning platform with exciting subjects from the best professors. With One Day University, you do not have to worry about grades, tests, or assignments. Instead, with this platform, you will gain fun and lifelong learning experience. 
One Day University gives you an insight into history, science, music, art, business, unexplained mysteries, and so much more. Perhaps, you want to know more about what really happened on the first Thanksgiving 400 years ago or maybe more about climate change and global warming.
So, if you are always curious about such subjects, then One Day University is the place for you. With this platform, you will be able to learn something new every day. Remember that life is a journey and if you continue learning, you will grow wiser and stronger. 
Pros
Unlimited access to 600+ lectures on various topics.
Premium program for extended classes.
Wide library equipped with fascinating and diverse videos. 
Learn from a professor who is at the frontier of the research or led the theory. 
Fascinating talks from remarkable professors. 
Cons
One Day University does not give the students credits or certifications.
Conclusion
One Day University is the ideal place for those who want to learn and be entertained. If are tired of watching the same documentaries, then you will love what this platform has in store for you. In short, One Day University courses are for all fans of history, culture, arts, science, life events, and more. If you want to learn about a famous politician, artist, a historical event and its events, etc., try the free trial to see if this site is what you are looking for.