The football season is finally here and football fans around the world are vouching for their teams. After Man City secured a win in the 2021-22 premiership earlier this year, fans are eagerly waiting to see if the team will stick to number one or finally be defeated by other potential teams. On the other hand, soccer fans are also wondering how to watch Premier League in Canada and whether the tournament will survive this season especially since the World Cup will disrupt the event. This is the first time we will see the Premier League taking a prolonged mid-season break to make room for the winter 2022 World Cup in Qatar.
In short, no true football fan should miss any of these championships. So, if you are a soccer enthusiast in Canada, you may be wondering, with Dazn out of the list, how else can you watch the Premier League in Canada? Well, worry not since Fubo TV Canada has got you covered.
In this post, we will cover everything you need to know about how to watch the 2022 EPL in Canada and more.
Watch EPL 2022 in Canada
Subscribe Fubo at C$16.67 a month.
Offer valid with annual subscription.
When will EPL in Canada start?
The English Premier League will start on 6th August 2022 and run through to 28th May 2023. Please note that this period also includes a mid-season break from 12th November to 26th December 2022. This is to give room for the world cup to take place and to allow some of the players to participate in their respective teams in the long-awaited global event. Some of the football players expected to play in this World Cup season include Christiano Ronaldo, Harry Kane, Robert Lewandowski, and Lionel Messi.
Besides, the Soccer World Cup will start on 21st November 2022 and end on 18th December 2022. This means that we will be four months into the Premier League season before the World Cup begins.
Is Premier League available in Canada?
Yes, Premier League is available in Canada and will be streamed live by Fubo TV. So, if you are a football fan in Canada, you can enjoy the entire EPL game from Fubo TV by signing up for any of the subscriptions available.
Who has rights to EPL 2022 in Canada?
EPL has a new home in Canada. Fubo TV has bought exclusive rights to broadcast the English Premier League in Canada. It will take the place of DAZN, another streaming service that previously had EPL rights in Canada from 2018 to 2021.
In August, Fubo secured the rights to stream Serie A and Coppa Italia competitions as well as the EPL broadcasting deal which will start this year and run through the 2024-2025 season.
Streaming services must obtain rights from EPL to display or cover a certain number of the matches on their networks. Normally, major sporting events such as this relies heavily on their broadcasting revenues to maximize their profits. Currently, the EPL generates around 1.5 billion pounds per season from their local broadcasting partners like BBC Sport and BT sport. Conversely, EPL generates around 1.3 billion pounds from overseas broadcasting rights.
Where can I watch Premier League Soccer In Canada?
Fubo TV is the only way that you can watch every Premier League match in Canada. This streaming platform will broadcast the next three EPL seasons to all the football fans in Canada.
What channel is EPL on in Canada?
Premier League fans in Canada can stream the EPL matches from August to May through Fubo TV. Sports channels where you can watch the premier league and more sports include Fubo Sports Network, One Soccer Canada, beIN Sports, ESPN, FS1, and more. Other than the English Premier League, Fubo TV members can also stream other leagues in the world such as Ligue 1, Copa Libertadores, Turkish Super Lig, Serie A Italian soccer, AFCON, the Canadian Premier League, CONCACAF competitions and so much more
Moreover, fans can watch Fubo EPL by downloading the app or straight from their official website. The app is compatible across a range of devices including iOS, Android (OS 5.0 or higher), Amazon Fire TV (Android 5.0 lollipop or higher), Apple TV (4th Generation or higher), Roku, Xbox (One, One S, or One X), LG, Samsung TV (2015 or newer), and Chromecast (Ultra or Chromecast 2nd Gen or newer).
If watching it online, then you can stream the live matches on some of the popular web browsers including Google Chrome, Safari, Edge, and Firefox.
Does Fubo TV cover all Premier League games?
Yes, FuboTV will cover all Premier League games, which includes all 380 EPL matches per season.
How much does FUBO cost to watch Premier League 2022?
Fubo TV offers three packages to its members in Canada. Thus, if you want to watch the Premier League in the country, then you will need to subscribe to any of these plans:
Monthly: There are two monthly plans: essentials monthly at C$24.99 per month and premium monthly at C$39.99.
Quarterly: Also has two plans: essentials quarterly which cost C$19.99 per month and Premium quarterly, which costs C$34.99.
Annual: Comprises two plans: that is essentials annual that costs C$16.67 per month and premium annual at C$31.67.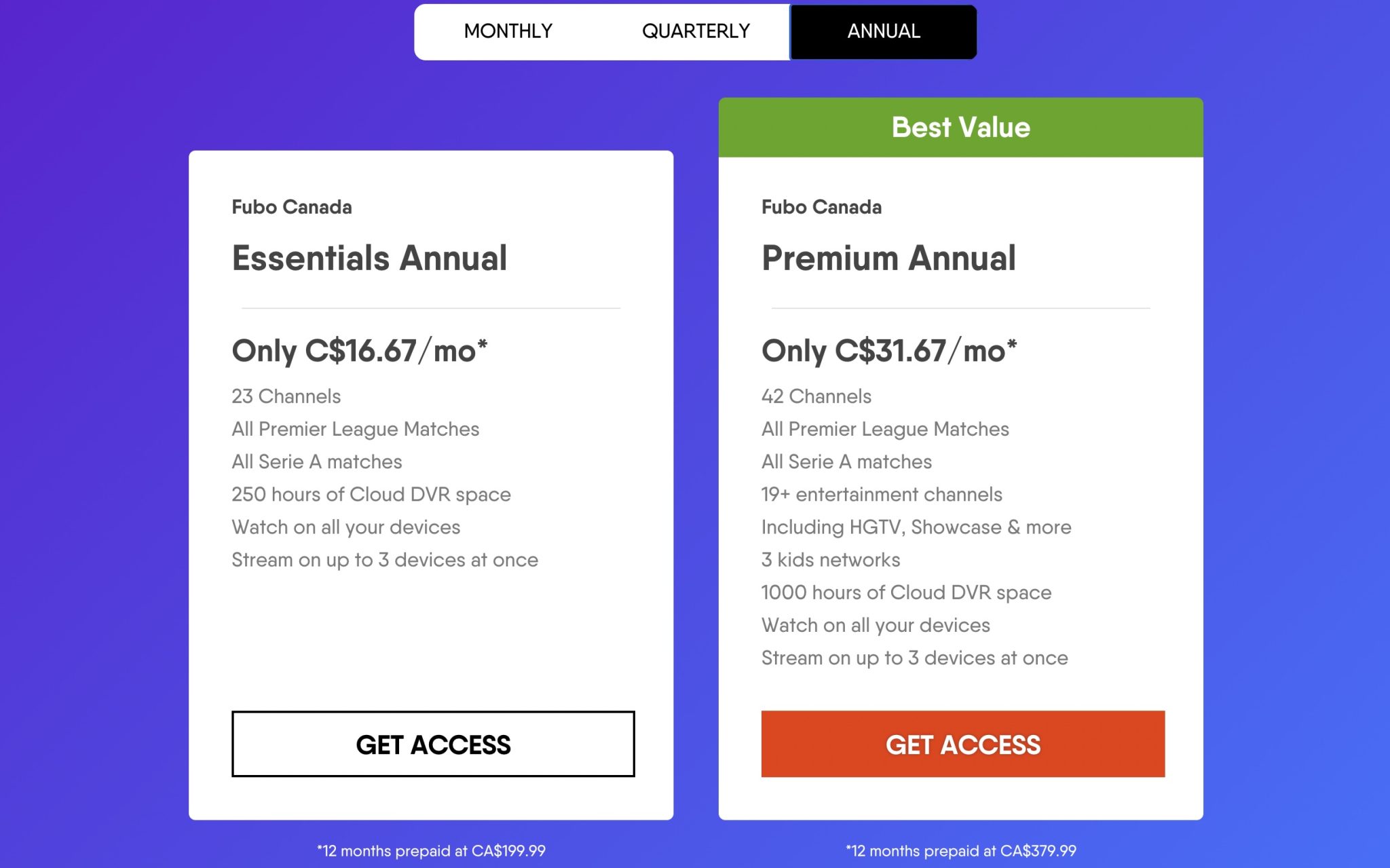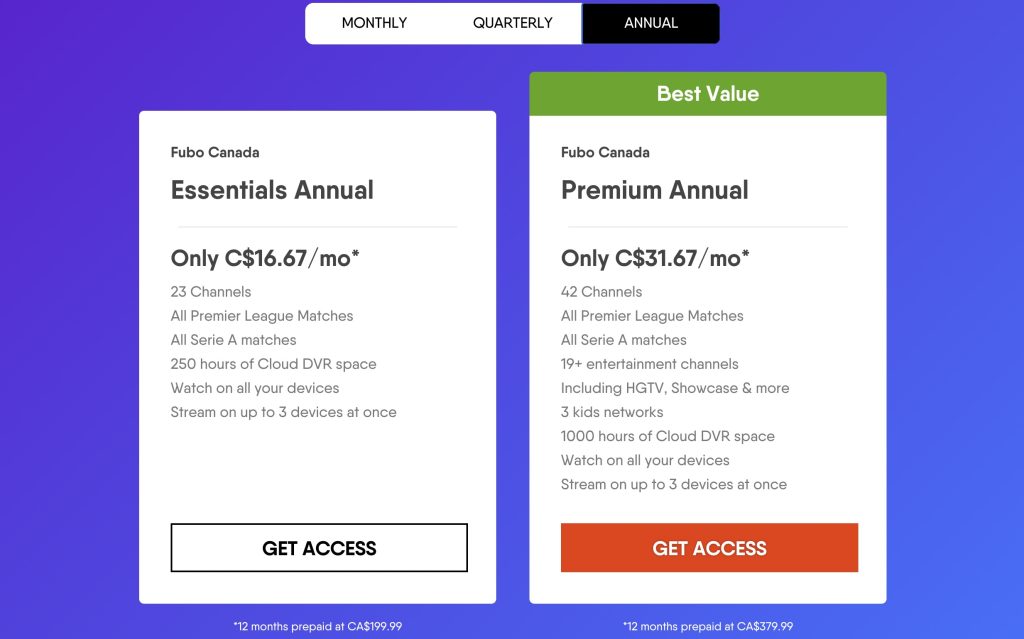 Each of these packages encompasses two plans: essentials and premium. All essential plans include 31 channels, all premier league games, all Serie A matches, three streaming devices at once, and 250 hours of Cloud DVR space.
On the other hand, all premium plans consist of 52 channels, 20+ entertainment channels, all premier league and Serie A matches, and 1000 hours of cloud DVR space. The best deal is the annual rate, which offers a discounted price and has more features.
So, if you want to watch the 2022/23 Premier League in Canada, then choose any of the mentioned plans that suit your needs and budget.
How can I watch Premier League for free in Canada?
Fubo does not offer a free trial in Canada at the moment. Therefore, you cannot watch the EPL 2022 for free through Fubo TV Canada. You will need a paid subscription to catch up with all of the football matches this season.
Can I watch soccer on Amazon Prime in Canada?
Sadly, Amazon Prime currently does not offer any upcoming soccer listings on its platform in Canada. However, if you are in Canada, have an Amazon Prime account, and are interested in watching soccer on the platform, fret not. Not everyone can afford to get both the Prime subscription and Fubo TV at the same time.
That's why some football aficionados turn to using a VPN to catch their favorite soccer tournaments from Prime. So, you can search for any good VPNs that you can use to gain access to Premier League in Canada offered by Amazon Prime in Canada.
Conclusion
By now you are familiar with where you can watch Premier League in Canada. Those who subscribe to any of Fubo's monthly, quarterly, or annual packages will get a chance to view all Premier League matches and other soccer competitions in 2022. Fubo TV is the best streaming service for Canadian football fans with access to not only some of the popular sports competitions but also other entertainment channels. So soccer fans in Canada have no excuse for missing any of the EPL 2022 matches especially since every game is available live and on-demand on Fubo TV.