ESPN plus is a streaming service that offers classic games, studio shows, live sporting events, and original programming and premium written material for a monthly fee. It's a standalone service with material distinct from what you'll see on ESPN or ESPN2. Even if you have ESPN, it requires its subscription to get your ESPN activated. Nevertheless, it is prevalent among sports fans due to its ease of use, on-the-go capabilities, quality content, and low cost.
ESPN+, the sports mega-entrance network's into the ever-growing list of subscription streaming services, started in April 2018. Given how crucial live broadcast is in sports, ESPN+ found its footing by providing a large selection of original on-demand video material in addition to limited live event streaming and premium-tier written commentaries.
ESPN Plus provides an alternative to standard cable and satellite TV by providing special live broadcasts of hockey, baseball, soccer, UFC, and much more.
When you assess that you can bundle it with other streaming services like Disney Plus and Hulu, it's an attractive package for existing cable subscribers and cord-cutters.
ESPN and ESPN plus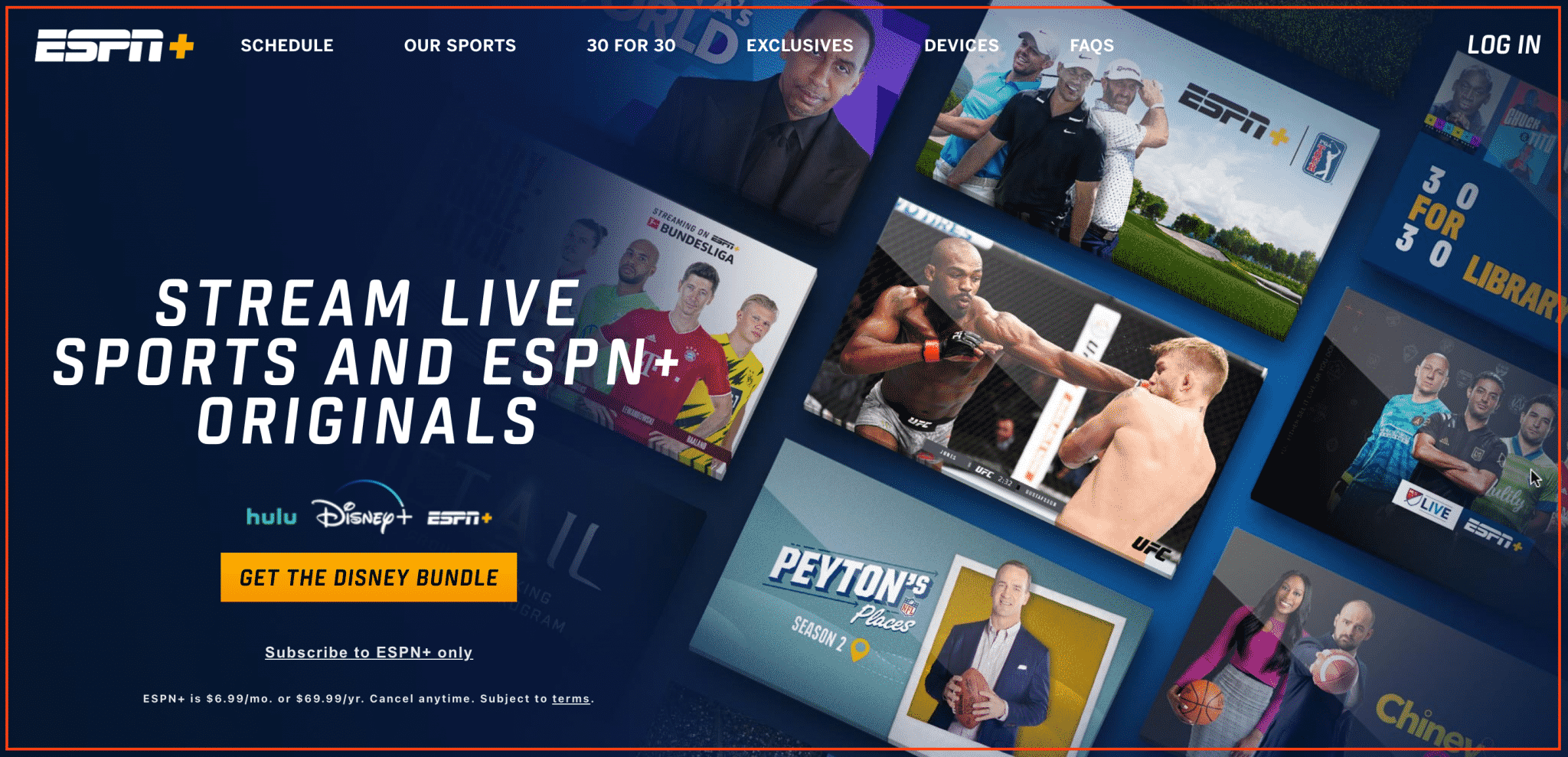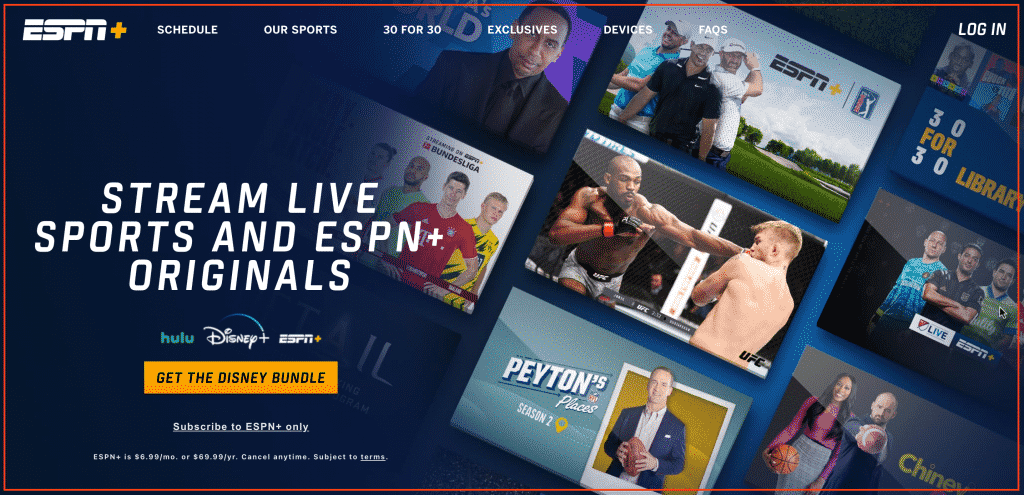 ESPN (the app or channel) and ESPN+ (the subscription service) differ primarily in exclusivity. Anyone with a compatible, an internet connection, and a zip code in the proper service region can use the ESPN app for free. ESPN+, on the other hand, is essentially an extension of the ESPN app that provides premium content that other users cannot access.
The former WatchESPN app was decommissioned in 2019 and replaced by a redesigned ESPN app. The ESPN app is where to go if you want access to ESPN video clips, news/analysis trending videos, and match highlights.
It must be noted that while the ESPN app is free, you'll still need an internet or cable service provider, as well as a TV, to watch live content on ESPN networks.
How much does ESPN plus cost?
A subscription to ESPN+ costs $7 per month or $70 per year, up from $6 and $60, respectively, in the previous pricing plan. The ESPN plus monthly subscription offers the same content and features available with annual membership.
While the ESPN plus yearly membership option is more expensive up front, it saves you $14 every year. Keep an eye out for packages that bundle yearly membership of ESPN plus UFC pay-per-views if you're a fan of both. You might, fortunately, be able to save a few bucks.
| Duration | ESPN Plus | ESPN + Disney + Hulu Bundle |
| --- | --- | --- |
| Monthly | $7 | $13.99 |
| Yearly | $70 | NA |
There are no other plans or add-ons available, and there is no way to upgrade to an ad-free membership for a higher price. As a result, you'll be forced to wait through commercials in the same way that you would when watching live sports on television. In addition, you'll need an ESPN+ subscription if you want to watch UFC pay-per-view events.
For $89.98, you may buy a single UFC event or bundle it with your annual ESPN+ membership.
ESPN Add ons
ESPN can be viewed without a cable subscription. Hulu Live TV, DirecTV, Sling TV, Vidgo TV, FuboTV and YouTube TV are the six streaming services that you may utilize to watch live ESPN right now.
Using these streaming services, you can watch ESPN on the web, TV-connected devices like Roku, Apple TV, and Amazon Fire TV and mobile devices. Below is the ESPN cost/package charged by these streaming services
ESPN+ can be added on Hulu Live TV at $5.99.
Sling TV lets you stream ESPN at a $30 base Sling orange subscription. It can also be streamed with the Sling orange blue package at the cost of $35 a month.
Fubo TV and Youtube TV already have ESPN in their $65 base plans.
The entertainment package of $64.99 includes ESPN in DirecTV.
In addition, you may stream and view the same ESPN programming that airs on cable TV and these streaming services.
Several providers would give you access to ESPN's app, which consolidates all ESPN-branded channels into one quickly and conveniently accessible location. If you have ESPN+ subscribed, these packages contain premium material from ESPN+.
ESPN Plus Disney plus and Hulu Bundle
If you like the material on ESPN+ but want to watch other things as well, Disney's packaged plan of all its streaming services might be for you.
You can get a monthly subscription for $13.99. A monthly subscription to Disney+, Hulu, and ESPN+ bundle costs $13.99. In comparison to the price of each service separately, the bundled plan saves you roughly $6. Click below to check out the Disney Plus bundle price.

What you will get with ESPN plus subscription?
While ESPN+ does not offer channels in the same manner that traditional TV providers do. It does provide a wide range of live and on-demand programming. Your ESPN+ collection can be accessed immediately from the ESPN app, where you have the option of choosing between Featured and Original content. Alternatively, you can search by conferences, leagues, originals, sports, and more.
Live Now, Upcoming, and Replay are the three portions of the ESPN plus guide. So, if you're looking for upcoming live events, go to the Upcoming section. A list of sporting events is displayed, followed by the broadcast time and a brief description.
ESPN plus's live sports content will appeal to sports fans. The Big 12, NHL, PGA Tour Golf, Top Rank Boxing, UFC, and many other live sporting events will be available. In addition, 30 For 30, Detail, Ariel & The Bad Guy with Ariel Helwani, The Boardroom with KD, The Fantasy Show, and a shortened version of ESPN's highly famous SportsCenter are sports news and commentary shows available on ESPN+.
On ESPN Plus, soccer fans can watch live matches from the world's most significant leagues and cups, including the Serie A in Italy, the Bundesliga in Germany, the FA Cup in England, Major League Soccer in the US, and much more. PGA golf and Grand Slam tennis are among the other sports available on ESPN Plus. Cricket and rugby, for example, are niche sports that can be streamed live.
On ESPN+, you won't find any material aimed exclusively at kids. However, almost all of ESPN Plus' original material and live sports coverage is suitable for children. Unfortunately, ESPN+ isn't a streaming service that can be added to cable alternatives like Hulu + Live TV or Sling TV as a channel add-on. As a result, unlike HBO or STARZ, you won't be able to add it as a premium channel.
Here's the list of all sister channels of ESPN:
ESPN Bases Loaded
ESPN Goal Line
ESPN
ESPN on ABC
ESPN Deportes
ESPN+
ESPN2
ESPN3
ESPNews
ACC Network Extra
Big 12 Network
ESPN Classic
ESPN College Extra
Longhorn Network
SEC Network
SEC Network+
ACC Network
ESPN Compatible devices
It is based on ESPN's existing omnipresence across PCs, tablets, and cellphones. ESPN Plus is also available on Xbox One and PlayStation 4. You can access ESPN Plus on your web browser by accessing the service's website and signing up for the service.
If you prefer to watch sports on your phone, get the ESPN App from the Apple or Google Store and join the program. ESPN Plus is also available on Apple TV, Chromecast, and Amazon Fire TV – and is now accessible on Roku.
Apple TV, iPhone, iPad, Oculus Go, and Samsung Smart TVs are all compatible with Fire TV, Fire TV Stick, Fire TV Cube, Fire TV Smart TVs, Fire/Kindle tablets and ESPN+.
As you can see, it's a pretty extensive list of devices. Vizio's SmartCast and LG's WebOS can also turn out to be good additions to the list. For the time being, people who own Vizio can access ESPN+ via their television device's built-in Chromecast capability.
ESPN+ free trial
While the ESPN Plus free trial for new users ended back in 2020, you can try out the program for a nominal fee of $6.99 and see if its library of material is suitable for you. When you join up for its annual plan, you can save 15% off the regular price, currently $69.99 per year (up from $59.99 per year).
ESPN+ PPV
ESPN Plus PPV is the brand name for ESPN's pay-per-view events. The service broadly distributes ESPN College Extra, an out-of-market sports package that broadcasts college basketball and football games. ESPN Extra was the name of the service when it first debuted in 1999.
If you're a UFC or boxing enthusiast, ESPN+ will frequently provide exclusive pay-per-view (PPV) matches, giving you access to even more material. Existing customers can watch the PPV events for a price of $64.99. The next UFC PPV event is UFC 253, which will take place on September 26.
ESPN+ used to be exclusively based on articles. ESPN attempted to provide sports fans with behind-the-paywall material in the form of in-depth articles. Despite the service's shift into the world of live streaming and on-demand television, it continues to publish paid pieces from several notable sportswriters.
When you subscribe to ESPN+, you gain access to the complete collection of articles and daily stories, ensuring that you are constantly up to date on the latest news.
Features
User Interface:
ESPN+ programming is organized into primary sections such as Live, Top Picks, Browse by Archives, Upcoming, Latest Series & Shows, 30 for 30 Spotlight, UFC Fight Night Replays, Conor McGregor, Browse by Series, Browse by Shows, and more. You may also find out the daily schedule for live, upcoming, and replayed content in the ESPN plus guide.
The menu bar at the top of the main page separates the site into Featured, Originals, Browse, Schedule & Replays, Articles, Tools, and Support & FAQs, in addition to the thumbnails. ESPN's original programming, such as the 30 for 30 series, E60, and SC Featured, as well as series, may be found under the Originals page.
It's important to note that not everything in the Browse area is available on an ESPN+ subscription. In addition, authentication using your cable or video streaming service account is required for some shows and live events. A golden emblem indicates the availability of goods on ESPN+ in the top left corner of each show's thumbnail.
The Schedules and Replays tab functions well. You may filter by sport and ESPN channel to see live, future, and past events. I wish ESPN plus subscription had a function that allowed me to put an event on a watchlist, but it does not. Access to exclusive articles featuring in-depth sports commentary is a relatively new perk of an ESPN+ subscription.
Mobile Interface:
ESPN+ is a feature of the ESPN app, which is fittingly named ESPN. On an iPhone 11, I had no issue downloading the app and logging into my account. The next to the third tab on the bottom navigation bar is ESPN+. With a black background, white lettering, and yellow highlights, the interface is sleek.
The software is simple to use and did not crash during our testing. However, before you can see anything, you must first enable your location. Stream and Articles are the two tabs of the ESPN+ section. The Stream tab works in the same way as the Featured area of the online interface.
Streaming experience:
ESPN's website states that a 2Mbps connection is necessary, but you'll definitely want a faster connection to get consistently good streaming quality. You may notice stuttering and buffering pauses at these speeds, which will take you out of the experience. In addition, most video is streamed at 60 frames per second, putting even more load on your internet connection.
ESPN+ accounts can have up to three simultaneous streams, which is about typical. However, it used to support five concurrent streams. Therefore this is a reduction. Moreover, ESPN Plus' material is currently restricted to 720p, which is one of the most disappointing features of the service considering the ESPN plus price.
While this means its live feeds are smooth and consistent, the lack of 4K is a little perplexing, especially considering how much of ESPN Plus' on-demand material, including numerous 30 for 30 documentaries, is created in considerably higher resolution.
DVR Storage:
As ESPN+ subscription doesn't have a DVR, you won't be able to record live games. On the other hand, you can watch on-demand programming whenever you want. The sole exception is ESPN plus PPV events, which can only be streamed on two devices at once.
Those simultaneous broadcasts, however, must come from a single user account. There isn't a way to create several user profiles. Unfortunately, there is no free trial for ESPN+. You'll have to register on the web or the app to use the service.
Parental Controls:
ESPN+ doesn't give you the option to set parental controls. To block mature or adult content, you'll need to set up parental controls on the devices you watch ESPN+ on, such as iPhones and tablets, or directly on smart TVs and streaming devices. ESPN+'s policy has been modified, and youngsters under 16 are no longer eligible to subscribe.
VPN Compatibility:
Users who are subscribed to ESPN+ and ESPN through cable television or a suitable internet connection can only watch ESPN in the United States. There is a way to resolve this predicament; you can bypass geo-restrictions and watch ESPN online anywhere via VPN.
This works because a VPN conceals your actual location, allowing you to access region-restricted content. It's worth noting that some VPNs are actively blocked by ESPN, so not all of them will function. You can use one of the Top 10 VPNs to access ESPN outside the USA.
ESPN+ review
Best sports streaming service at reasonable cost
I rate the service a 9.1/10 in this ESPN plus review. You'll receive access to exclusive behind-the-scenes footage as well as plenty of live matches and PPV events with ESPN+. Beyond that, it is dependent on the sports you are most interested in. Every night, NHL and MLB fans will have plenty of live regular-season contests to watch. Fans of more esoteric sports will be able to choose from a variety of live matches. Unfortunately, ESPN Plus may disappoint you if you are only interested in current NBA or NFL games. However, ESPN Plus has a lot more to offer than just live sports. It offers on-demand access to some of the most captivating original sports programming ever produced. That alone could make the investment worth the money. ESPN Plus isn't a replacement for ESPN, but it's a valuable addition. Combining it with Disney Plus and Hulu will save you money while also growing your streaming video library.
Reliability & Customer Support
9.1
PROS
Outstanding on-demand content
Extensive sports content catalog
Comparatively inexpensive
Compatible with all devices
Uninterrupted streaming experience
CONS
No DVR storage available to download and watch content offline
Unavailable parental controls
ESPN Plus FAQ
Does ESPN+ include Monday Night Football?
Unfortunately, this is not currently possible. You undoubtedly are aware that you'll have to stick with ESPN if you want to watch Monday Night Football.
Can I watch ESPN on Amazon Prime?
You cannot watch it on Amazon Prime. ESPN Plus is compatible with a wide selection of streaming media players, allowing you to watch your favorite sports on your preferred device. It is accessible on Amazon Fire Stick.
What is included in ESPN plus?
Exclusive UFC events, several MLB and NHL games, college sports (including football, basketball, and nearly a dozen other sports from 20 conferences), golf (coverage from The Masters, PGA Championship along with the PGA tour), most-watched domestic and international soccer (MLS, Bundesliga, EFL Championship, Serie A, FA Cup, Copa Del Rey, Carabao Cup, Eredivisie, and more), Top Rank B (coverage from the PGA Championship, The Masters and the PGA Tour).

Can I watch all UFC fights on ESPN Plus?
Subscribers to ESPN+ can watch every UFC Fight Night event live, as well as an extensive library of classic UFC fights and recent highlights. Not only will every UFC PPV be available exclusively on ESPN+, but with a regular ESPN+ subscription, you can easily watch the prelims at every event, as well as every "Fight Night" main card.

Does ESPN Plus have NFL? 
Live NFL games are not carried on the ESPN Plus app. The NFL's own NFL Game Pass program doesn't even offer live broadcasts. NFL game pass has a free tier to watch previous games and also a pro tier. The premium subscription costs $124.99/year or $34.06 in four installments.

How can I watch ESPN for free?
WatchESPN is an entirely free service. You must, however, have an ESPN video/TV channel package from AT&T U-Verse, Cox or Verizon. You can watch it with a Sling TV subscription for free. It may be watched for free with the Hulu Tv, Hulu Live TV or FuboTV free trial options.
How much is ESPN Plus on Roku?
Live ESPN TV content, live sporting events and full replays, sports news, game highlights and clips, and available on the ESPN Roku channel. For $4.99 per month, you can add the ESPN+ membership service to your ESPN account and watch additional live sports.

Do I need a TV provider for ESPN+?
No. ESPN plus can be watched on the web without a cable service provider.

Does Hulu have ESPN Plus?
No, ESPN is not on Hulu, but you can get ESPN+ in the Disney Plus, Hulu and ESPN+ bundle for $13.99.

How do I watch ESPN+ on my Roku?
To stream Roku ESPN Plus, you must first have a membership to the service. You'll also need a functioning internet connection and a Roku-compatible television.

What is the cheapest way to get ESPN?
The cheapest way to get ESPN plus is through Sling TV.

Does YouTube TV have ESPN Plus?
YoutubeTV lets you stream ESPN.
Conclusion
Despite the lack of an ESPN Plus free trial, sports lovers will want to try it at such inexpensive rates and with so much on-demand programming. You can get exclusive access to hundreds of live sports for $5.99 per month with ESPN+. You can also watch ESPN+ Originals, UFC fights, and PPV events that aren't available anywhere else.
Not to mention the premium articles that you can read at any time during the day. The service is simple to use, whether on your TV, mobile device, or laptop. Now that you know what ESPN Plus is, it's evident that you'll be able to discover something sports-related to enjoy no matter where you are or what you're doing.