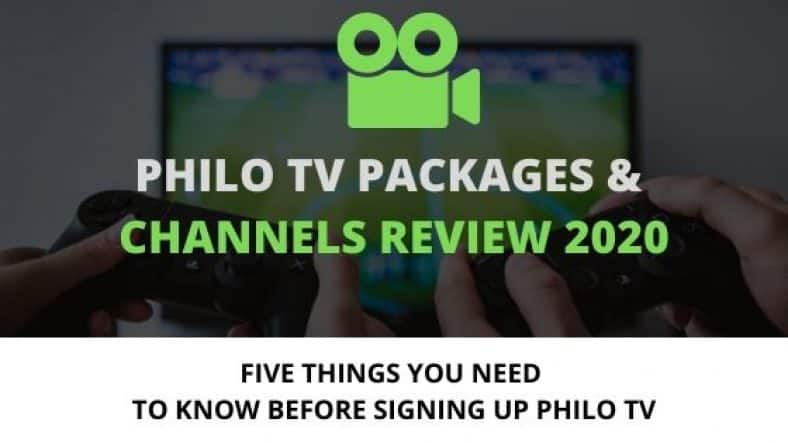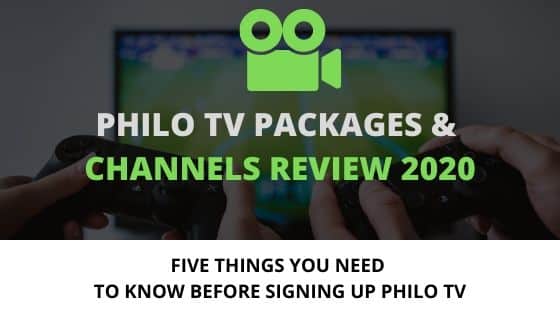 The market is currently full of options on skinny bundles for cord-cutters. The trend is slowly edging out cable television as viewers seek customization. Philo TV makes its name in the market by being slightly different from its competitors. Philo TV packages do not include networks from cable news. Besides, Philo channels do not have sports channels and stations with local news.
The strategy is to offer a low-cost streaming option as the excluded channels form a more significant percentage of the monthly cost for skinny bundles. This article brings you a complete Philo TV review.
Philo TV packages
Initially, Philo channel packages were just two, one going for $ 16 per month while another one for $ 20 per month. On 6th May 2019, Philo TV packages were consolidated into one that goes for $ 20 per month. The company simply calls it 'Philo.' Philo channel lineup and pricing details are as below:
| Package | Cost | Available channels | Free Trial Period | Featured channels |
| --- | --- | --- | --- | --- |
| Philo | $ 20 per month | 58 channels | 7 days | Discovery Life, MTV Live, BBC America, CLEO TV, History Channel, Nicktoons, BET, Cheddar News |
The channels under the package are mainly lifestyle and entertainment with a unique blend.
Philo TV Add-ons
Philo subscription is unique compared to its competitors. For the longest time, the TV streaming service did not have add-ons to its package. Essentially, there was no option for subscribing to additional networks like STARZ and HBO. The package was ideal if you are a fan of lifestyle and entertainment channels. If you wanted to watch content besides what is in its channel lineup, it was advisable to sign up with a different content provider. Currently, there exist two add-ons as below: –
Epix – the add-on comes at the cost of $ 6 per month with a seven-day trial period. You get to watch original series and hit movies with Epix, Epix Hits, and epix2. The added channels are three in total. The add-on has a 50% discount for the first three months.
Starz – you need to part with $ 9 per month over your current package to enjoy this add-on that has three channels. The channels include Starz, StarzENCORE, and Starz Kids and Family. You get to watch shows like Power and Outlander. The add-on is currently running a 50% discount on its price for the first three months. You can get STARZ subscription at $5 a month separately by downloading STARZ app also. However, the original price for STARZ is $8.99 a month.
How to sign up for Philo free trial?
Philo free trial is available for seven days at no cost to potential subscribers. All you need is a phone number or email address. The sign-up process involves providing your credit card details, including the CVC number. Your card will not be charged at this stage. When the trial period is over, Philo will inquire if you wish to continue by upgrading to the single package. To sign up for the free trial, you need to follow the below procedure:
Time needed: 5 minutes.
Follow the below steps to sign up for Philo TV free trial.
Visit Philo TV official website.

You start by visiting try.philo.com as per the below image

Enter mobile no or email address

Proceed and key in your mobile phone number or email in the provided space as illustrated below.

Enter payment details

Set up payment details for your Philo subscription which requires your credit card and CVC number to be input as per the below image. You will not be billed at this stage and your due balance will appear as zero. If you opt for the add-ons, you need to add them at this stage.

Confirm payment details and enter submit.

Key in your credit card details including the number, CVC, and ZIP code as below. Once you key in the correct details, the 'Subscribe' button will become active for you to finish your sign up.
Philo channels list
Philo subscription entitles you to 58 channels as shown below.
A & E
FYI
Nickelodeon
American Heroes Channel
AMC
GSN
Nick Jr.
aspireTV
Animal Planet
Hallmark Channel
OWN
BET Her
AXS TV
Hallmark Drama
Paramount Network
Cooking Channel
BBC America
Hallmark Movies and Mysteries
People TV
Destination America
BBC World News
HGTV
Science
Discovery Family
BET
History Channel
Sundance Channel
Law and Crime Channel
Cheddar
IFC
Tastemade
Logo
Cheddar News
Investigation Discovery
TeenNick
MTV Live
Cleo TV
Lifetime
TLC
Nick Toon
CMT
Lifetime movies
Travel Channel
REVOLT
Comedy Central
Motor Trend
TV Land
UPtv
Discovery Channel
MTV
VH 1
DIY
MTV 2
Viceland
Food Network
MTV Classic
We TV
Philo local channels
Philo packages do not come with local channels, unfortunately. The strategy is to keep the subscription cheaper by excluding local and sports channels, which are costly to air. However, Philo is working on adding local channels to its package with the use of an antenna. You will be able to add local channels courtesy of the Channels App from Google Live.
Missing channels
A limitation of the Philo channel lineup is that it lacks favorite channels that are offered by competitors like Sling TV and Fubo TV in the market. The missing channels are mainly sports and local channels. They include:
Fox
NBC
ESPN
ESPN 2
ESPN 3
ESPNU
ESPNews
SEC Network
NHL Network
NBA TV
ABC
CBS
Telemundo
The CW
Univision
Fox Sports 1
Fox Sports 2
NBC Sports Network
TBS
TNT
Philo TV features
Philo TV has the following features on its current package:
Multiple screens
Philo TV allows you to stream up to three devices simultaneously under the $ 20 monthly package without restrictions. Besides, the package also allows you to create eight different profiles on each of the devices you choose to use. The features are ideal for a small family set up where there is a varied preference on the content to watch with clashing times.
Cloud DVR Storage
A significant value-add to Philo subscription is the inclusion of cloud DVR for storage. With a cheap price tag of $ 20 per month, you get unlimited storage space for your recorded shows. However, you can store the content for 30 days only. If you need to delete stored the content from the DVR, you can only do it after 30 days of recording. DVR storage is comparatively more than FuboTV and Hulu TV.
Video quality
The live streaming of TV programs achieves a video quality of 720p. On-demand programs stream to quality of 1080p. Audio streaming comes with a standard stereo quality of 2.0. Streaming quality is not an issue with Philo channels. The HD quality is much decent, although lower compared to cable TV. Notably, Philo does not have 4K streaming. Generally, the quality of your streaming will depend on the download speed of your internet.
User interface
The user interface for Philo TV stands above its competitors. New and trending live programs dominate your screen. Besides, programs are also recommended to you based on your watching history. The user guide is merely stunning, contributing to the overall excellent experience.
Philo TV supported devices
Even with a low Philo cost, the streaming service works on a good number of devices. Philo TV is compatible with the following:
iOS with a Safari browser
Fire Tablet
Amazon Fire TV
Android TV that is 5.0 or more
Apple TV mainly 4th generation and above
Roku devices
Personal Computer with a supporting browser
MAC with a supporting browser
Android 7 with Chrome browser
Unfortunately, you cannot play Philo TV on PS4 or Xbox. Another misgiving is incompatibility with Google Chromecast.
Philo TV review 2020
Streaming TV boils down to your choice of content and cost. Philo is an exciting option for skinny bundles. Currently, it is the cheapest among service providers of live streaming. Its channels are well balanced for a family set up to justify the Philo price. Of course, Philo TV is not for everyone; it is ideal for entertainment seekers with little preference for news.
The ability to stream three devices simultaneously at no extra cost gives it an edge in the market. You can also create eight profiles on each of the devices. Besides, you get to enjoy free unlimited storage space that comes with the cloud DVR storage for 30 days.
The latest two add-ons to the Philo subscription grant you variety to your streaming library for movies. Streaming quality for both video and audio is superb, with a good number of devices supported.
The sign-up process is easy and straightforward, with no payment details required initially. With your email address or mobile number, you are set to go with the free trial for seven days. In comparison to competitors, 58 channels are a better deal at the current Philo cost.
The idea of a single package could be an advantage or shortcoming, depending on your preference. If you like to customize your viewership, Philo TV is not your ideal bet. To its target market, there is value for money.
Conclusion
Cord-cutting is a common phenomenon with changing viewership preferences. As a viewer, you are interested in content that keeps you informed and entertained at a minimal cost. The development of live streaming has hived off a significant customer base from cable TV. Live TV streaming service providers have a niche to take care of.
Competition is now fierce, leading to the emergence of unique services such as those of Philo TV packages. It is a game-changer in the market with a particular audience in the American content scene.