Do you desperately want to detach from that irritating cable connection and not want to lose the strings with live sports, news channels, and seasonal shows? We got you! The alternate option for Cable TV is a Live TV Streaming service.
Live Streaming is homogenous with on-demand Streaming. This is because both these platforms have all their functions performed digitally and are compatible across all kinds of devices. Bonus point: you do not have to sacrifice local news channels, sports, and new episodes of current shows. Along with this, Live TV Streaming also allows you to save your favorite programs and episodes to watch later with the help of a DVR (Digital Video Recorder) and cloud space.
However, the features and plans depend on which service you choose. Choosing one streaming service from the colossal range of services available can be a difficult decision. Hence, we will help you through the process of making that decision. Here is all that you need to know about the Best Live TV Streaming Services in 2022. 
Subscription Cost of Live TV Streaming
There are two major types of streaming services-ones that provide on-demand and original content and others that completely take your cable subscription.
Also, severing ties with your cable connection does not mean you have to compromise on sports, news, or entertainment. On the contrary, cutting cords and subscribing to live TV and video streaming services is a clever option because it saves you money and improves your viewing experience.
With live TV streaming services, you get dozens of options to choose from and pick the best plan for you on both levels of money and entertainment.
Hulu plus Live TV costs up to $64.99/month if you take the ad-free subscription.
In comparison, Sling's Orange and Blue plans only cost $35 per month. The only drawback is that the channels they offer are pretty limited comparatively.
Furthermore, if you are looking for something easy in your pocket, try Philo, which costs $25 per month and offers 60 live channels, mostly in the entertainment section.
Again, AT & T TV's basic subscription starts at $69.99 per month, offering a holistic channel package (including those with RSNs), but is, of course, eminently more than YouTube TV.
Similarly, Fubo TV plans begin at $64.99 per month and go up to even more expensive plans.
Finally, the system is a little different in Paramount Plus. If you want ad-supported content, it will cost $5.99 a month or $59.99 for a full year. In contrast, if you want to watch ad-free content, choose the $99.99 a year plan.
Youtube TV subscription plan starts with $64.99 a month and increases with Add on subscription.
We are talking about add-ons offered by these top live TV streaming services.
YouTube TV gives an additional subscription option. This includes-
Acorn TV-$6 per month
NBA League Pass-$39.99 per month
CuriosityStream-$2.99 per month
Sports-Plus Package-$10.99-per-month
AMC Premiere-$5 per month
Entertainment Plus-$29.99 per month
Hulu+Live TV also offers some exciting add-ons.
Hulu+Live TV with no VOD ads $70.99 a month
Hulu/ESPN+Disney+ Bundle with Live TV-$71.99 a month
Hulu/ESPN+Disney+ Bundle with Live TV with no VOD ads $77.99 a month.
Pricing almost equal to the others, Fubo offers-
Latino Plus-$19.99 per month
Adventure Plus-$4.99 per month
Portuguese Plus-$14.99 per month
Sports Plus-$10.99 per month and more.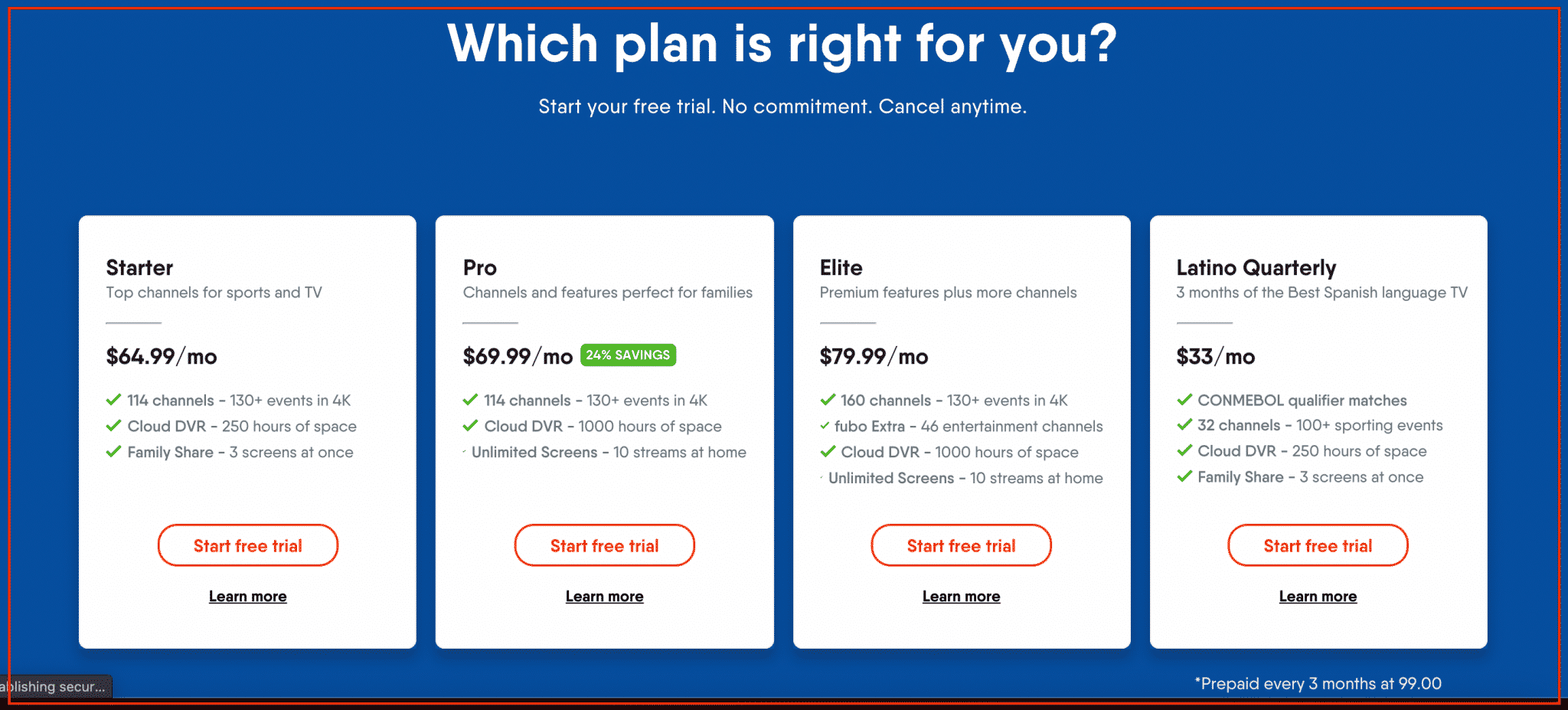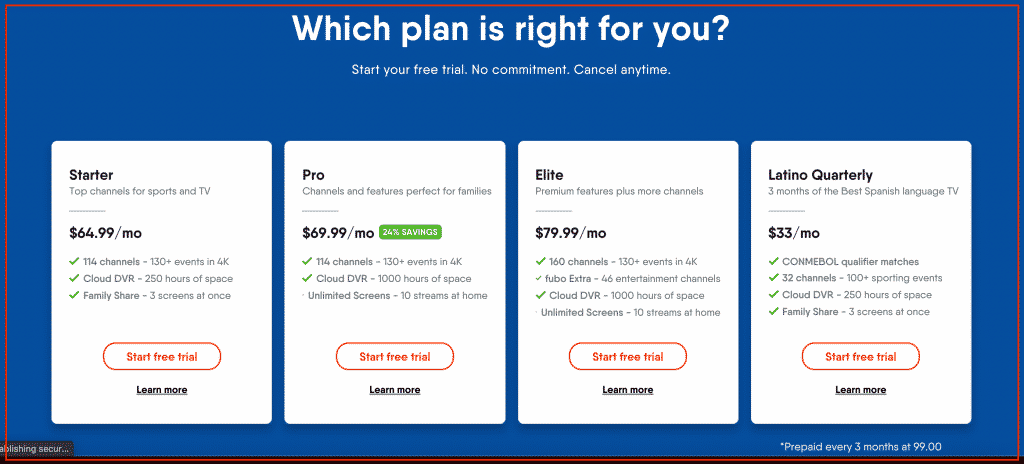 Though cheaper than the others, these Sling TV add-ons are worth it-
Sports Extra. $11 per month
Comedy Extra. $6 per month
News Extra. $6 per month
Lifestyle Extra $6 per month
Hollywood Extra $6 per month
Heartland Extra. $6 per month
A little different from others, Philo does not offer many add-ons. Philo, EPIX and STARZ provide only two add-ons. By paying just $6 per month, you get EPIX, EPIX Hits, and EPIX2, and for just $9 per month, you get STARZ, STARZ Encore, and STARZ Kids & Family. The benefit of getting these add-ons is that Philo consists of a whole on-demand EPIX and STARZ library.
While looking for a suitable streaming service, always check the proportion and compatibility between the price and the channel lineup. There may be top streaming services that charge more but are worth the money because of their channels and their plan benefits. Whereas some streaming services may charge less and have a limited channel offer with no interesting benefits. Benefits could be the number of streams, up to twenty streams on a home network, additional days of Streaming, etc. Go through this article to find out more about streaming services and the basis on which you should pick one.
Free Trial Duration
Before jumping into any Live TV Streaming Service, everyone has questions about the interface and overall experience offered by the streaming service. Then, of course, you feel the need to check whether it is suitable and in sync with your demands. For this very reason, every streaming service offers a free trial period.
Now, the number of days provided in a free trial period differs from service to service. It depends on their company policies and strategies. But, honestly, it's their wish!
Youtube TV offers a 14-day Free Trial period.
Whereas Hulu+Live TV offers half of what Youtube TV gives, that is seven days.
Similarly, Fubo TV also offers a week of the free trial, and so do Philo and Paramount +.
Just a little apart from the rest, Sling TV offers only a three-day Free Trial.
Whichever service you choose, no matter what, you should always try the Free Trial offered by Streaming Services to double-check your comfortability with its interface, channel options, and streaming quality.
What Live TV Channels you get?
While deciding upon a live TV streaming service, one of the essential information a customer needs is the Channel Lineup. Sometimes, even before pricing, you tend to check the channels offered by the service. Whether or not they provide sports, entertainment, or news channels.
Talking about services that offer a wide range of local channels, Youtube TV, Hulu+Live TV, Fubo TV, and AT & T TV have full-rounded packages. On the other hand, Sling TV, Philo TV, and Paramount+ do not have as many local channels in comparison.
With Youtube TV, you get complete local affiliated channels for CBS, ABC, FOX, and NBC in almost all company areas. To confirm, you can enter your ZIP code on the official website and check the availability of local channels in your area. Moreover, Youtube TV also has an amazing sports and news channel lineup apart from the local ones. But, the subscription does not include many regional sports channels. Click here to see all the channels offered with a Youtube TV subscription.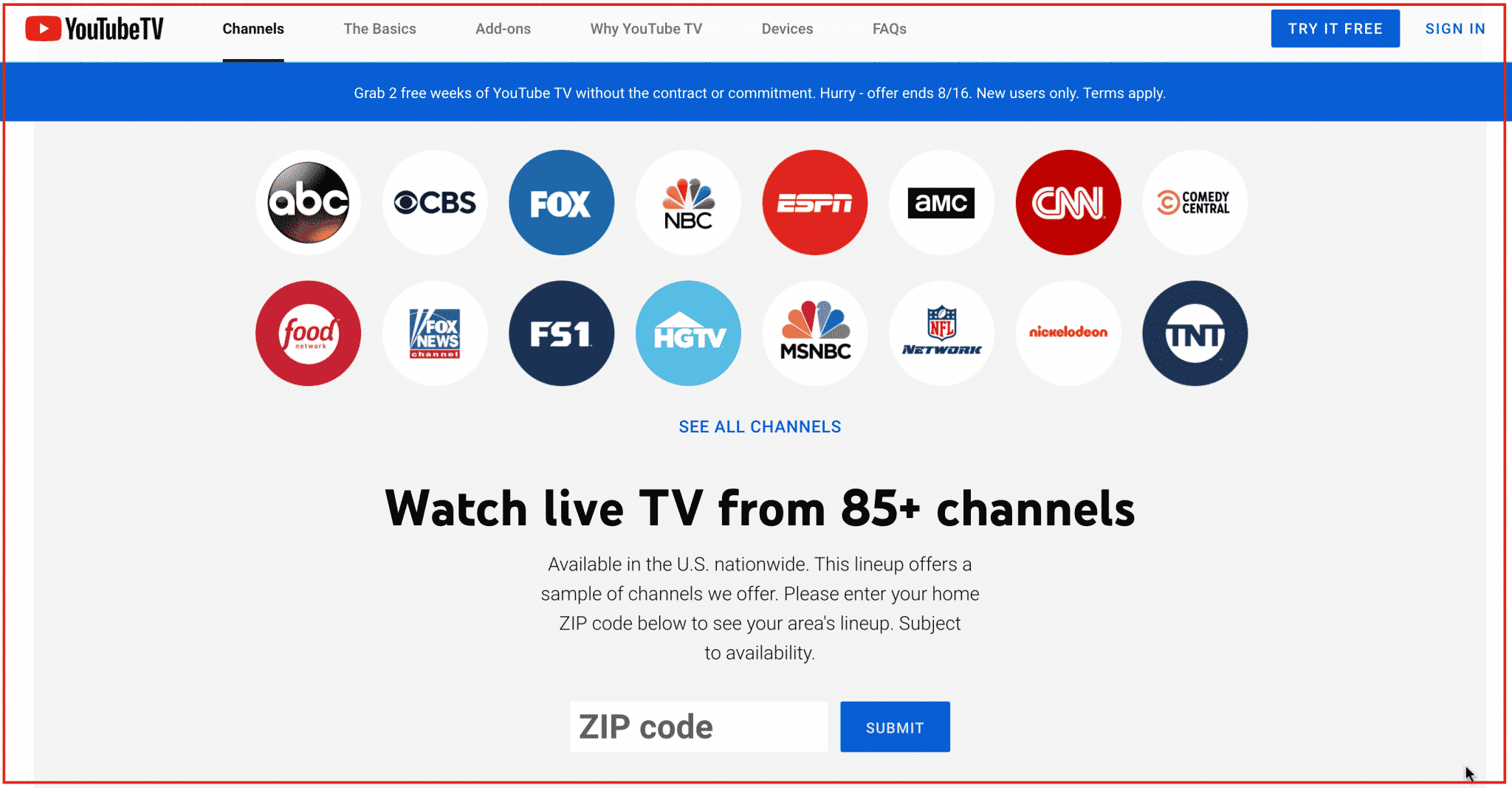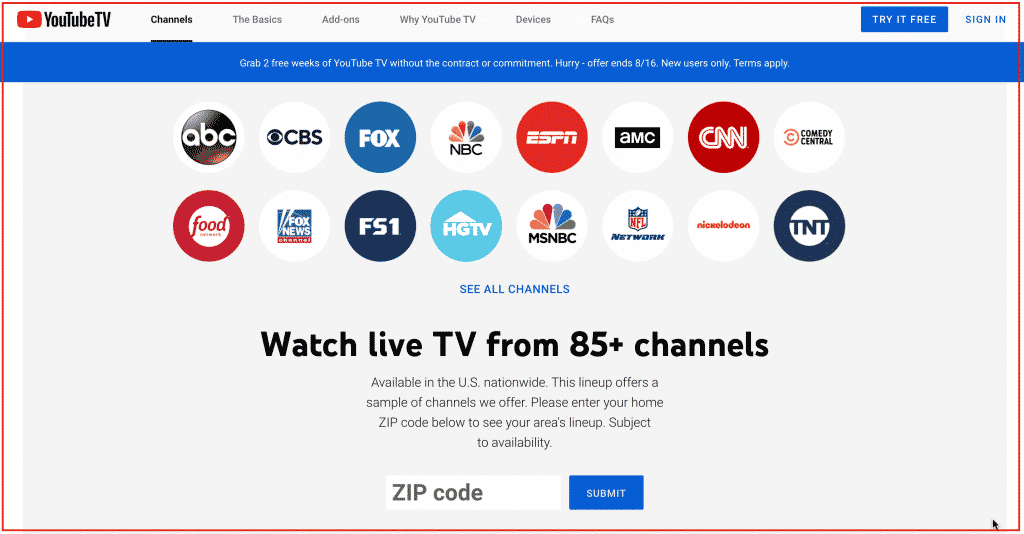 Hulu+Live TV is another service that has abundant local channels, more than 60, along with news, entertainment, children's and sports channels, and an on-demand library as well! Although with Live TV, you may or may not get your desired local networks like FOX or ABC, to know which ones are available in your area, enter your ZIP code on the official website and find out. Click here to see all the channels offered with a Hulu+Live TV subscription.

This is a service that is a definite recommendation for all the sports fans out there. Fubo TV's primary appeal is sports. This service has various sports channels like ESPN, beIN Sports, NBC Sports Network, CBS Sports Network, Fox Sports 1, TUDN, beIN Sports, and the Big Ten Network, which give you wholesome sports feel. Even in the basic family plan consisting of 113 channels, some major sports providers are offered. Though Fubo TV is made for sports, it has a much wider variety of content to deliver, like news, premium, local, and entertainment channels. Check all the channels offered with a Fubo TV subscription.

The Channel Lineup system is a little different from Sling TV. Sling TV provides three plans, which are Orange, Blue, and Orange & Blue combined. The confusing part about this service is that the channels offered in the Orange and Blue plans are somewhat similar. In comparison, Fubo TV and AT & T TV plans are much simpler to understand and select. with the Orange Plan, you get 33 channels; with the Blue Plan, you get 48 channels. And with the Oranges & Blue Plan, you get 54 channels. To know more about these offers and the particular channels provided in each one of them, read our Sling TV subscription review.

When it comes to channel lineup, Philo is not such a great service. Its plans are not as synchronized as its competitors. It charges less but does not offer local networks, live sports, and some other major news channels. Instead, Philo is essentially focused on lifestyle and entertainment channels. Philo's networks are provided by four major groups: A & E Networks, AMC Networks, Discovery, and ViacomCBS. Get all the details about channels offered in a Philo subscription.

AT & T TV is a service that has various genres of networks, including sports, entertainment, and news. In addition, it offers some limited local channels and is a beneficial service for sportspeople. This is the only live TV streaming service that has RSNs, Comcast, and Sinclair. But the only drawback here is that you will have to pay more for sports channels than for the other services.

The Paramount+ subscription offers channels and content from CBS, BET, Nickelodeon, MTV, Smithsonian Channel, and Comedy Central. It also has numerous movies from Paramount Pictures.
DVR Storage
During the decision to cut the cord, everyone was worried about losing the DVR functions. But you would be happy to know that almost all live TV streaming services offer DVR features.
Let's begin by discussing the DVR features of Youtube TV. This service offers unlimited cloud DVR storage without any extra fee. This gives you the freedom to record movies, shows, or sports games however you like. Youtube TV is the only streaming service that offers unlimited cloud storage space. On the other hand, some services provide limited space for DVR or charge more to increase the DVR capacity. Here are the best features of the Youtube TV Dvr feature-
Separate storage space for each account
No limit on parallel recordings
9-months storage of recordings
Stream library wherever you go.
Now comes Hulu+Live TV. Hulu's live TV service offers 50 hours of cloud DVR storage in their base plan. Though there is such an abundance of on-demand content available, the DVR isn't very useful. Still, you can upgrade your DVR storage to 200 hours by paying $9.99 a month. The add-on will give you the option to skip ads in recordings.
Not such a great streaming service in terms of DVR in comparison to the other services on the market, Fubo Standard gives its subscribers 30 hours of Cloud DVR storage. You can also upgrade this storage to 500 hours by opting for the Family Service Plan ($70.97 per month), the Ultra plan ($98.94 per month), or the Ftbol Quarterly ($34.98 per month).
Another average DVR service is Sling TV. With a basic plan, Sling TV offers no cloud DVR, but by paying just an extra $5 a month, you can record up to 50 hours of episodes, series, or movies. However, the DVR function is still easy to use and lets you pause, fast-forward or rewind.
This is an awesome one. Philo's cloud DVR features are great. Now you don't have to stream every new movie or show the very instant it is released, all thanks to Philo's DVR capabilities. Though Philo raised its price in June 2021, the DVR also got upgraded big time. You get unlimited cloud DVR storage where you can save as many shows and movies as you want. In addition, recordings can be saved for a whole year, whereas before, the limit was for 30 days.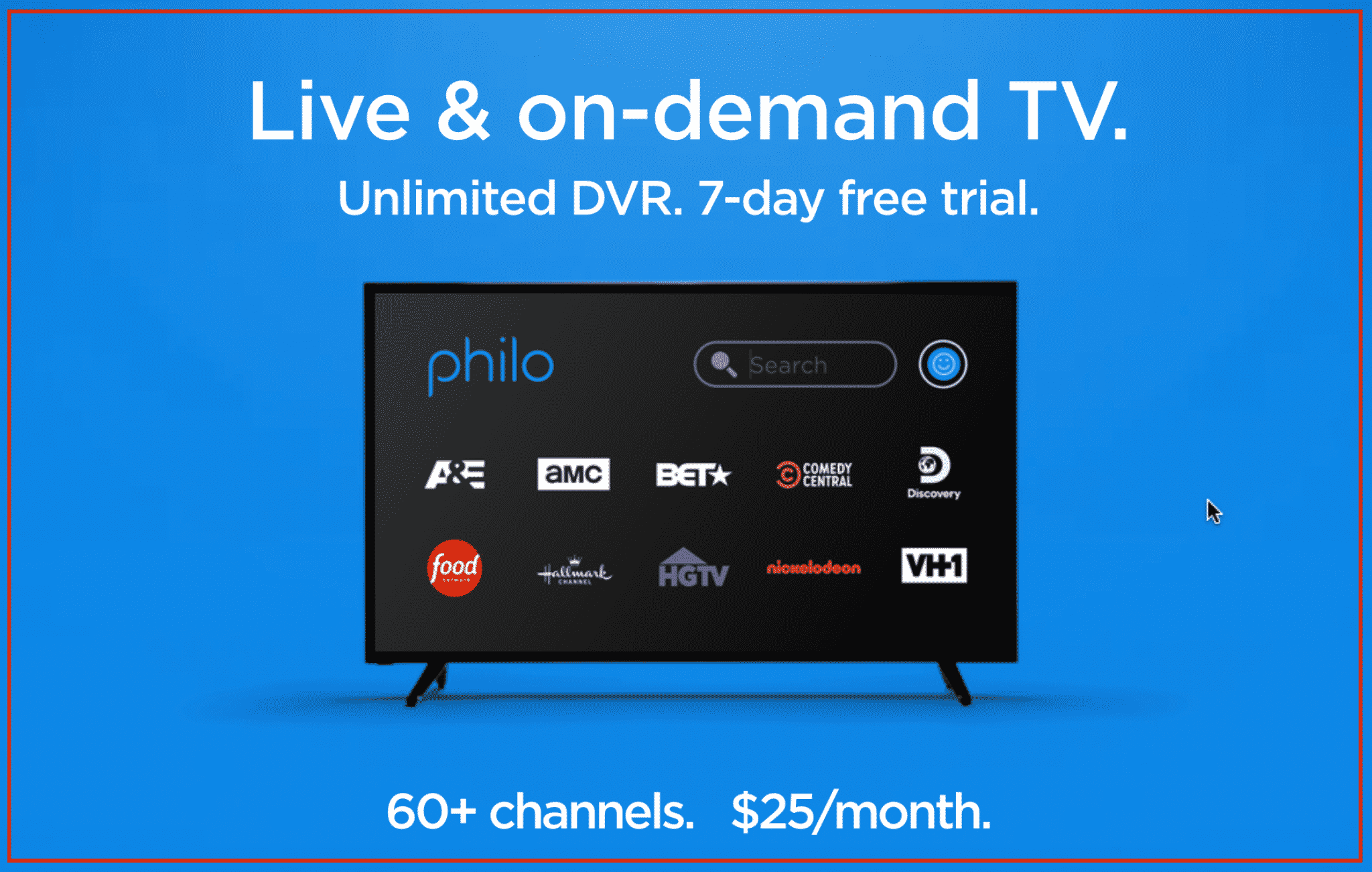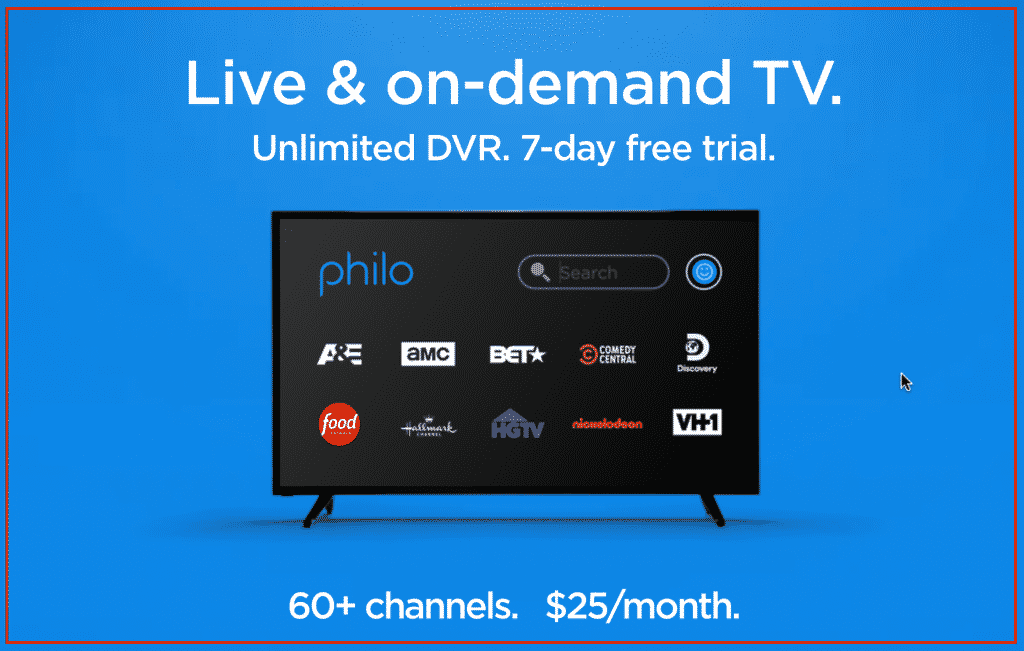 With every streaming service upgrading its cloud DVR, AT & T TV didn't want to stay behind. So AT & T TV announced some new DVR features which will increase the storage hours to unlimited. It will also offer 20 simultaneous streams and endless hours of saved content to watch at no additional cost.
Unfortunately, Paramount+ offers no cloud DVR storage space.
Streaming Interface
Streaming Interface means how the particular streaming service looks on screen, how easy it is to navigate different content, how you can change the settings on the screen, etc.
Starting with Youtube TV's interface, it is almost like a general website. When you log in to the service, the screen looks simple and clean in the color contrast of white and light grey. The elements are not clustered together and even a dark mode is available in the settings. A search option is given in the top right corner to find out the specific section of a particular genre of content. This is an extremely useful feature for searching through the extensive inventory of Youtube TV.
Here is another very appealing interface streaming service, Hulu+Live TV. Its web interface for on-demand and live TV content is modern, with huge sliders and effortlessly discoverable content. In the upcoming update, Hulu plans to upgrade its interface by making its text content more readable. In addition, the home page is pretty attractive with its horizontal scrolling to find significant content under categories like Live Now, My Channels, Sports, News, and Hulu Originals.

A clean, synchronized, and the crisp interface is what Fubo TV offers. The color scheme is a mix of gray, black, and white with hints of orange to attract extra attention. The main menu has six sections: Home, Sports, Shows, Movies, Guide, and Recordings. To change the settings of your account, such as payments, profile, subscriptions, etc., there is an account setting option given at the top right-hand corner. But there are no video playback setting options.

A mediocre interface with a dark color theme and modular design. This is Sling TV's interface. The elements are not spaced properly, everything looks cramped. But recently, Sling TV has launched a new app which offers a better interface. The first ones to get this app are the Fire TV users, although all through the year, it will be launched on different platforms. Sling TV acquires a personalized recommendations section, something similar to Netflix, and a new home section with this redesign. This also brought a guide with simple navigation tools, a special DVR feature, and easier search options.

Another one with a dark design but with some accents of blue and white. All the elements consist of rounded corners, but they still look sharp. In the top section, there are three headers shown-Home, Guide and Saved. The search option and the account setting option can be seen on the upper-right-hand side. The search option is an extremely useful tool because even if you search for a query, it will find channels, series, movies, and episodes around the description given. The search results page is a full-screen display that helps you scroll down to the results by content categories or genres.

AT & T TV's streaming interface is not as flashy as the competitors'. There is extensive white space and uniformity in the appeal. Navigation is not at all a difficult task. There is no dark mode option, which is unfortunate because sometimes too much white can disturb the eyes.
Paramount+'s streaming interface is similar to CBS All Access's. The color scheme, like the others, is again dark and partially glossy, but navigating through the content is easy. The account settings option is available in the upper-right corner with the icon of your profile.
Compatible Devices
Another important factor for consideration is the type and number of devices a streaming service is compatible with. This can change the whole game.
Some common devices with which compatibility is important are:
Apple TV (4th generation) and Apple TV 4K
Amazon Fire TV products
Chromecast with Google TV devices
Android TV (Note: TVs running a mobile version of Android may not be supported)
Vizio SmartCast TVs
Samsung & LG smart TVs (2016 models and newer)
HiSense TVs
Xbox: Xbox Series X, Xbox Series S, Xbox One X, Xbox One S, and Xbox One
PS5 and PS4
TiVo Stream 4K
YouTube TV, Hulu+Live TV, Fubo TV, Sling TV, Philo, AT & T TV, and Paramount+. All these top live TV streaming services are compatible with almost all these devices. To know more about each service's compatibility, click here.
Now that you have carefully read all the major details and must-knows about these Best Live TV Streaming Services, I hope it will be easier to decide between cutting the cord and going with a streaming service. Streaming services are a blessing to the world because they can give you an enriched experience with infinitelyCutting more content options to choose from. Stream whatever you like, local news, professional or famous sports games, entertainment channels for movies and series, and so much more. You get all this for a minimal price and your comfortability of choice. What more can you ask for? So go cut the cord and choose a streaming service.