With new streaming services launching every month, it has become challenging to find the best one. But the Disney Plus Bundle is the subscription service offering you a complete entertainment package. Of course, Disney alone is already famous among TV enthusiasts. However, when combined with Hulu and ESPN plus, it served the purpose of all-around entertainment. Moreover, Disney plus bundle price is pocket-friendly. In this post, I will reveal every detail about the Disney Plus bundle.
Before revealing the details about how much The Disney Bundle price is, we should know the content you will be getting.
What is the Disney Plus bundle?
The Disney bundle is the combined package of three streaming services, i.e. the Disney Plus, ESPN Plus and Hulu subscription offered at a discounted price than the regular price. You can save up to 30% each month with the bundle package.
As you know, all these three streaming services are highly rated in their respective niches. You can watch live sports matches, Sports originals like Man in the Arena, Eli's places, Bettor Days and The ultimate Fighter with ESPN Plus. At the same time, Hulu and Disney plus will fulfill your need for TV shows, original programs and movies.
The critical point is to choose the right Disney bundle subscription that saves your money and meets all of your requirements.
How much is the Disney Plus bundle?
The Disney Plus bundle price depends on the Hulu subscription service you opt-in. Therefore, it changes with the Hulu package price. By default, you will get it at $13.99 a month with Disney plus, ESPN Plus, and Hulu ads. However, if you subscribe to Hulu no ads or Hulu Live TV, the price of it will go up. However, its base plan is cheaper than live TV streaming services like Vidgo TV, Philo TV and DirecTV stream. I am explaining the details one by one below.
Before diving deep into its cost, we should know the price of all three streaming services separately. When you sign up for Disney Plus, ESPN Plus and Hulu subscription, it will cost you as follows:-
Disney Plus Bundle Price Comparison
The above table shows that Disney plus and ESPN plus offers monthly and yearly subscription but no free trial. However, Hulu offers only monthly subscriptions and there is no Hulu yearly subscription currently available. However, subscribers of Hulu can avail of a month-long free trial.
The Disney Plus bundle pricing varies with Hulu subscription. The details are as follows:-
Hulu Disney Plus bundle – is the most popular subscription package, which costs $13.99 per month. The regular price of this bundle is $21.97 a month if purchased separately. In addition to Disney plus and ESPN Plus, you will get a Hulu ads subscription with this package. It means, the subscriber will get commercials while watching movies, TV programs on the Hulu app. In contrast, Disney plus programming will be ads-free. There will be no Hulu live tv channels, no Hulu download and watch feature and no DVR storage.
Hulu Disney Plus bundle no ads – The price of this package is $19.99 a month, $7.98 less than the regular price. It differs from the previous subscription package in commercials and download features. The subscribers get Hulu no ads subscription with this package. There will be no commercials on Hulu and the subscribers can download their favorite programs to watch offline.
Hulu Live TV Disney Plus bundle – This is the premium subscription package of the Disney Plus bundle that costs $72.99 per month after a discount of $7.98 from its regular price. It comes with 75+ live TV channels on Hulu, a live TV guide to navigate channels and a DVR storage of 50 hours to record live TV. However, subscribers will get commercials between TV programs and movies. The download and watch feature is also missing from the Hulu Live TV Disney bundle.
These are the three primary bundle subscriptions currently available. But the subscribers can customize them as per their needs. You are free to add additional features by paying extra bucks. I am also sharing add-ons available.
These premium add-ons are also available with Hulu plans and can be clubbed with the Disney bundle.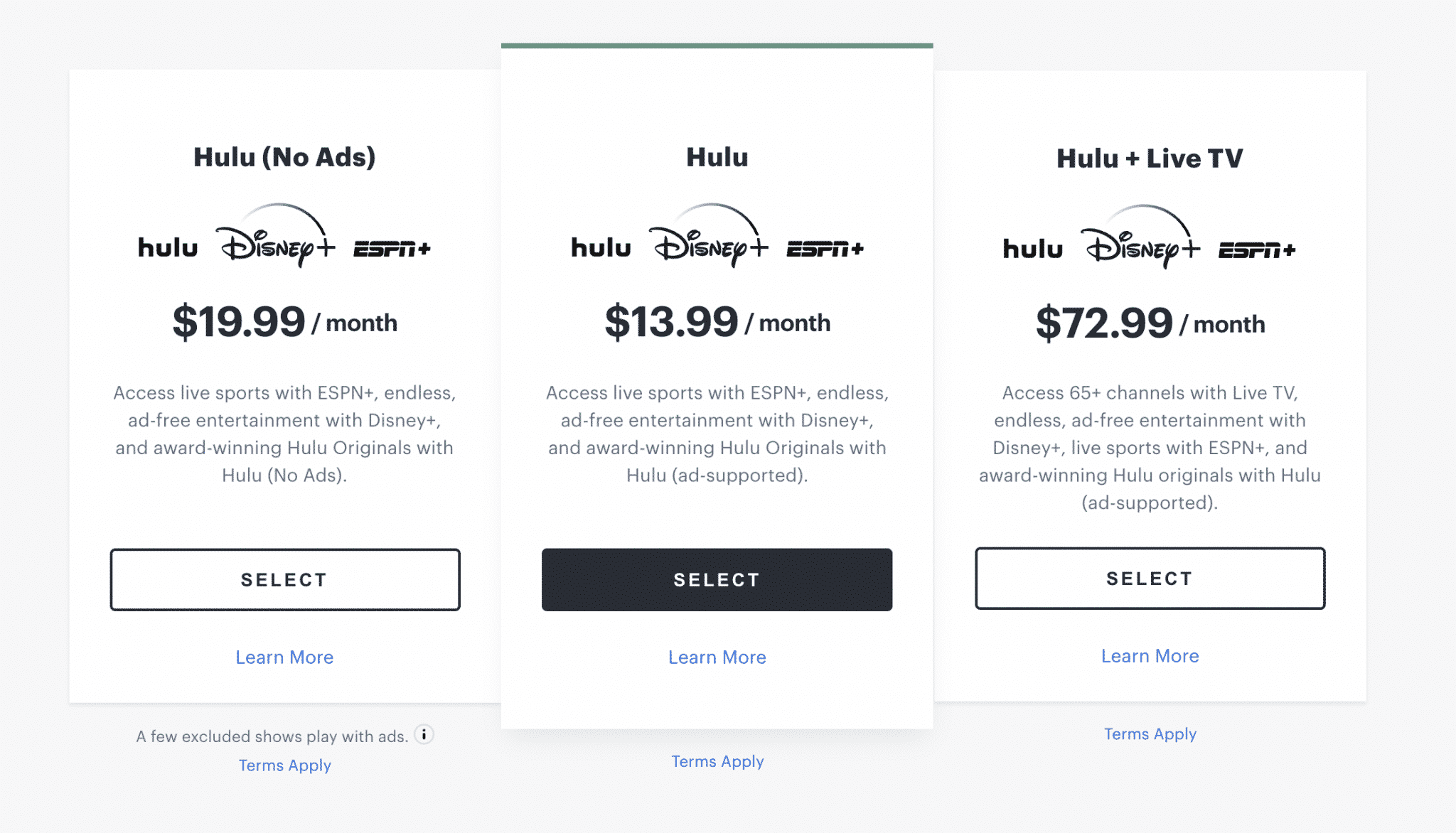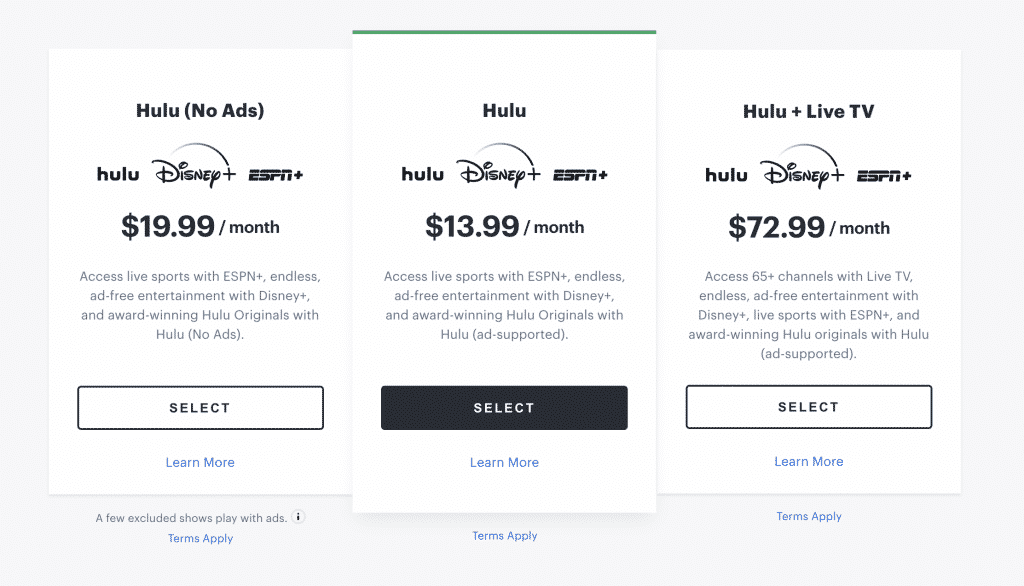 Hulu Disney Bundle Premium add-ons cost
HBO Max – The subscribers can add HBO Max with a Hulu subscription at the cost of $14.99 a month. However, you can avail yourself of an HBO Max free trial of 1 week. Hulu will charge you at the end of the HBO Max free trial. In contrast, the HBO Max free trial is not available on the HBO official streaming app. The HBO Max can be clubbed with the Disney Bundle when you have signed up through Hulu and billed by Hulu each month.
Cinemax – Cinemax is another premium add-on available with the Disney Hulu bundle. The subscribers can subscribe at the rate of $9.99 a month. Like HBO Max, a weekly free trial of Cinemax is available for the subscribers. You are free to cancel the subscription plan at any point of time during the free trial to avoid being charged.
STARZ – The STARZ subscription is also available with a Hulu base plan. It can also be clubbed with the Disney bundle. However, it is available at a low cost if purchased from the STARZ official streaming app. You can avail STARZ subscription at the expense of $8.99 a month after one week of a free trial. In contrast, STARZ offers its subscription at the cost of $3 – $5 a month for the first three months during the offer period. However, the subscribers can not avail free trial while using this offer.
SHOWTIME – The Disney bundle subscribers need to pay $10.99 a month for a Showtime subscription after a week of the free trial. These four premium add-ons are available on the Hulu platform for Disney bundle subscribers and can not be activated on Disney and ESPN plus.
If you want to subscribe to Hulu live TV Disney bundle, you can also avail featured add-on of the Hulu TV. The featured add-on includes unlimited screens at the cost of $9.99 a month and an enhanced cloud DVR add-on with $9.99 a month. If you subscribe the both featured add-on, it will cost you $14.98 a month. The featured add-on is limited to Hulu live TV and not applicable to Disney Plus and ESPN Plus streaming.
Disney Plus Bundle subscription interesting facts
You can not watch all three streaming services on a single platform. With the Hulu ESPN Disney bundle, you will need to install these three streaming services on your streaming devices and need to log in separately.
Once you have subscribed through Hulu or Disney plus, you will get an activation mail to activate the remaining two streaming services. After that, the same login credentials can be used to sign-in in Hulu, ESPN and Disney Plus.
The Disney bundle price will be charged by one streaming service each month and you don't need to pay separately. It is cost-efficient also.
The features like simultaneous streams, DVR storage, TV channels and the streaming resolution will be the same available with these streaming services when purchased separately.
There is no annual subscription plan for the Disney bundle.
If you are looking for a Disney bundle free trial, unfortunately, no free trial is available.
If you are already a Disney plus or Hulu subscriber, you can upgrade your subscription plan. The cost of your existing plan will be adjusted to the Disney plus bundle price.
Frequently Asked Questions
How much is the Disney Plus bundle?
The Disney Plus bundle plan starts with a price of $13.99 a month and the most expensive Disney Bundle with Hulu live TV costs $72.99 a month.
How to activate Hulu with Disney Bundle?
You can use the Hulu login credential to log in to your Hulu account if you have upgraded your Hulu plan to a Disney bundle. If you have signed up on the Disney plus website, you need to activate your Hulu account to log in. You will get an email from Disney for the sign-up process to Hulu. The subscriber also can go to the Account Page, then billing and then Watch now, next to the Hulu tab. This is the easiest way to activate a Hulu account from Disney plus website. 
How to log in to Hulu with Disney bundle? 
We explained the step-by-step process to activate Hulu in the previous FAQ. Once you have signed up, you can log in to Hulu with Disney bundle by using the login email address and password you used during sign-up.
How to log in to ESPN plus with Disney bundle?
The login process is similar to Hulu and Disney Plus. You will need to complete the sign-up process of ESPN plus using the link sent to your email address. 
How many screens with Disney Bundle?
The number of screens will be the same when you sign up for these streaming separately. You can watch ESPN plus on three screens, Disney plus on four screens simultaneously, while Hulu will be accessible on two screens simultaneously.
Conclusion
Disney bundle is a cost-efficient complete entertainment streaming service. You have the option to upgrade it to live TV with the Disney bundle with Hulu live TV plan. When its subscription is compared to live tv streaming services like Fubo TV cost and Youtube TV, its plan seems user-friendly. However, Disney should consider bringing an annual subscription with more cheaper subscription costs.