Live Cricket matches, be it IPL, Cricket world cup, or other ICC Cricket events, Hotstar was the app to watch Cricket matches live.
Hotstar has discontinued its services in the USA. When you will visit Hotstar USA, you will get the message as shown in the below picture.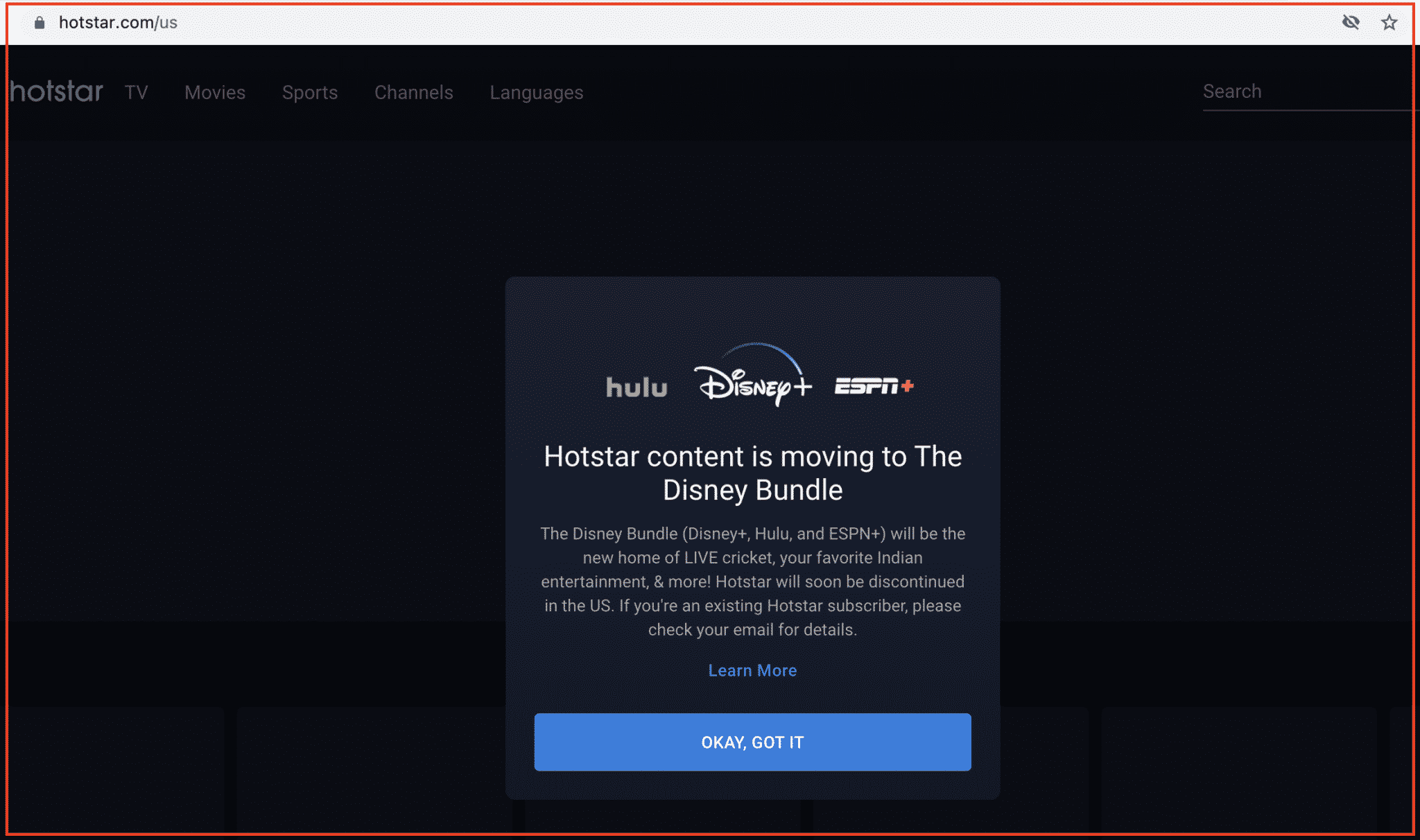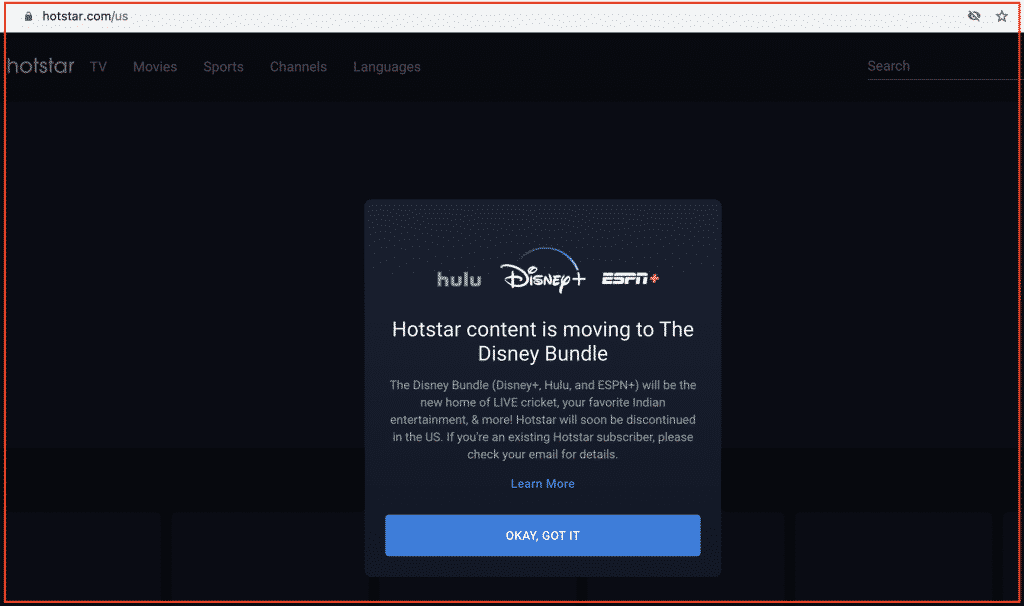 As we know, Disney owns Hotstar. Disney has decided to merge Hotstar with other streaming services Disney owns.
In this post, I will share how you can watch Hotstar content on different streaming platforms and the option available for existing Hotstar subscribers.
How Cricket fans can watch IPL matches and upcoming Indian Cricket matches in the USA.
All the Cricket matches scheduled to be broadcast on Hotstar will be accessible on ESPN plus now. The two major upcoming Cricket events are IPL 2022 and Bilateral Cricket series and both Cricket mega-events will be live on ESPN plus.
In addition to these two tournaments, you can watch the sports events which were scheduled to be streamed on Hotstar, will be available on ESPN plus from 01 Sept 2021.
You will need ESPN plus subscription to watch these matches live. Unlike Hotstar annual subscription, you can purchase ESPN plus monthly subscription which will cost you only $6.99 a month. It means, ESPN plus subscription will be enough to cover both Cricket events.
The annual ESPN Plus subscription price is $69.99 a year which is $14 cheaper than the monthly subscription. In addition to Cricket, you can access ESPN Plus premium originals and live sports like Soccer, Tennis, Golf and more.
Like Hotstar, ESPN plus is also not offering any free trial to its subscriber. You can purchase ESPN plus monthly subscription by clicking here.

How to watch Hotstar movies, TV Shows & Specials?
As we told earlier, Hotstar Cricket will move to ESPN Plus. Similarly, Hotstar entertainment programs like movies, TV Shows and originals will be available on Hulu Plus with the Disney bundle. If you wish to access the complete content library of Hotstar USA, you will need to purchase the Disney bundle available on ESPN plus app. Let me tell you more details about the Disney bundle where you can get Hotstar content in the USA.

The Disney Bundle
Watch Disney Plus + Hulu Plus( Ad Supported) + ESPN Plus
Subscribe The Disney Bundle and save up to 30% each month
The Disney Bundle subscription
The Disney bundle offers a subscription of three streaming services as a bundle which is ESPN+, Disney Plus and Hulu Plus (Ad supported). If you have already a subscription to these apps, you don't need to purchase them separately to access Hotstar content. You will be able to watch it without paying an additional amount.
Disney bundle is available as a monthly subscription only. If you purchase all three streaming services separately, it will cost around $21 a month. However, if you buy it as a Disney bundle, it will cost you only $13.99 a month and you can save up to 30%.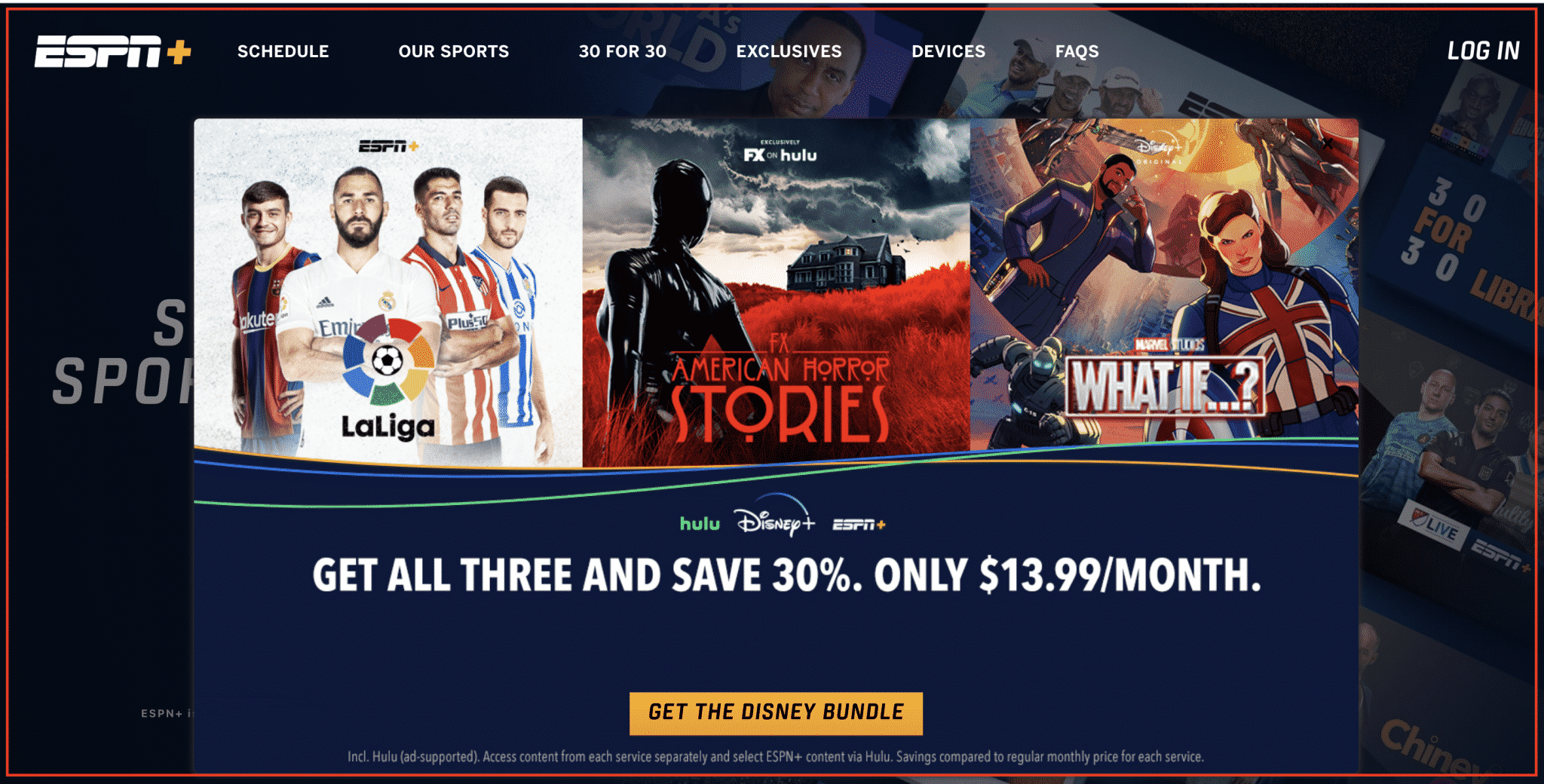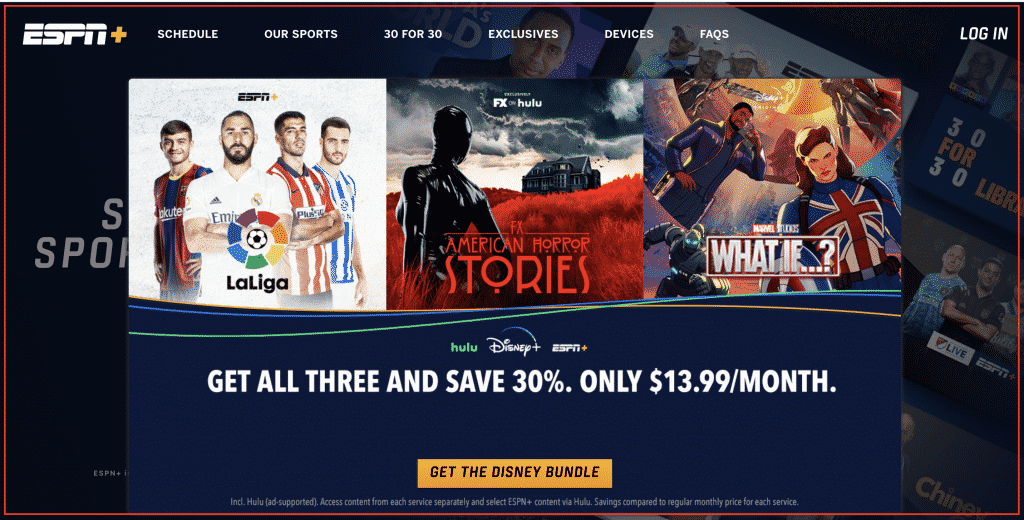 When a subscriber purchases these three subscription services separately, he/she will be charged a monthly fee as given below.
ESPN Plus $6.99 /Month or $69.99 /Year
Disney Plus $7.99 /Month or $79.99 / Year
Hulu plus (Ad Supported) $5.99 /Month or $59.99 / Year
As you can see, the Disney bundle is priced reasonably than the individual price. However, the subscriber has the option to purchase an annual subscription separately which is missing in The Disney bundle.
The important question is what will happen to Hotstar USA's existing subscribers who had already for a year.
Option for Hotstar USA existing subscribers
The Hotstar customers who already subscribed, have two options now.
They can move to Disney bundle from 01 Sept 2021 to 30 Sept 2021.
They can request a refund for the balance of the period of Hotstar subscription.
The existing subscribers had received an email from the Hotstar team to choose one of the two options. The customer can raise a refund request before 30 Sept 2021 which will be processed by 15 Oct 2021.
You can contact [email protected] for refunds and other queries.
Hotstar content on Disney Bundle
I am sharing the Hotstar entertainment content that will be available with The Disney bundle.
You can find the complete list of Hotstar TV shows available on Disney plus bundle from 1 Sept 2021. However, there are many shows which will be coming soon.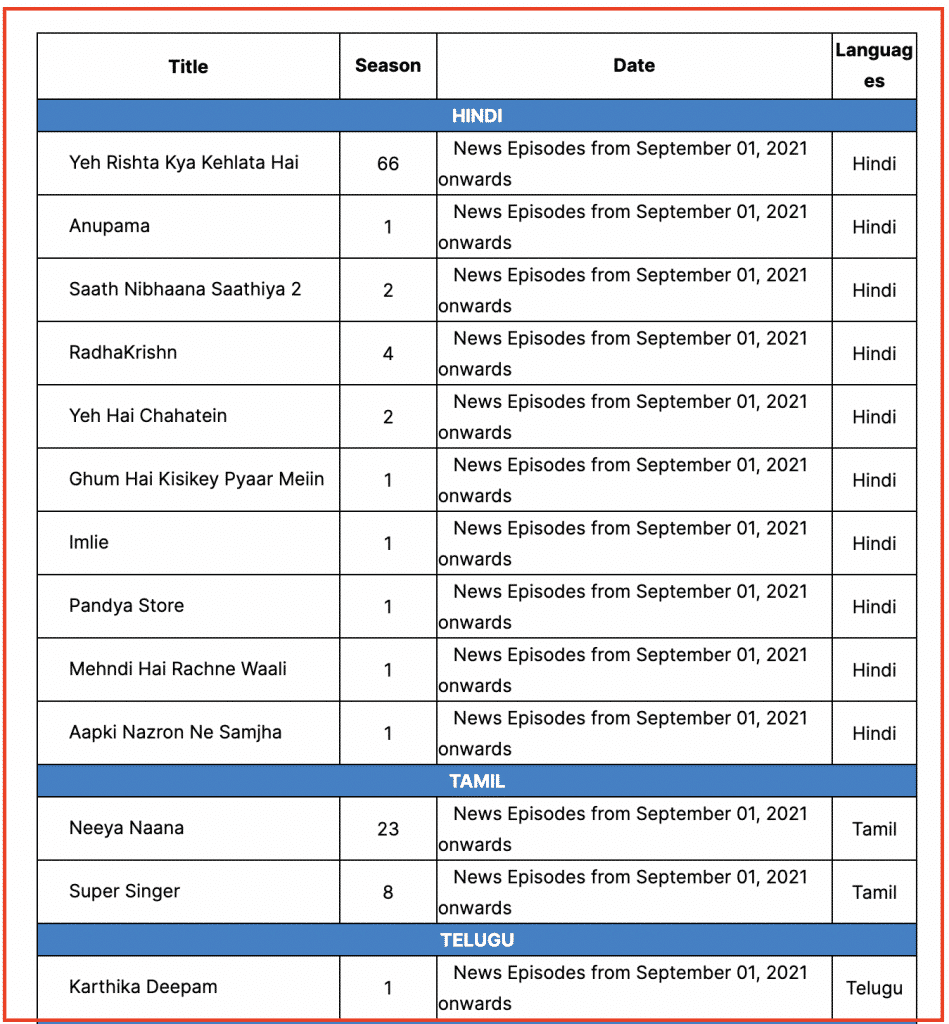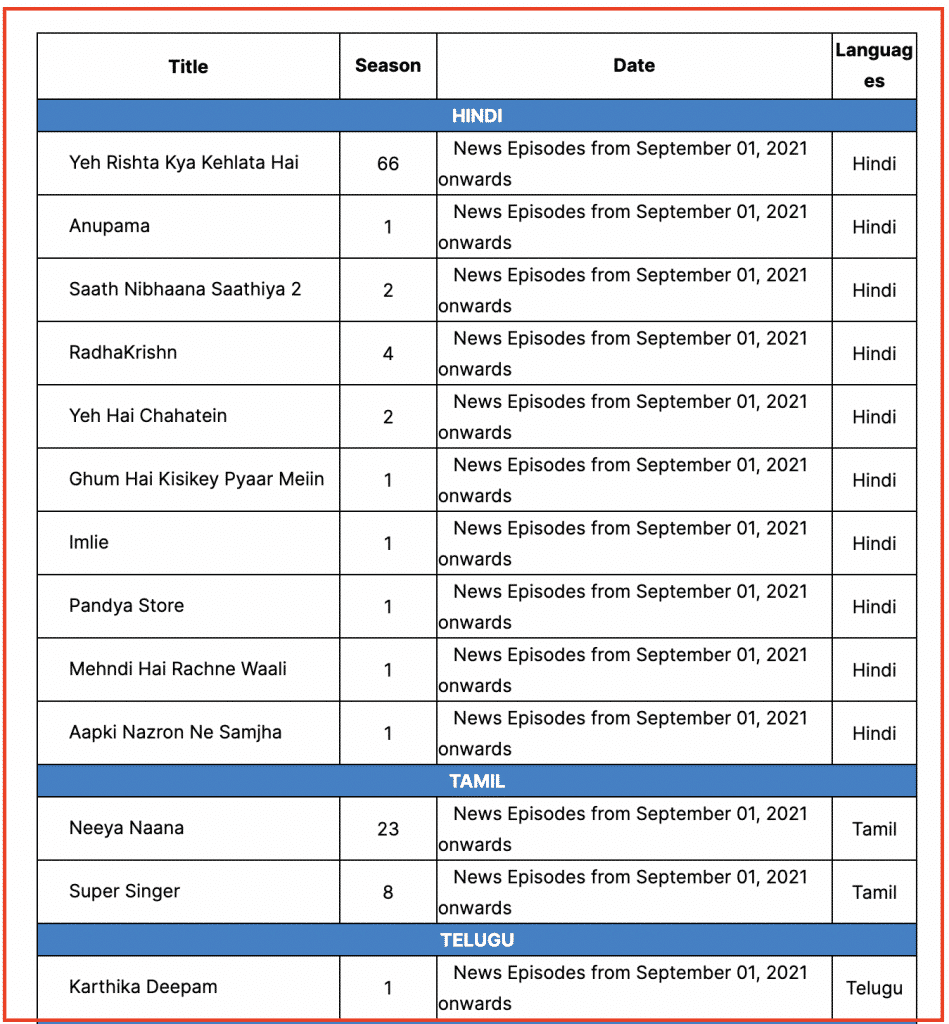 Apart from the above-given TV shows, Hotstar specials are also moved to the Disney bundle. You can watch the below given Hotstar specials on Disney bundle from 01 Sept 2021. The upcoming Hotstar Specials season will also be released on The Disney bundle in the USA.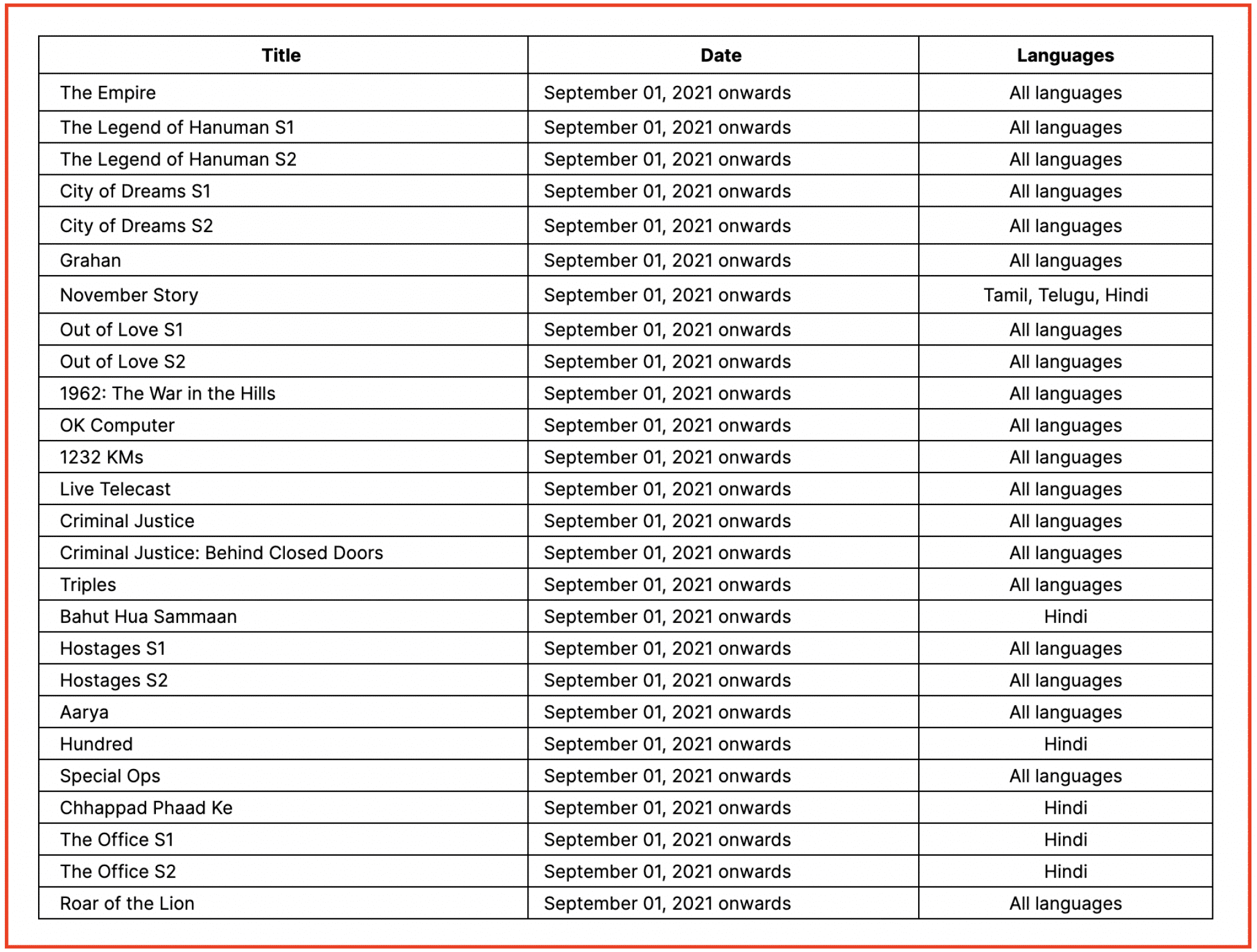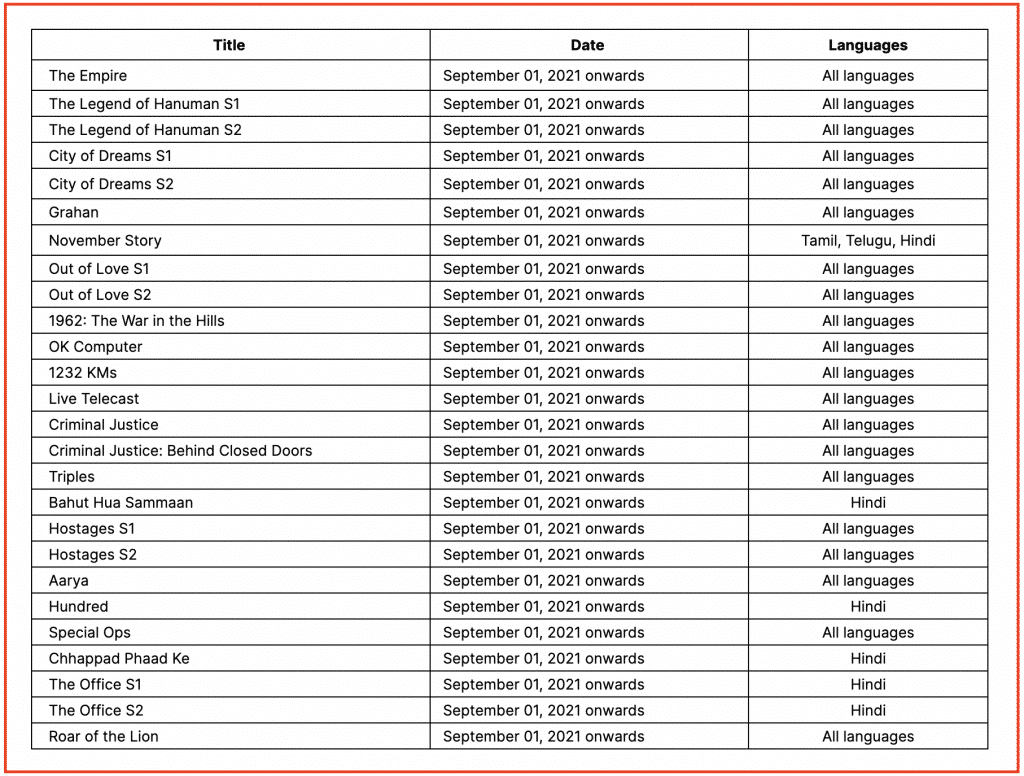 You can watch Hotstar movies on The Disney bundle. The movies that can be streamed on Disney bundle are given below:
| | |
| --- | --- |
| 1 | Hungama 2 |
| 2 | Bhuj: The Pride of India |
| 3 | Shaadisthan |
| 4 | Hum Bhi Akele, Tum Bhi Akele |
| 5 | The Big Bull |
| 6 | Khuda Haafiz |
| 7 | Sadak 2 |
| 8 | Dil Bechara |
| 9 | Lootcase |
| 10 | Angrezi Medium |
| 11 | Chhichhore |
| 12 | Tanhaji |
| 13 | Mission Mangal |
| 14 | Housefull 4 |
| 15 | Super 30 |
| 16 | Badhaai Ho |
| 17 | Raid |
| 18 | De De Pyaar De |
| 19 | Copy |
| 20 | Total Dhamaal |
| 21 | Irada |
| 22 | India's Most Wanted |
| 23 | MS Dhoni: The Untold Story |
| 24 | Mirchi Malini |
| 25 | The Stoneman Murders |
| 26 | Jolly LLB 2 |
| 27 | Jolly LLB |
| 28 | Bhaag Milkha Bhaag |
| 29 | Housefull 3 |
| 30 | Stree |
| 31 | Phillauri |
| 32 | Good Luck |
| 33 | 24 Ghante in Chennai |
| 34 | Dishoom |
| 35 | Aisha |
| 36 | Dombivli Return |
| 37 | Baby |
| 38 | Bala |
| 39 | Arjun Reddy |
| 40 | Gurgaon |
| 41 | Dolly Ki Doli |
| 42 | Saat Uchakkey |
| 43 | 31st October |
| 44 | Little Krishna – The Darling of Vrindavan |
| 45 | Neerja |
| 46 | Ankhon Dekhi |
| 47 | Pink |
| 48 | Love Sonia |
| 49 | Golmaal Again |
| 50 | Shabri |
| 51 | 2 States |
| 52 | Parzania |
| 53 | Guest iin London |
| 54 | Gangaajal |
| 55 | Talvar |
| 56 | Monsoon Shootout |
| 57 | A Gentleman |
| 58 | Coolie No. 1 |
| 59 | Running Shaadi |
| 60 | Rann |
| 61 | Little Krishna II – The Legendary Warrior |
| 62 | Haraamkhor |
| 63 | Laal Rang |
| 64 | Anarkali of Aarah |
| 65 | Khichdi The Movie |
| 66 | Hawaizaada |
| 67 | Bade Miyan Chote Miyan |
| 68 | Bal Ganesh 3 |
| 69 | Dheet Patangey |
| 70 | Break Ke Baad |
| 71 | Bullett Raja |
| 72 | Daagdi Chawl |
| 73 | Dabangg 2 |
| 74 | Dhol |
| 75 | Dhruva |
| 76 | Dulhan Hum Le Jayenge |
| 77 | Maqbool |
| 78 | Akira |
| 79 | Indu Sarkar |
| 80 | Ek Villain |
| 81 | Ezra |
| 82 | Tere Bin Laden 2 |
| 83 | Dev |
| 84 | Bobby Jasoos |
| 85 | F2: Fun and Frustration |
| 86 | Force |
| 87 | Garam Masala |
| 88 | Hanuman Da' Damdaar |
| 89 | Hanuman Vs Mahiravana |
| 90 | Hate Story 3 |
| 91 | Hero No. 1 |
| 92 | Humshakals |
| 93 | Hungama |
| 94 | I, Me Aur Main |
| 95 | Inttelligent |
| 96 | Jawaan |
| 97 | Dil Jo Bhi Kahey |
| 98 | Kaabil |
| 99 | Lamhaa |
| 100 | Prague |
| 101 | Tu Hai Mera Sunday |
| 102 | Little Krishna III – The Wondrous Feats |
| 103 | Chaurya |
| 104 | Click |
| 105 | Om Jai Jagdish |
| 106 | Rehnaa Hai Terre Dil Mein |
| 107 | Khiladi Ki Jung |
| 108 | Ekkees Toppon Ki Salaami |
| 109 | Sanam Re |
| 110 | Sanju |
| 111 | Sanjeevani: Adventure on the edge |
| 112 | Stanley Ka Dabba |
| 113 | Aiyaary |
| 114 | The Threshold |
| 115 | Taqdeer |
| 116 | Sarkar Raj |
| 117 | The Return of Abhimanyu |
| 118 | Name Plate |
| 119 | Time Machine |
| 120 | Mantostaan |
| 121 | Bhavani IPS |
| 122 | Once Upon A Time in Mumbai Dobaara |
| 123 | Sarkar |
| 124 | Ek Thi Daayan |
| 125 | Shor In The City |
| 126 | The Dirty Picture |
| 127 | Kee |
| 128 | Oozham – It's Just A Matter Of Time |
| 129 | Aata – The Game of Fear |
| 130 | D-16 |
| 131 | The Past |
| 132 | Jatt & Juliet |
| 133 | Jatt & Juliet 2 |
| 134 | Anjani Putra |
| 135 | Contract |
| 136 | Antharyudh |
| 137 | Gulaebaghavali |
| 138 | Helicopter Eela |
| 139 | Bang Bang |
| 140 | Vikram Vedha |
| 141 | Bol Bachchan |