If you are reading this article, you might be thinking of buying Amazon Prime Video membership. Also, to research a bit before taking the step ahead. If you are living in the USA, you also might want to compare the pros and cons of Amazon Prime Video, Netflix, and Hotstar. Well, in this article we'll cover them all.
Before Taking the Step Ahead, Ask Yourself a Few Questions
Are you a movie fanatic?
Do you love watching spectacular videos and movies?
Do you like watching your favorite shows in Ultra HD formats?
Are you looking to have the facilities for watching videos anywhere, at any time?
If all the answers are affirmative, let's move forward to look into more detail. Let Us First Look At the Amazon Prime Video USA Plans.
Amazon Prime Video USA Plans
Is it Worth Buying Amazon Prime Video Membership?
Ways to Find Out
Ask Your Friends for Feedback
Check the Online Reviews
Look for the Ratings
You will be the best person to understand your likings and stuff. You can judge whether you are satisfied with what you are getting in return for what you have paid. That is the reason Amazon has been offering 30 days of free trial for a prime video membership.
Features with Prime videos 30 Days Free Trial
You can enjoy all the benefits of a Prime Video Member when you opt for 30 days of a free trial. Users can subscribe to Amazon Prime video free subscription by visiting Amazon official website.. You can watch
Amazing Amazon Originals
Latest Hollywood movies
100s of HD movie channels
Mega Serials
Old blockbuster movies all in HD
Regional programs
Special kids cartoon channels
TV shows for kids
Other benefits
You will also be provided with a parental lock to secure specific channels safe from the kids.
You can enjoy your favorite shows in a grand way when you attach a Fire TV Stick to an HD TV, pictures can be enjoyed more when you watch them together on a big screen.
Also, you can watch TV shows when you are offline, by installing the prime video app on your Android or iPhone.
It is quite natural ( though it does happen very rarely) that even after availing a free trial of 30 days, you may not like the membership worth buying for that amount ( though Amazon Prime Video membership charges are quite reasonable). In that case, you can cancel the membership any time you want to, within the period of 30 days of the free trial, and you will be charged absolutely nothing.
Download and store your favorite videos in your device without consuming space in your device memory. Data downloaded through Amazon will be stored within the Amazon cloud.
Isn't it awesome? So, let's see the steps in case you don't want to continue the prime video services.
How to Cancel Amazon Prime Video Free Trial?
There can be two ways of subscription to prime videos, as discussed earlier.
Subscription only for the prime video services
Getting access to prime videos through Amazon Prime Membership.
In both ways, the cancellation of the membership is quite similar and very easy.
For the " subscription only for videos"-
Time needed: 5 minutes
How to cancel Amazon Prime video free trial subscription?
Click on your account tab

Go to Amazon prime video, click on your account tab.

Find and click Your membership tab

When you will click your account tab in Amazon prime videos, you will find 16 tabs. Click on Your Prime Membership tab placed at 9th position

Click on the "End Membership" option and confirm the submission.

This is the last step of membership cancellation. When you click on Your prime membership tab, you will be redirected to a new page. Click on End Membership to cancel your free trial.
If you are amazon prime member and have access to prime video, the process of subscription cancellation is slightly different.
Open the Amazon website and click on the "Account & Setting" tab.
Find out " Your Membership" tab and select "edit on Amazon"
You'll find the " End Trial and Benefits" option, click that, and press "confirm". It's done.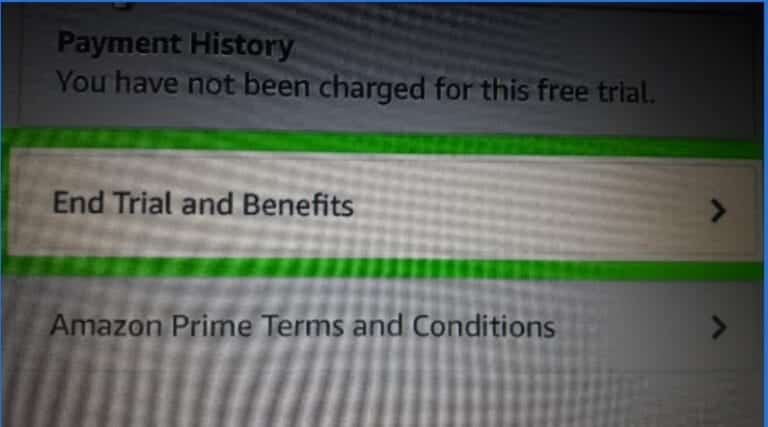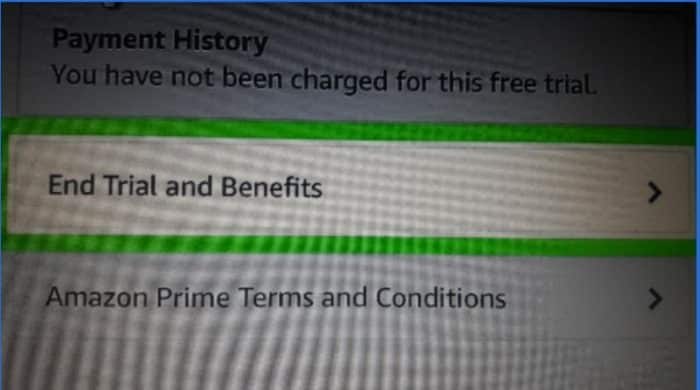 As we know that one of the key benefits of OTT apps is downloading feature. Users can download their favorite web series or movies or TV Programme and watch when they are offline. Amazon Prime also offers this feature to its subscriber. There are two ways to download Amazon Prime Videos in your device.
How to Download Amazon Prime Video?
There are two ways of downloading Amazon Prime Videos.
Download using the Amazon Fire Stick
Insert the Fire Stick in the computer USB  port.
Send the downloaded file to the Fire Stick.
Remove the Fire Stick from the PC and insert it in the TV.
Enjoy stunning pictures on the big screen.
Downloading Prime videos on mobile is quite simple.
Download the Amazon Prime Video app from the play store.
Download the latest movies and other TV shows to watch them without any ads or buffer.
For movies, just search the title of the movie, then download it.
For TV shows, search the title. Then for each episode, there will be a download option given next to the title. Click that option to download whichever episode you want to watch.
As Amazon is the topmost service provider for the cloud storage, they themselves have everything stored in the cloud. This feature allows users to download huge amounts of data on their devices. The data is downloaded through the Amazon Prime Video app consumes almost a negligible space in your device.

So no worries, keep downloading, keep enjoying awesome videos anywhere, any time, with or without an internet connection.