Disney Plus is an ad-free streaming service that has joined the market that was previously dominated by cable TV. Cable TV is slowly fading away with the increase in the number of convenient-to-use streaming services. Users are treated to thousands of TV shows, Disney movies, and series across the supported devices. Additionally, it allows users to download their favorite content to watch anywhere and on any device. This is one of the mains reasons why the service is becoming increasingly popular compared to competitors.
National Geographic, 20th Century Fox, Marvel Studios, Pixar, Disney, and Star Wars are the premium service's main content sources. Additionally, the service is available through various devices, some of which you may already have at home. Therefore, you will not need to buy additional hardware in most cases, making it even more convenient.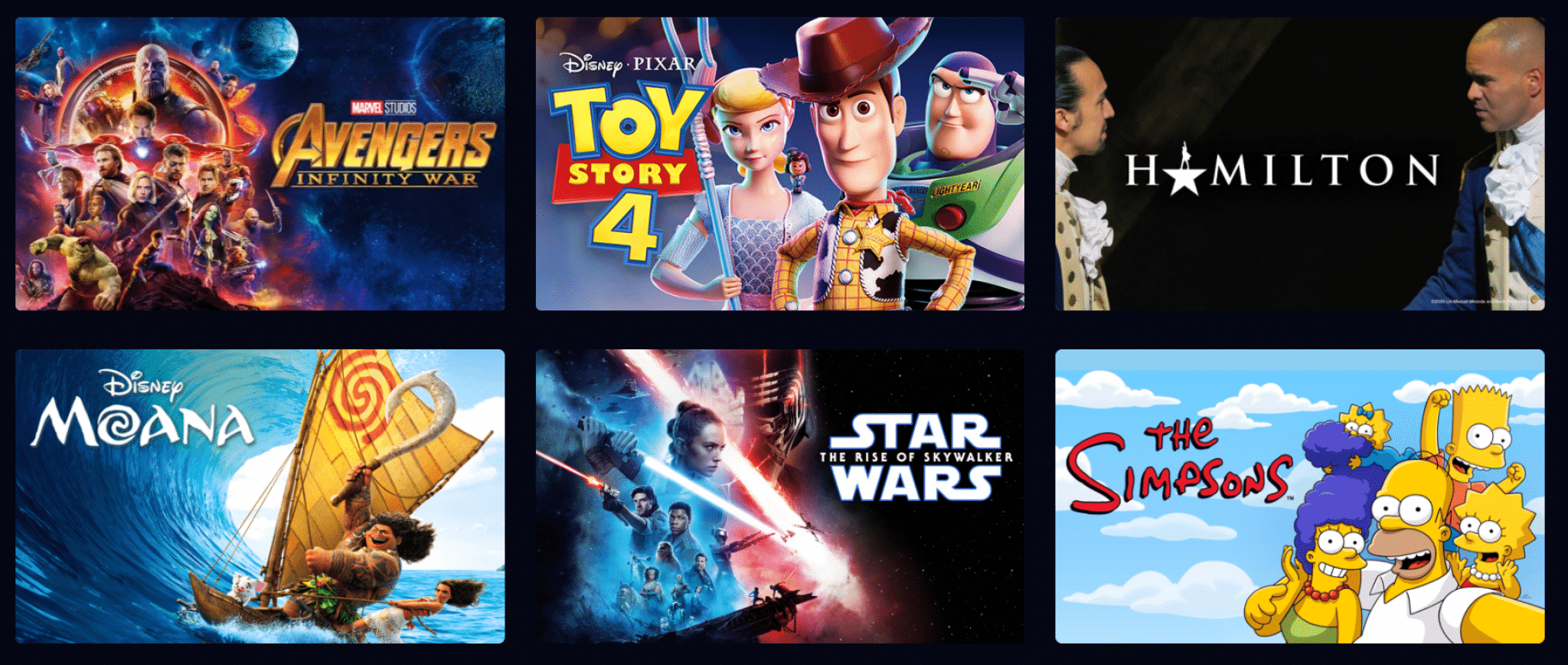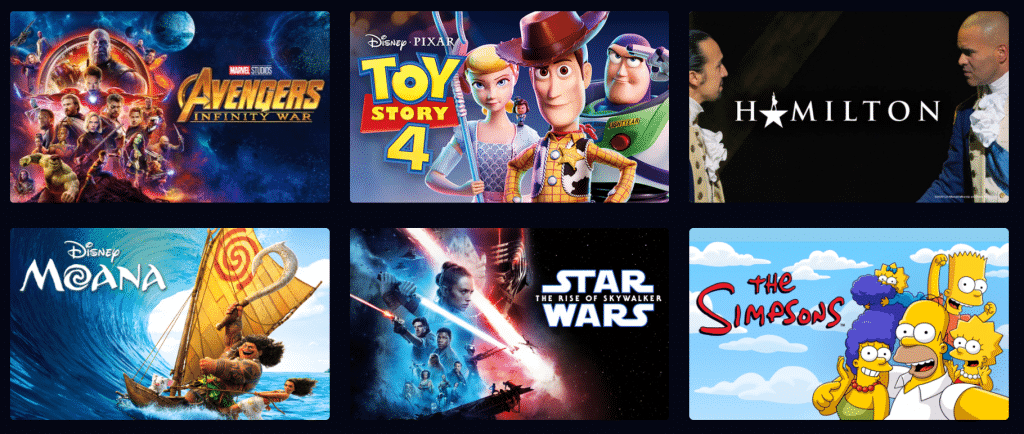 Subscription Plans & features
The cost of a TV streaming service and the features included in each subscription plan are primary determinants which many people consider. Therefore, everyone is looking to get value variety and reliability of the TV service they subscribe to.
Disney plus costs $79.99 per year in the US. However, you are not doomed with the annual plan since you can also buy a monthly plan valued at $7.99. With the two subscription plans, you get to watch many TV shows, movies, and series without the interruption caused by ads.  
And do you love Hulu or ESPN? Disney + can also be purchased as part of a combo bundle, including these two services. When put together, they will help you save up to $6 a month since you will pay a package price of $12.99 every month compared to the separated prices, which would otherwise add up to $18.97. With the combo subscription, you get to watch all Hulu originals, ESPN channels, and movies without advertisements interrupting your experience.
Additionally, ESPN+ users can easily upgrade to the Combo plan without having to cancel the running subscription.
Disney Plus free trial
At the time of writing this guide, Disney plus has scrapped the free trial that used to run for seven days. There are no clear explanations for the scraping, but we believe the Disney plus trial could get back in the future. However, it remains a top streaming service owing to the user-friendly Disney plus price. Even without a Disney Plus free trial plan, many people can comfortably risk the $6.99 for the first month. You can then terminate the subscription before the beginning of the next billing cycle.
Are there TV channels on Disney plus? 
Unfortunately, there are no TV channels currently available with Disney plus. However, subscribers will get content from some of the most popular content hubs. These include Star Wars, National Geographic, Disney, Pixar, and 20th Century Fox. Additionally, you may get to enjoy some TV channels on Disney if you opt to subscribe to the combo bundle featuring ESPN and Hulu.
Supported devices
Like other popular streaming services, Disney plus shows are available on major platforms, including smart TVs, mobile devices, and some gaming consoles. AT the time of writing this guide, Disney streaming is fully supported by Apple TV, Android TV, Android phones and tablets, iOS devices, Amazon devices, PS4, Xbox one, Now TV, and all Roku devices. You can also access all Disney plus shows through a web browser on any device.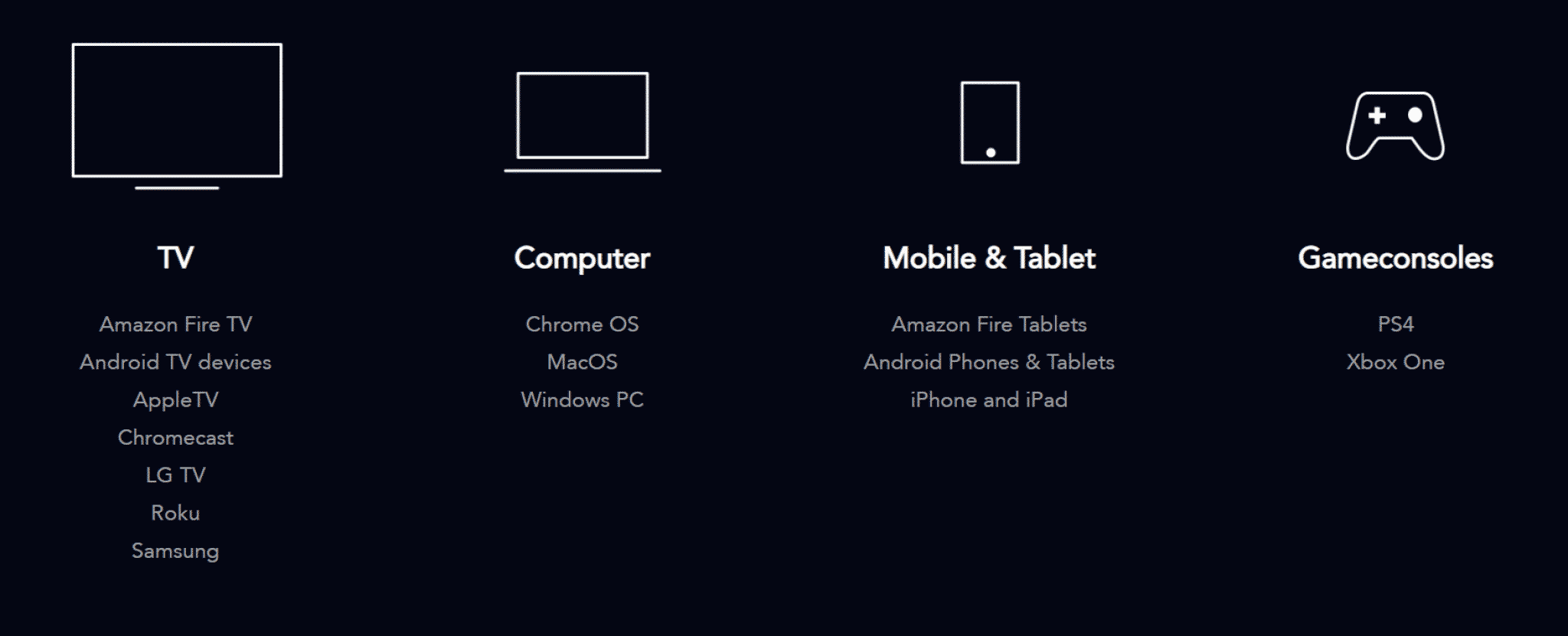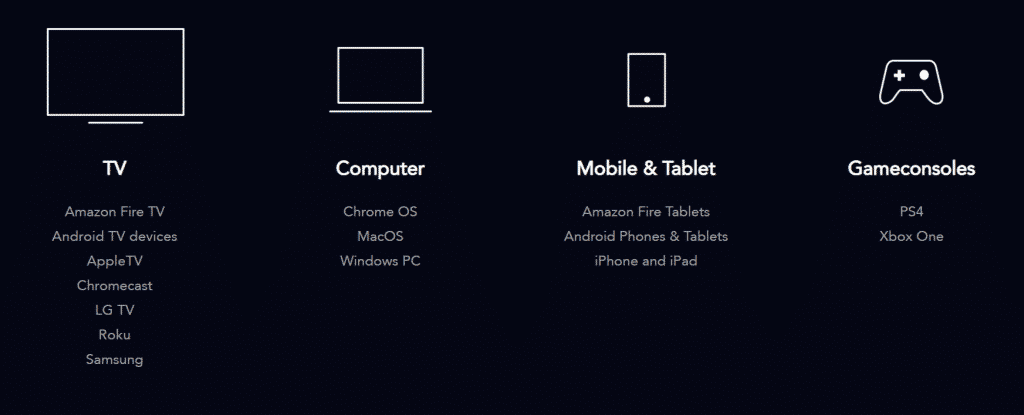 And what resolution is available on these platforms? Disney + supports up to 4K resolution for content available on the platform. Other resolutions supported include Dolby Atmos, HDR, and Dolby Vision. Additionally, you can easily check whether a movie supports your preferred resolution on its details page. It is also from the same page where you can switch the resolution as preferred.
Disney Plus features
Streaming quality – Disney plus is a premium stream service and the streaming quality supported speaks volumes about the same. Unlike other providers, a Disney plus subscription allows you to switch between video qualities without adding a penny to your subscription. Therefore, whether you are on the stand-alone Disney subscription or purchased the combo package, you will be able to watch your TV shows and movies in either HDR, 4K, Dolby Vision, or Dolby Atmos resolutions.
DVR storage – You will perhaps not like that Disney does not offer you advanced features like DVR storage. This is quite a blow to people coming from other popular platforms. Therefore, we must say it is displeasing for such an important feature to miss in Disney.
Number of devices – So, how many devices can log in and watch content on Disney using the same account? This is what we call concurrent access and which has been a topic of discussion for days on end. After failing to provide DVR storage to subscribers, Disney compensated by allowing up to four devices to view content on the same account concurrently. Therefore, it outdid some of its competitors who provide a maximum of three concurrent device access.
Popular shows and movies
Disney plus is, by all rights, an entertainment hub for many people. If you are looking to have some fun watching Disney, perhaps you may want to know what other people are into and make a good selection of movies, series, and TV shows. Therefore, we have prepared brief notes on some of the top shows on this streaming service.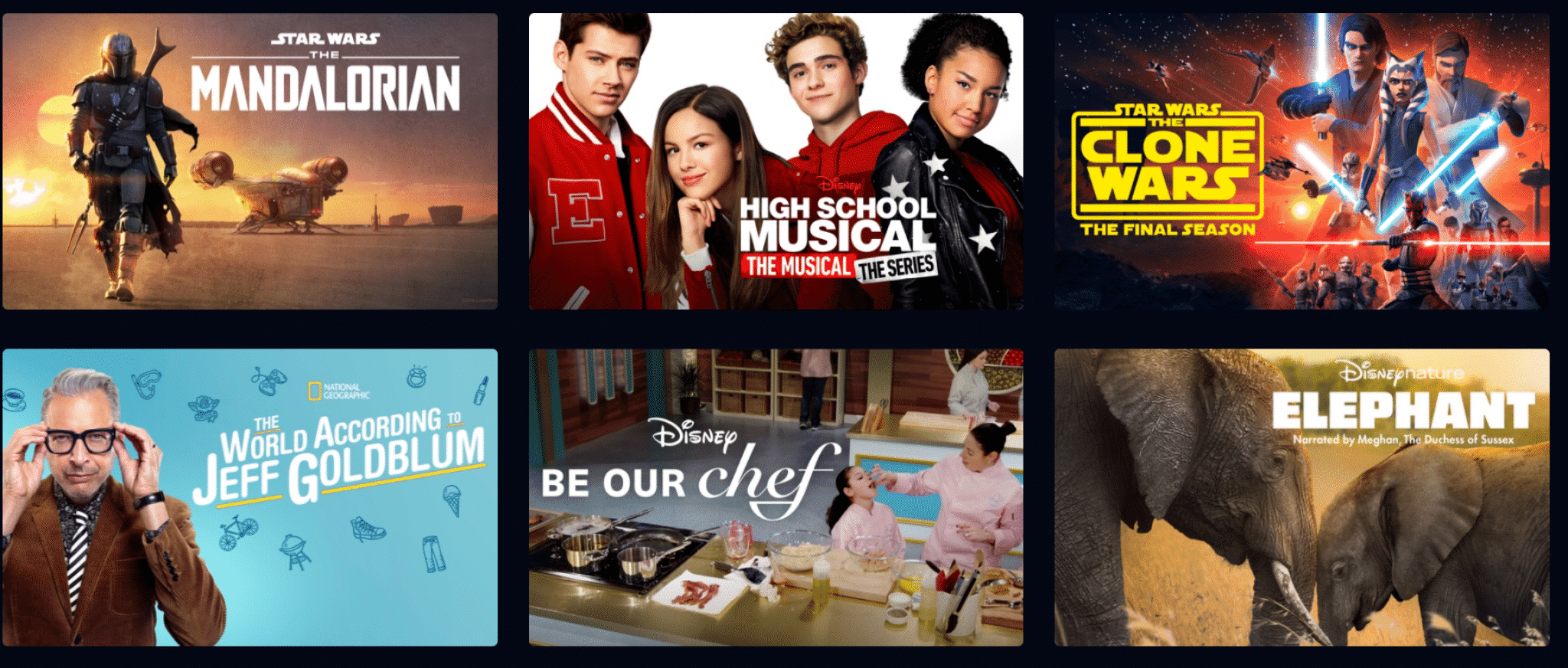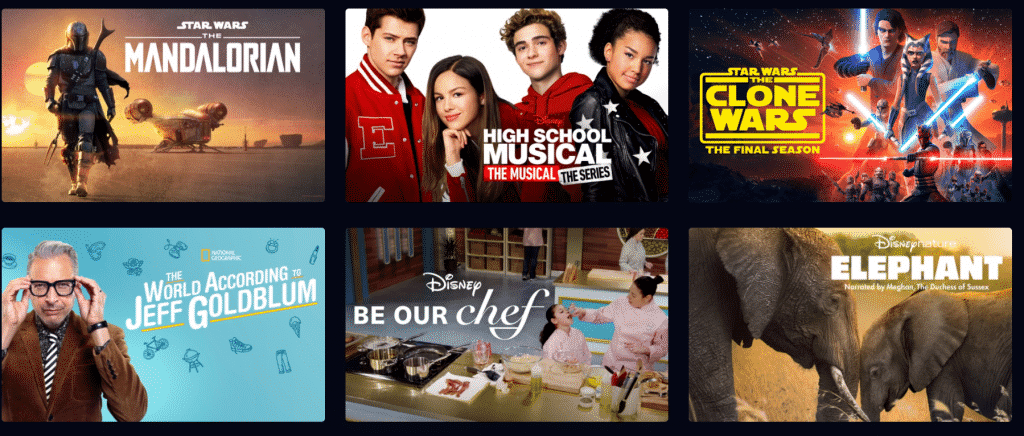 Star Wars Rebels: It is a four-season TV show cum series filled with humor and memory triggering events. The first season was first aired in 2014, and the show does not seem to be losing popularity any time soon. It is considered a precursor for the Star Wars movie that was released soon afterward.
Muppet now: This is a 20202 TV show depicting the modern kid growing surrounded by technology and is part of the greater social life. The Muppet show episodes are tightly and creatively weaved together to the suspense and need to watch the next episode.
Other evergreen shows include Diary of a future president, The Mandalorian, The Simpsons, and Black is King.
Disney Plus Bundles
Using Disney plus with Verizon – Disney plus has been in a partnership with Verizon, which has seen the mobile carrier offer free 12 months' access to the premium streaming service. However, the company is now seeking to grant continued access for as long as users remain with the network. The changes were announced on August 17 and have been effected starting August 20 this year. During the announcement of the changes, Verizon said that subscribed customers would have an option to change to the Play More package or add Hulu and ESPN Plus to the basic subscription at $6 per month.
Hulu Disney Plus – Hulu Disney Plus is available to all users subscribed to the Disney +, ESPN plus, and Hulu combo package.
Best Streaming service for Disney plus shows
Disney plus has more than five premium content sources. Besides the Disney-owned sources, the service also brings you content from 20th Century Fox. The Disney streaming service is a great fit for its price except for the lack of DVR storage. Following our Disney plus review, we have identified some pros and cons you may want to know.
PROS
• Compatible with an array of devices
• Affordable packages
• Can be combined with Hulu and ESPN at an affordable price
• A wide library of movies and TV shows
CONS
• No DVR storage
• Limited live TV channels
Frequently Asked Question
How to get Disney Plus with Verizon?
Follow these steps to get Verizon Disney plus.
1. Log in to the Verizon app
2. Tap on the drop-down menu and select Add-ons
3. Choose Entertainment
You will be able to connect Disney to Verizon from this tab. The carrier will then apply a promotional code to your account if you are eligible. However, this amazing offer is only available to a selected section of users.
How many devices can be used at the same time?
You can use up to 4 devices with Disney +. This is without regard to the subscription you are using, and therefore this is a big leap.
How to get Disney plus for free?
Unfortunately, the Disney streaming service does not offer a free trial period. However, the monthly subscription is very affordable and compensates for the former.
Additionally, some Verizon users can get up to 12 months of free service. You will need to follow the steps ascribed in the How to get Disney Plus with Verizon section above.
How to get Disney plus on TV?
You can get the Disney plus app to your TV by downloading it from the TV's app store. People without smart TVs can access Disney streaming services in a variety of ways. Roku devices and Amazon Fire Stick, and Google chrome cast are three of the most widely used ways of adding Disney plus to your TV.
How to get Disney plus on Samsung TV?
Like other popular TV brands, you can add Disney plus to your TV by following a few straightforward steps. These are described below.
Switch on your TV and go to the home screen
In the apps list, find select the "Add channel" option
A list of options will be displayed, and you will need to select it
Now click on add channel to finalize.