Peacock is an online streaming service operated by NBCUniversal. The service is named after the peacock on the NBC logo and was launched on 15 July 2020. Peacock is the last big streaming service to enter the entertainment market. It is also the latest competitor of Hulu, Disney Plus, Netflix, HBO Max, FuboTV and so much more. But what makes Peacock TV stand out from the rest?
Just like its rivals, Peacock TV offers a wide range of television services. It includes thousands of TV shows, movies, series, animations, originals, and sports. It is watchable on multiple devices such as Peacock tv firestick, Android and iOS mobile phones, tablets, smart TVs, and streaming devices like Roku. Unfortunately, Peacock TV is not yet on Amazon Fire TV. You can discover more on the compatible devices below.
Peacock TV Plans
Peacock TV encompasses three tiers: Free tier, Peacock Premium, and Peacock Premium Plus. Each of these plans is special in its way, but if you want access to each show, movies, and so much more without ads, then Premium Plus is the way to go. Here is a breakdown of all the plans, their costs, as well as what they each offer.
| Features | Peacock Free plan | Peacock Premium | Peacock Premium Plus |
| --- | --- | --- | --- |
| Price | Free | $4.99 per month | $9.99 per month |
| Ads | Yes | Yes | No/ Few ads |
| Hours of Streaming | 7500 | 15000 | 15000 |
| Stream | 3 | 3 | 3 |
| Resolution | 1080p, 4K | 1080p, 4K | 1080p, 4K |
Peacock TV Free Plan: As its name implies, this tier is available free of charge. It is inclusive of ads and 7,500 hours of programming. You will also receive limited access to the library comprising of complete classic series, daily news, popular movies, freshman broadcast series, sports events like Olympics, Peacockoriginals, Spanish content, and tent-pole series.
Peacock Premium: The Peacock TV cost for this plan is $4.99 per month or $50 per year. It is a cheaper option as compared to other TV streaming services. Upgrading to this plan will give you full access to the TV content and about 20,000 hours of programming. Moreover, you can view the number of ads you will see but they will be about five minutes or less every hour. The Premium Plan gives access to the entire catalog of Peacock Originals. NBC series are also on the list. Moreover, the Premium plan consists of popular or trending movies. Fans of late-night talk shows will be glad to know that they can follow their favorite shows. You do not have to wait for them to air at 11.30p.m ET but instead watch them before they air at 8 pm ET.
Peacock Premium Plus: For those who hate ads, then the Premium Plus might be the ideal choice for you. It is available for just $9.99 per month or $100 a year. Upgrading to this plan will give you everything in the Premium plan, but without the ads. There are no downloads services yet, but when launched, then premium plus users will get access to it.
However, this Peacock streaming service plan is not entirely ad-free. It is due to streaming rights, which require streaming services to offer some ads. The commercials can be of shows, movies, and Peacock Channels.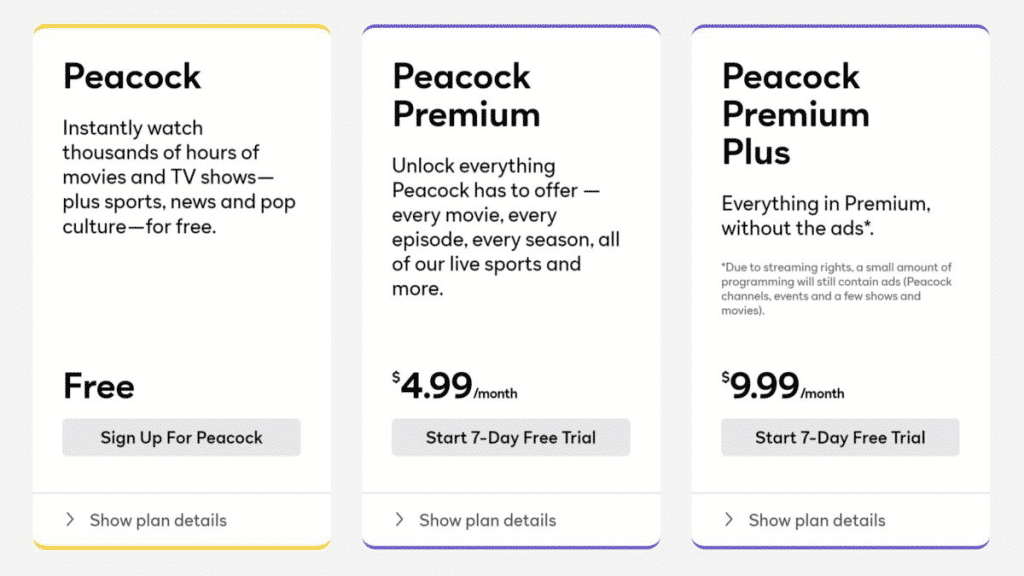 In the premier plus tier, users will also have access to the next-day streaming of every broadcasting shows, and full episodes and seasons of. Live sports of the Olympics and Premier League will be available too.
Is Peacock Streaming Service Free?
Peacock TV also comes with a free plan where casual users can access 7,500 hours of streaming and access to most of the content. Signing up is also free and easy. All you have to do is to create an account by filling in your email and put in a password. You do not require a credit card for this plan unless you want to try the 7-day free trial of the premium tiers.
You will be able to watch tons of movies and series just like in the other plans. New and current NBC streaming shows will be available too, but one week after they air.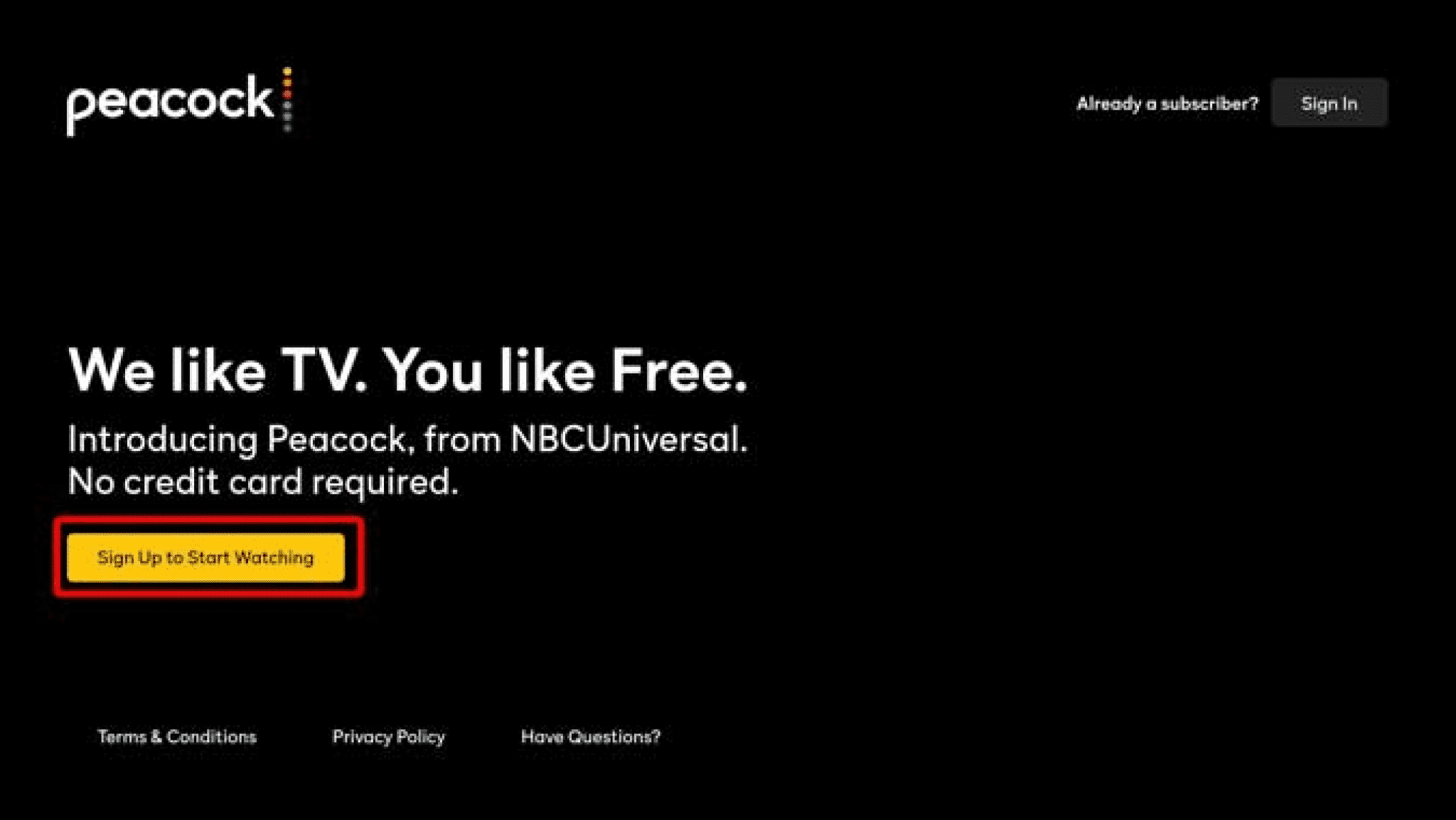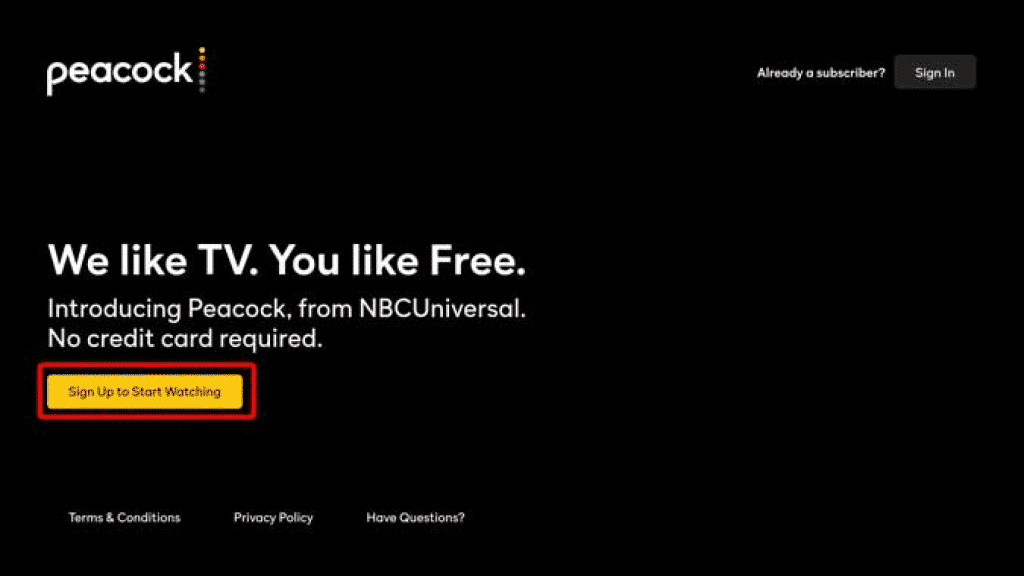 What's more, the free tier will give you access to sports like the Premier League, NFL Wild Card Playoff, and so much more. However, you will encounter ads in this plan, but the developer promises about five minutes per or less. Luckily, the ads are about the shows or anything related to the services.
Peacock TV Channels
Other than movies and series, Peacock TV also offers a list of 25 curated digital linear channels. This features digital-oriented and long-form content from NBCUniversal and those from third-party providers and even from the cable. Such live channels you will find in Peacock TV include:
Keeping Up with the Kardashians: This channel contains all the episodes of Keeping Up with the Kardashians except the latest ones.
NBC Sports: Operated by NBCUniversal, this channel airs sporting activities like hunting, fishing, and outdoor sports.
NBC News Now: For the current news on domestic or international news and weather reports, then this is the channel for you.
Peacock Reality: This station is inclusive of episodes from the most popular reality shows.
Comedy Dynamics: For a good laugh from stand up comedies and anything related to laughter, then you can find it in Comedy Dynamics.
Tastemade: Get cooking shows plus travel clips related to foods and exotic dishes.
Saturday Night Live episodes: This contains full episodes of SNL. However, if you want to watch next-day episodes, then you will have to subscribe to Premium Plus.
Features
Peacock television does not have many bell and whistles, but users will be content with what they offer. Here is a list of some of the features in this streaming service:
It is inclusive of three plans: free trial, Premium, and Premium Plus
Supported on multiple devices: You can watch TV on your portable iOS and Android devices.
Contains on-demand movies: This means you can watch TV whenever you want to. You can even pause and fast forward without any problems.
Virtual channels: In case you do not know what to watch next, then the service will suggest shows according to your preferences.
A solid line-up of sports channels: You can also follow-up on your favorite sporting activities and events on any of the sports channels.
Supporting Devices
Peacock is accessible in a wide variety of devices. It includes different operating systems as Android (6.0 and above)and iOS (11 and above). Some of the gadgets you can watch this streaming service are as follows:
Android smartphones and tablets
iPhone and iPad
LG Smart TV
Apple TV
Android TV like Sony Bravia
Xbox One
A set-top box like NVIDIA Shield
Vizio TV
Playstation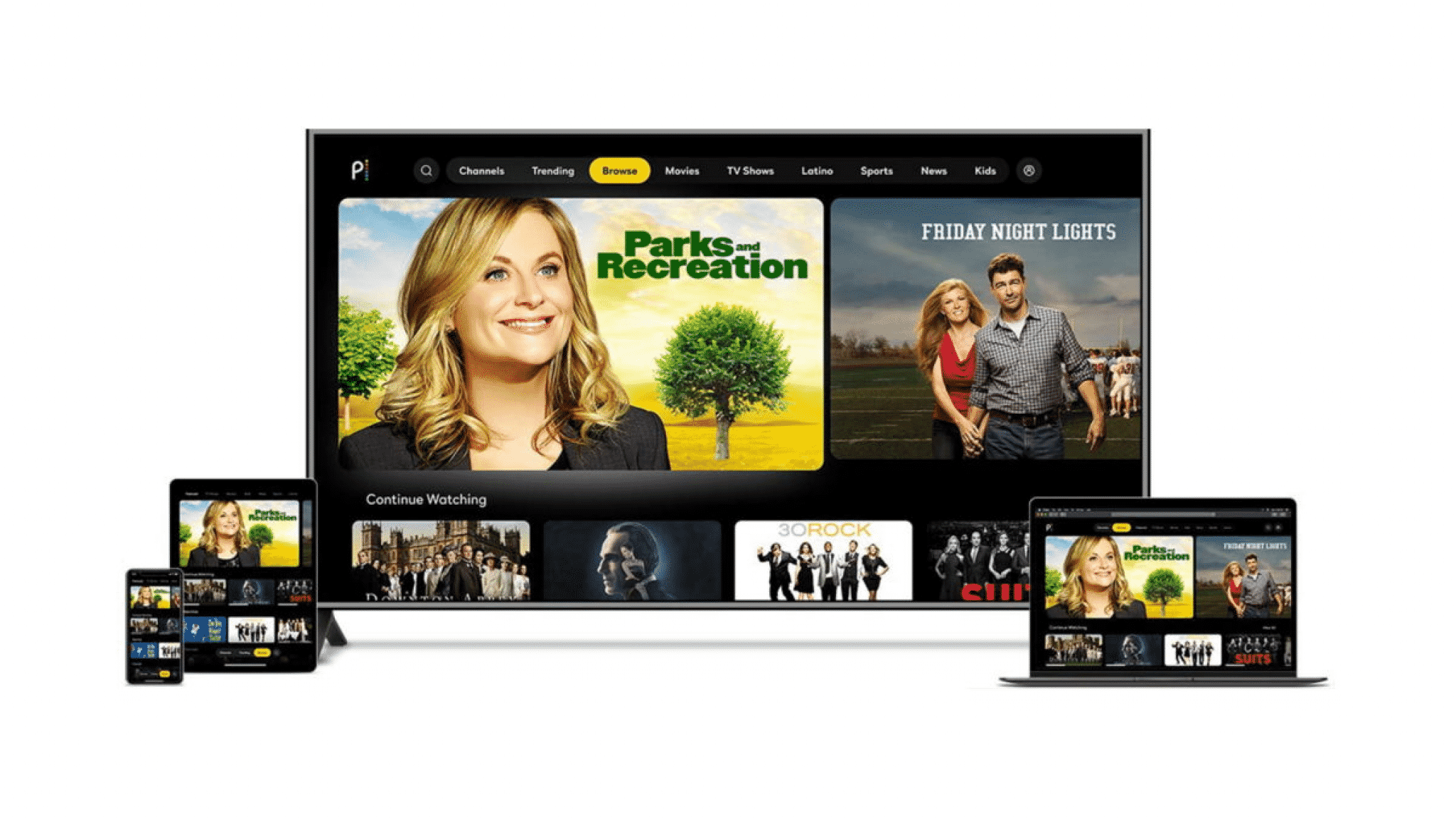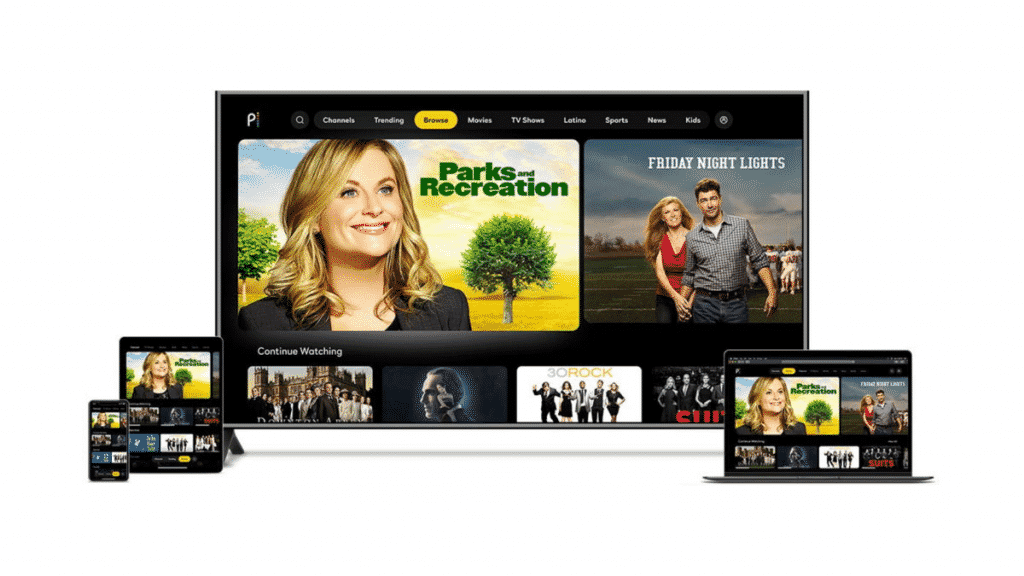 Additionally, it is supported by Chrome 70+, MS Edge 40+, and Safari 12+. Unfortunately, Peacock firetv is not yet available on Nintendo Switch, Amazon Fire TV Stick, Amazon Fire TV, or Amazon Fire Cube.
Popular Shows and Movies
Whether it is old or new TV shows, you are likely to encounter everyone's favorite movies and shows. Some of the popular content you can watch after a long day is:
Murder, She Wrote
Will and Grace
Law and Order
Top Chef
The Office
Saved by the Bell
Ted
Rush Hour
Men in Black
Big Fat Liar
The Bourne Movies
Saturday Night Live
Monk
Lost in Translation
Forgetting Sarah Marshall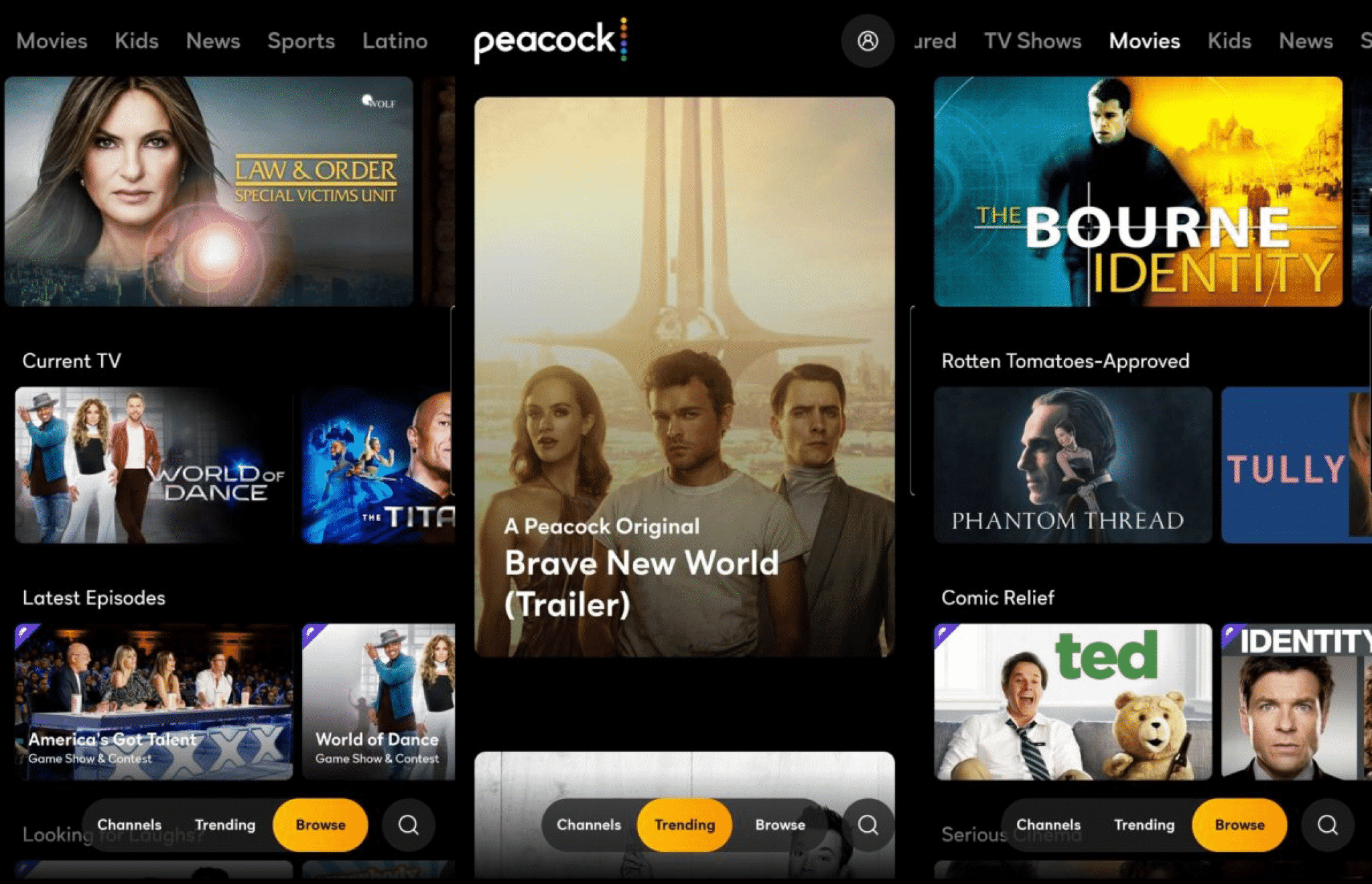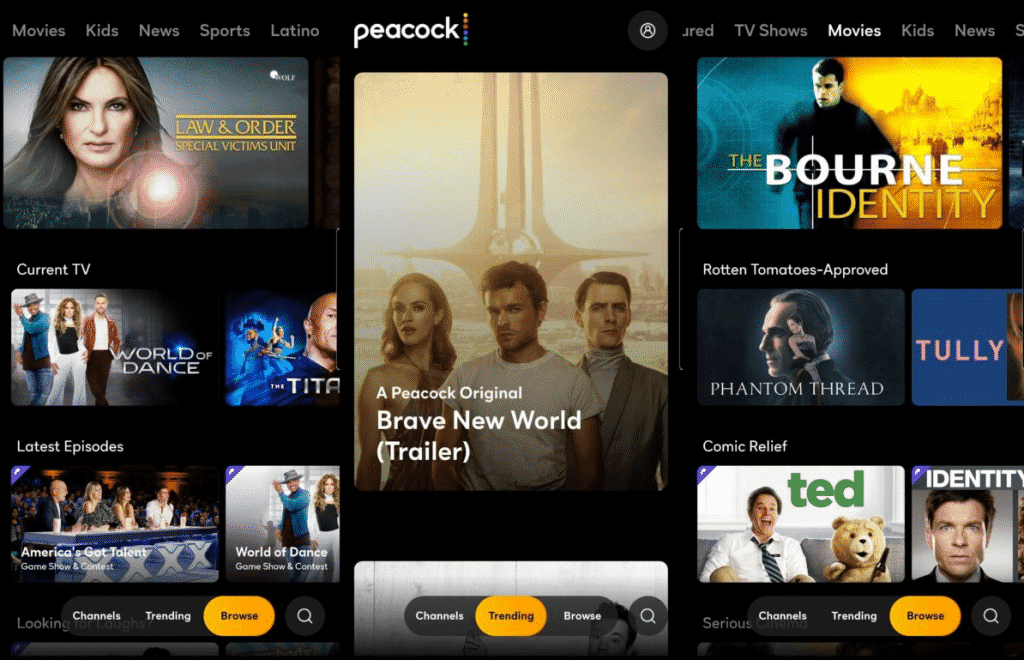 Sadly, some popular shows like Brooklyn Nine-Nine and The Last Voice are not available. Moreover, if you are a big fan of The Office, then you will have to wait until January 2021 to watch it on Peacock TV.
Peacock TV review
Latest streaming service that should be try
Peacock TV is another reputable streaming service similar to Swoop TV. The latter is also one of the latest TV providers, which features hundreds of channels and shows. However, Peacock TV is cheaper as compared with Swoop TV, whose monthly charges cost $19.99 for the premium plan. In Peacock TV, it costs only $4.99. But each one of them comes with a fair amount of kids and adult content, sports, live shows, next-day programs, and so much more.
PROS
Free trial available without credit card.
Supports multiple devices.
Flexible and affordable subscription plans.
No need to sign up long term contracts.
Availability of solid sports channels lines up.
CONS
Only 7 days of free trial available.
Only limited channels are available.
Frequently Asked Question
Is Peacock TV free?
Yes, it comprises of a free plan, which is available for 7,500 hours of streaming. The free tier also encompasses access to most of the content in the premium tier.
Is Peacock TV supports Samsung smart TV?
Yes, users can access the service on Samsung smart TV just like on any device.
Is Peacock TV on Roku?
Yes, Peacock TV is now accessible on Roku. Just sign up then visit the Roku Channel Store. While there, you will view Peacock television under the Featured section. Alternatively, you can locate it through the search button. Next, click on "Add Channel" to get it in your device.
How to get Peacock TV?
Downloading varies from one device to the other. However, here are simple steps to get this service:
o   First, sign up by filling the required details such as email and password
o   Choose a suitable plan for you
o   If using Android devices, then head to Google Play Store.
o   Click download and wait for the process to complete
o   Install then log in with your credentials
o   Stream your favorite shows, series, and movies and enjoy