Looking for nonfictional documentaries & web series, none but CuriosityStream have it. However, there are so many Video On Demand services available, but Curiosity Stream is the only streaming service delivering nonfictional content exclusively. Although, it is not as popular as other streaming players like Netflix, Amazon Prime Videos, FuboTV, SlingTV, Hotstar and Philo TV. But there are subscribers who prefer CuriosityStream plans over other OTT apps. You will know the reasons ahead.
Let me tell you What exactly is CuriosityStream App?
CuriosityStream is a Video on Demand service launched in 2015 by Discovery Channel founder John S. Hendricks. It delivers non-fictional documentaries and web series in Lifestyle, Society, Nature Technology, History, Science and Kids niche. In other words, you can access content similar to the Discovery channel on the Curiositystream.
As of 2022, It has a library of thousands of documentaries, web series, licensed titles & originals. However, It does not offer any live TV channel like other OTT apps.
CuriosityStream subscription Plans
One of the best parts of CuriosityStream is its subscription plans. It has the same plan price across the world. If you have subscribed to it in the USA & travel to another country, your subscription plan will remain active. In the case of other streaming services, subscription plans are Geo-restricted and remain active only in one country. So lets discuss how much Curiositystream will cost you?
CuriosityStream has four subscription plans.
4K annual Subscription
4K monthly subscription
HD Annual Subscription
HD monthly Plan
The details of all 4 plans with features are given below.
It is clear from the table that the only difference between the plans is video quality and duration. The first plan delivers content in High Definition (HD) while the second plans offer documentaries and originals in Ultra High Definition (UHD).
However, not all the content available on the CuriosityStream 4K plan will be in UHD. It will depend on your internet connectivity, device compatibility and content availability in UHD.
All plans have a free trial of 07 days to test its features and content quality. You will not be charged during the free trial period. The subscriber can cancel the subscription plan at any time. However, there is no option of refund after 07 days of subscription.
Update:- Curiositystream has paused its free trial currently. We will update you once it is resumed.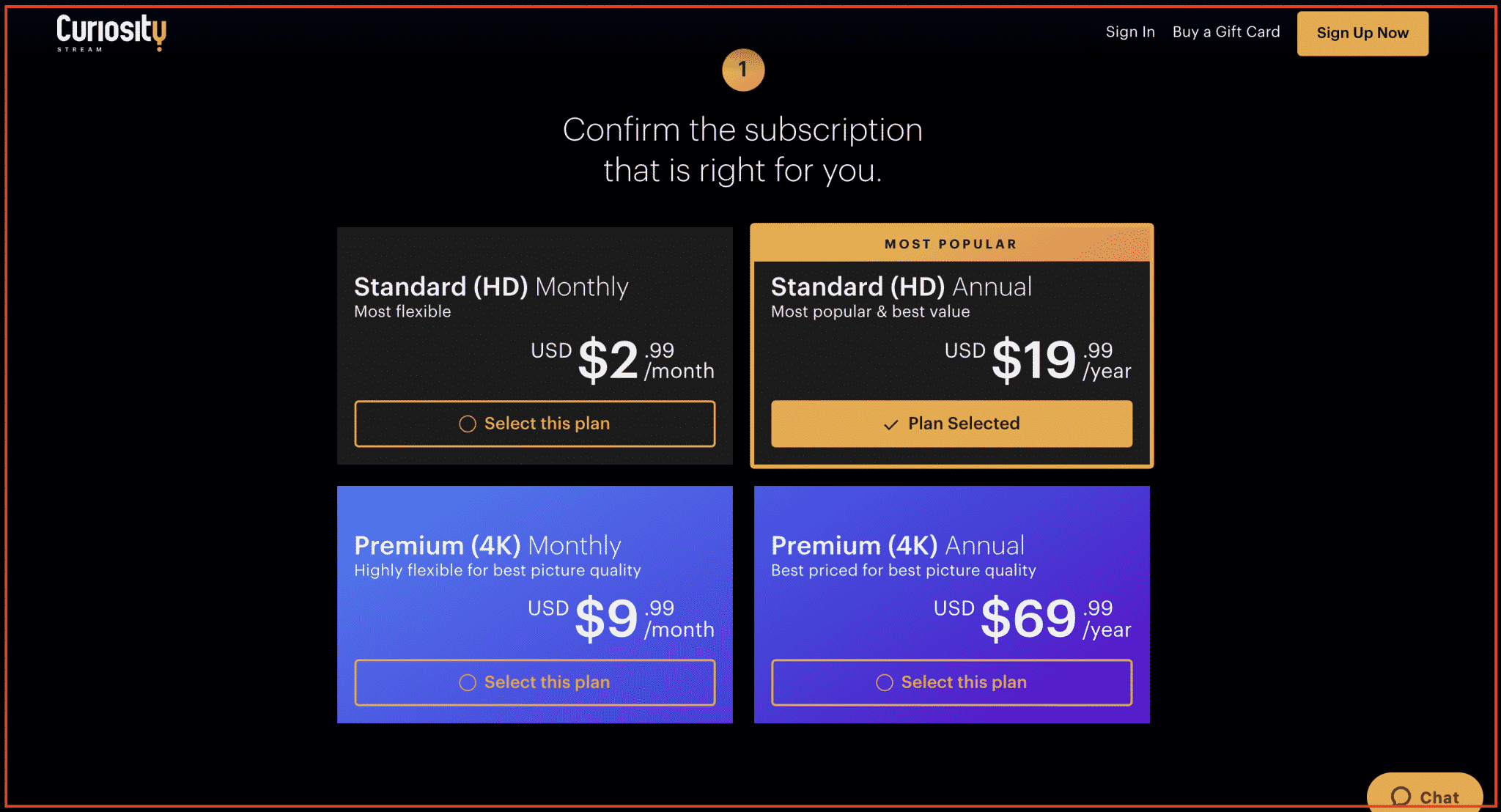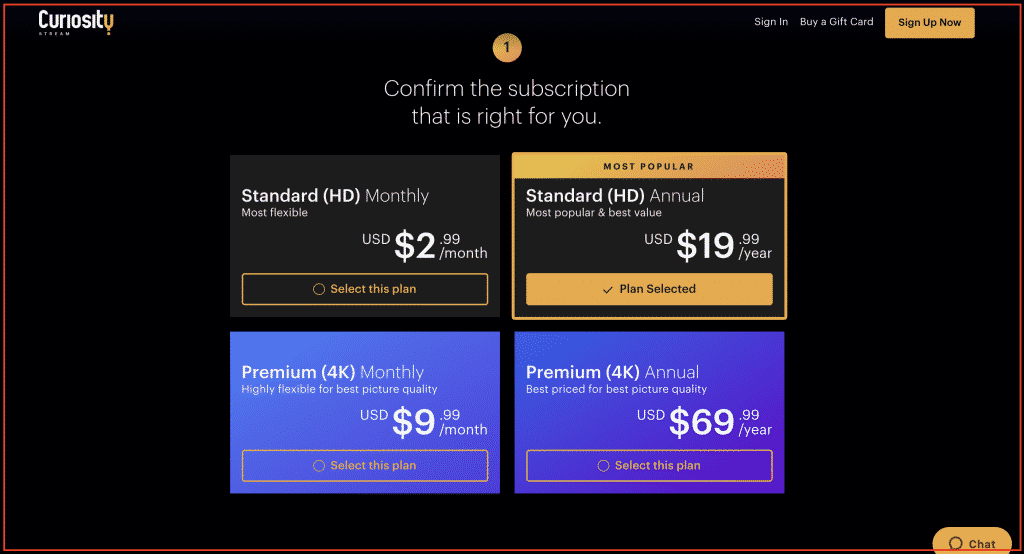 CuriosityStream has also tied up with other Video on Demand service providers. It can be accessed on Amazon Prime Video, layer3TV, Sling TV and Comcast/Xfinity. Its package is available as an add-on and you can subscribe to it by paying add-on fees in the above streaming services.
Though, subscribing to it as an add-on is costlier as compared to the plans offered by it.
CuriosityStream deals & Coupon
As of now, there is only one subscription deal being offered by CuriosityStream. The subscriber can save 40% in monthly as well as a yearly subscription. Though this is applicable for a limited time only.
You can use stayin40 as a coupon code while subscribing to HD or 4K plans. You can avail of this offer by clicking here. After using this promo code, the HD annual plan will cost you $11.99 per year rather than $19.99. While the price of the Ultra High Definition plan will be $41.99 per year instead of $69.99.
This coupon code is valid for new subscribers only and will not be valid for plan renewals. You can not use this promo code to subscribe to monthly plans.
Supported Device
The main aim of subscribing the streaming services is to access digital content at any time without any restriction. In other words, cutting the cable cord & watching shows on the available devices.
Therefore it becomes inevitable to know the supported devices before signing up for CuriosityStream. It supports most of the popular devices, we generally use in day-to-day life. Be it a laptop, mobile, access through web, smart TV and other streaming adapters. The complete list of supported devices is given in the below table.
If you have Apple TV 3rd generation or the earlier version, you can still access it through Airplay.
In addition to these devices, CuriosityStream supports Samsung, Sony, LG, Vizio and Tivo smart TVs. Though the smart TV version should be of 2016 or later.
CuriosityStream Documentaries
As we mentioned earlier, it is a niche streaming service provider. After activating your subscription, you will have access to a catalog of more than thousands of documentaries and web series. It covers mainly 7 niches.
Science
Technology
History
Nature
Society
Lifestyle
Kids
All these niches are further subdivided into sub-categories. Subscribers can easily navigate to the shows they are interested in.
Most of the shows available are self-produced and it is continuously expanding its content library by purchasing a license from other production houses. All the video content is in either HD or 4K. However, there is limited 4K content as of now.
There is no dearth of informational content on CuriosityStream which is extremely valuable. It has an exclusive category for Kids also.
App features
The app has some decent features. You can save your favorite show and watch it while offline. In addition to it, you can create a watch list. The watch list is helpful for kids. You can add science, tech, history and kids section documentary in the watch list for your kids.
Curiositystream offers multiple screens streaming in a single plan. You can see what your kids are watching currently. Furthermore, you will find the documentary you left without completing in the currently watching section. Subscribers can also check watch history by using its mobile app. The subscriber can also switch Curiositystream plans in the app.
The subscriber can also enable and disable playback. The subtitles are only in the English language. This is the only major drawback I found in the CuriosityStream.
CuriosityStream Review
The content that you are getting is not being offered by other streaming players. All the shows are factual and increase curiosity as well as knowledge. If you have kids or you are curious to watch fact-based shows, this app is for you.
Value for Money streaming service
Curiosity stream offers quality service at a reasonable price. Be it its content quality, video quality or app user interface, it is of good quality. It is also adding the latest documentaries in its catalog continuously and providing more value to its subscribers. Though, it needs to work on subtitles and customer support services to make it better
Positive
Cheapest subscription plans.
No Geo-restrictions while accessing content.
A free trial of 07 days is available for all plans.
All titles in HD and UHD quality.
Supports all popular devices for streaming.
Digital content can be accessed on multiple screens simultaneously.
Negatives
Need to upgrade customer support service.
Subtitles should be in more popular languages.
No fictional title is available.
There is separate subscription plans for Educators and Business.
Organizations and schools are subscribing to CuriosityStream so that their employee stay updated with trending tech, science information. The content is curated so well that it covers factual topics meticulously.
When we look at CuriosityStream's price, it is the cheapest among major streaming services. It costs you only $1 per month when you subscribe to an annual HD plan using a coupon code. Moreover, all the content is available either in HD or UHD. At this point, there is a win & win situation. I must say CuriosityStream really worth it.
But there is always a scope of improvement. The app is available worldwide. But it has subtitles only in English. Therefore the subtitles should be translated to other popular languages too.
CuriosityStream also needs to upgrade its customer support. There is no dedicated customer care number or live chat feature available now. For customer help, there is only a help center where subscribers can search for their questions. Subscribers can post their queries in the help center. But it is time-consuming and does not resolve issues instantly. However, you can reach out to CuriosityStream through mail [email protected]
Are you an existing subscriber of it, if yes, How is your experience with CuriosityStream. Post it in the review section.