Showtime streaming service is popular among people who love the shows produced by the cable channel on the same name. But it is also confusing at times — especially for beginner cord-cutters. That's because there are two streaming options available, namely, Showtime and Showtime Anytime. Most of the people have a hard time choosing the preferred service for themselves. They even come to believe that both are the same service. But there's a basic difference between the two.

SHOWTIME Free Trial
Get SHOWTIME free for 30 Days
SHOWTIME regular price is $10.99 per month
Showtime Anytime is a free streaming app for users who are paying for the Showtime channel through a cable provider. If you haven't gotten rid of cable TV and have subscribed to the Showtime channels, you can stream its shows for free with the Showtime Anytime app. In other words, the app is an extension of Showtime's cable service. Showtime, on the other hand, is a standalone streaming service of the company. If you aren't subscribed to Showtime channels via your cable provider, you can purchase a subscription and start watching all the channels with the Showtime streaming service.
Other than that, there are no significant differences. All Showtime shows, movies, documentaries, live TV, and other content are available on both Showtime and Showtime Anytime. Here's a review of this streaming service provider, with a particular focus on Showtime Anytime.
Showtime Subscription
To start watching the Showtime shows online, you need to get a Showtime streaming subscription.
Presently, there are two subscription options available. First is the monthly plan priced at $10.99 per month. Your card will be billed every month until you opt to cancel it. The second is a yearly plan that costs $99 per year. As expected, the annual plan is cheaper in the long run, and you get almost three months of streaming service for free compared to the monthly plan. Here's a breakdown of Showtime cost:
As already mentioned, Showtime Anytime is accessible for users who have subscribed to Showtime via their cable operators. So, you don't have to pay extra to stream shows with the Showtime Anytime app. However, if Showtime isn't included in your cable plan, you must purchase one first. Showtime Anytime is also available with selected streaming services like Amazon Prime, Hulu, and SlingTV as an add-on.
For all new members, there's a 30-days free trial on offer. During this time, you get access to all the content for free!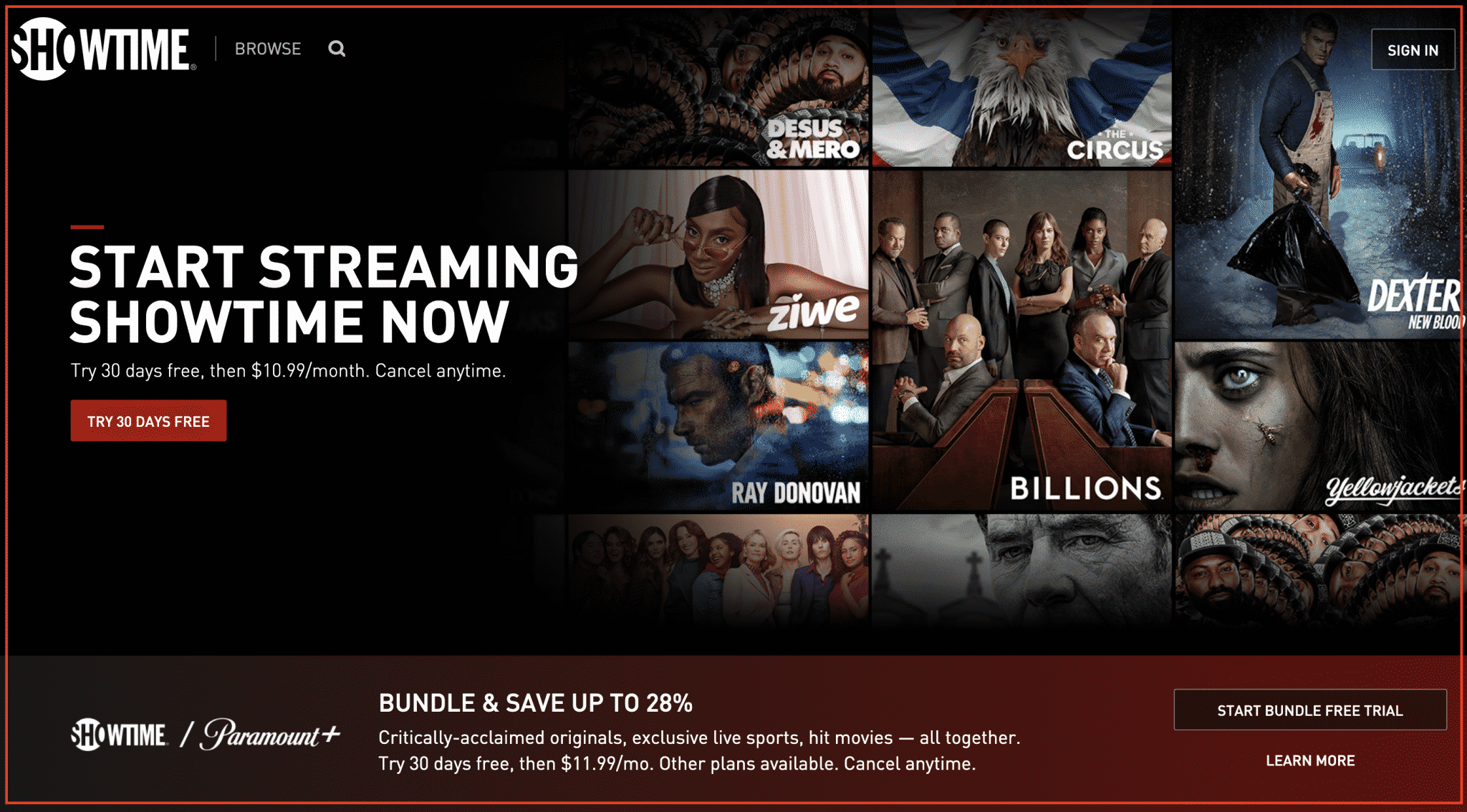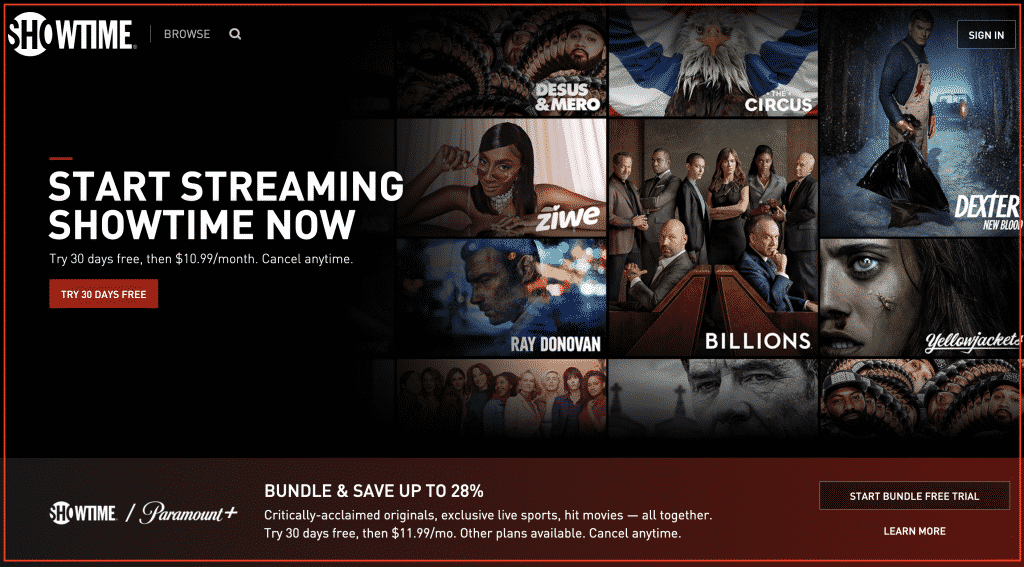 How to Activate Showtime Anytime?
It's easy to get started with Showtime Anytime and start watching the shows. You would need a streaming device, a Showtime subscription, and high-speed internet. Then, follow the steps to activate the service:
Open the Showtime Anytime app (not the Showtime app) on your streaming device.
Choose a program of your choice and click on 'Play.'
Now from the Settings menu, click on 'Activate.'
You will get a code on the screen. Note it down.
Now visit showtimeanytime.com from a browser.
From the top navbar, click on 'Activate.'
Input the code and click on 'Submit.'
Showtime Anytime should get activated within a few seconds. A success message will display after the activation process.
To start streaming, log in to Showtime Anytime using the username and password from your TV provider or streaming account.
Showtime Channels
The Showtime subscription offer access to all of the content that the Showtime network owns. For the uninitiated, there are 25 Showtime channels included with the subscription. Some of them are:
Showtime (SHO)
Showtime 2 (SHO2)
Showtime Showcase
SHO X BET (previously known as Showtime Beyond)
Showtime Extreme
Showtime Family Zone
Showtime Next
Showtime Women
Interestingly, you also get access to Showtime East and Showtime West, where you can watch live premieres. Its closest competitor, HBO Max, doesn't offer any live TV streaming options. So, the live channels offered with a Showtime subscription are a real bonus.
Many of the channels are available in High Definition (HD). You can also watch in Standard Definition (SD) quality to reduce bandwidth.
Supporting Devices
Showtime is compatible with most streaming devices. You can visit Showtime Anytime's website from a browser, log in to your account, and start streaming content. Besides that, you can also watch your favorite Showtime shows on the following devices:
AppleTV
Android phone/iPhone/iPad
AndroidTV
FireTV
Playstation4
Chromecast
LG Smart TV
Oculus
Roku
Xbox
Samsung Smart TV
Simultaneous Screens and DVR
Showtime is flexible regarding how many screens you can watch the content simultaneously. At the time of reviewing, one Showtime subscription allows concurrent sign-in on five different devices. To log in to a sixth device, you need to log out from one of the five devices first.
However, you can only stream from three devices simultaneously. Therefore, students who have signed up via Apogee are limited to only one device at a time.
Currently, there are no features available to record live programs when it comes to DVR. But new episodes and live content are always open for on-demand streaming at the same time that they air on cable TV.
Showtime Movies
Showtime is not all about TV series. The subscription gives you access to a wide range of movies. The movies are categorized into the following genres:
Action
Adult
Comedy
Drama
Family
Horror
Sci-fi
Suspense
There are popular titles in each category. Drama, action, and comedy are the most prominent categories. Showtime directly connects with Paramount Pictures, which its parent company, ViacomCBS, owns. Many popular movies produced by Paramount are available for stream. Some Showtime movies titles to look forward to are 1917, Green Room, Pulp Fiction, First Cow, Ex Machina, Moonlight, and Hereditary. If you feel like rewatching Titanic, that's available too.
There are also many documentaries available for streaming. These are based on celebrities like John McAfee, Kobe Bryant, and the Reagans.
Showtime Available with Other Streaming Services
If already subscribed to any streaming service, you may purchase the Showtime streaming service as an add-on. Currently, Showtime is available with the following streaming service providers:
Paramount+ (CBS All Access)
Amazon Prime
fuboTV
Hulu
SlingTV
AT&T TV
Roku Channel
YouTube TV
You would have to pay the $10.99 per month fees on top of the existing costs of the streaming service. Paramount+ is an exception to this and you would have to pay only $5.99 per month.
Before you start paying, it's recommended that you check if you're already subscribed to Showtime via your cable provider. Check for the following channel numbers on your cable TV for confirmation:
AT&T U-VERSE – 1852-1866 (HD channels), 852-866 (SD channels)
Cox – Check in your state
DIRECTV – 545-556
Dish – 318-333
Frontier FIOS – 865-874 (HD channels), 365-380 (SD channels)
Frontier VANTAGE – Check in your state
MediaCom – Check with your provider
Optimum – 320-331
Spectrum – Check in your state
Suddenlink – Check in your state
Verizon FIOS – 865-874 (HD channels), 365-380(SD channels)
Xfinity – Check in your state
Is Showtime free with Amazon Prime?
No, Showtime is not free with Amazon Prime. You would have to pay monthly fees along with the Amazon Prime fees.
Is Showtime available on Netflix?
Only a few licensed Showtime shows are available on Netflix. Most of them will be removed since Showtime now has its own streaming service.
Conclusion
Showtime Anytime is a great streaming option for cable TV users already paying for Showtime channels. There are no extra costs involved, and you get access to all Showtime content, including the Showtime Originals that are not aired on TV. With content ranging from movies to sports to live news, Showtime is an all-in-one entertainment package.