Fubo TV Canada is a live streaming platform that began as a sports-focused program but has expanded into an all-encompassing product that will cater to cord-cutters. The FuboTV platform debuted in January 2015 and primarily provided live soccer feeds, which is why it is a top-ranked streaming platform for soccer enthusiasts. It later expanded to include entertainment and news stations, as well as expanded sports coverage of the NBA, MLB, NFL, and NHL. It now has over 250,000 members. In addition, it allows members to purchase add-on bundles that extend their watching options in addition to viewing live channels.

Fubo TV Free Trial
Watch Fubo TV free for 7 days
FuboTV was the first broadcaster to provide 4K HDR visuals, which debuted in 2018, just in season for high-quality World Cup soccer streaming. It's also the second live streaming platform to enable and provide programming via the Apple TV application for apple devices. In this Fubo TV guide, we will be analyzing the branch Fubo TV Canada and the Fubo TV Canada prices and other inclusive features.
Is Fubo TV available in Canada?
Unlike its American counterpart, Fubo TV Canada does not seek to replace current broadcast, cord, or satellite providers. Instead, the live TV streaming platform augments your current TV service with a low-cost array of sports-focused channels. In addition to Canadian soccer, Fubo TV Canada channels offer a diverse selection of foreign leagues.
In early 2022, fuboTV pledged to become the English Premier League's official Canadian broadcaster. The Premier League is a soccer league that competes with the Serie A, Copa Italia, and other leagues.
How much does Fubo TV cost in Canada?
As far as Fubo TV Canada is concerned, two subscription plans are available for Canadian residents and their respective currencies. The subscription plans offered are Essential & Premium subscription: 
Essentials : The essential plans available as monthly, quarterly and annual subscription. The essential monthly, quarterly and annual Fubo Canada subscription cost C$24.99, C$19.99 & C$16.67 a month respectively. The user can save approx. 12% & 20% with quarterly and annual purchase. If you are a new user, you will get a discount of C$10 with monthly subscription for first three months. While there is a discount of C$15 for first three months with quarterly plan. The subscribers get access to 47 live TV channels and can stream all premiere league matches, All Serie A, Ligue 1 matches. It is accompanied by Cloud DVR with 250 hours of space.
Premium: The user need to pay C$39.99, C$34.99 and C$31.67 a month for monthly, quarterly and annual subscription of premium plan. There is no discount for new users in premium subscription package. This package will give access to 68+ channels, 26 plus entertainment channels, HGTV, Global TV & Kids Network. The subscriber can watch all sports matches available with Fubo essential package. Moreover, you will get 1000 hours of cloud DVR storage.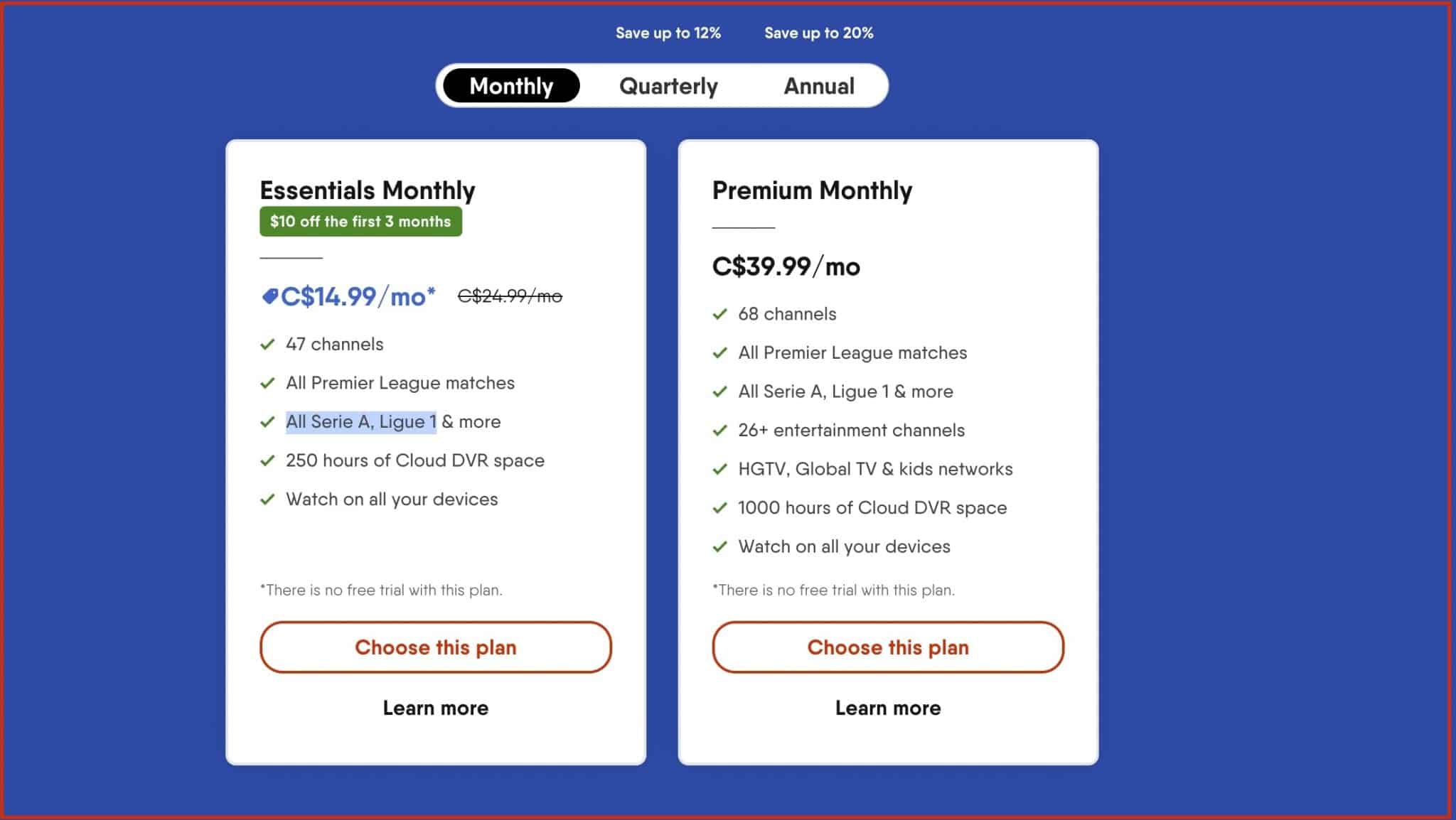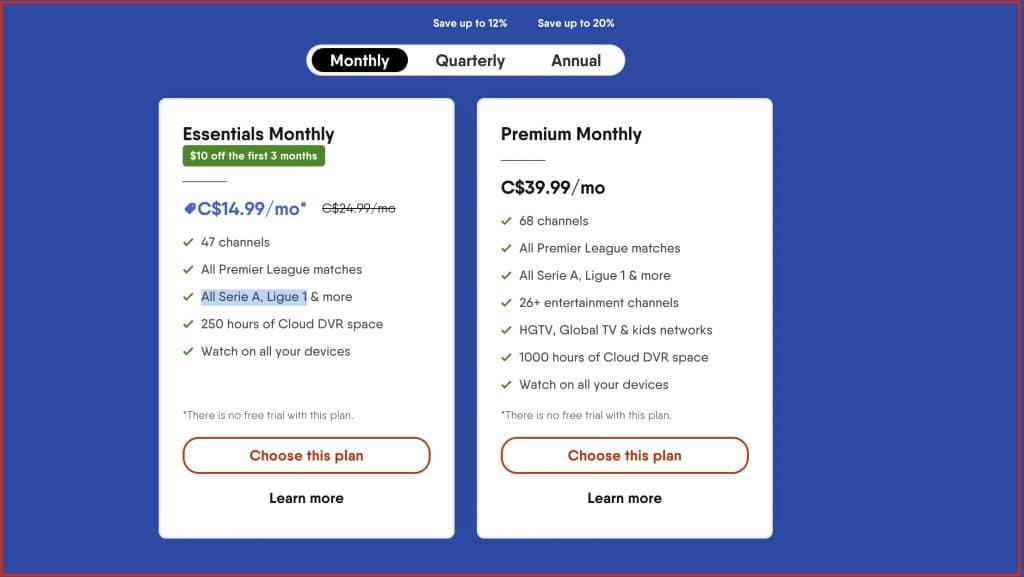 How to activate Fubo TV Canada?
Time needed: 5 minutes
You need to follow four straightforward steps to claim your Fubo TV Canada subscription. The steps include:
Entering their official Canada webpage. 

First and foremost, log in to Fubo TV Canada's official webpage. Once inside their website, hit the "Get Access" option available on the home page. Once done, you will visit to a new tab. 

Setting up your new account

The second step is to set up your new Fubo account. After hitting the "Get Access" option, you will be redirected to their "Sign up to watch now" page, where you will be entitled to provide your E-mail and a suitable password. You can also sign up using your Facebook, Gmail, or Apple ID. Once done, hit the "Continue" button.

Choosing your desired Fubo Canada plan.

Once you have clicked the "Continue" option, you will be redirected to their "Choose your plan" page. Currently, only the Canada Quarterly and Canada Annual subscription options are available. Choose your desired plan and hit "Choose this plan" under the specified subscription.

Setting up your billing information.

Once you have selected the plan and have hit the "Choose this plan" option, you will be redirected to their billing information page. Here you need to provide valid billing credentials such as the name on the card, card number, security code, expiration of the card, and zip code. Once done, check the "I have read and agreed to Fubo Tv's terms and conditions" box and click "Start watching Fubo TV."
Is Fubo free in Canada?
FuboTV was providing a seven-day free trial to every new subscriber in Canada. Unfortunately, it has stopped now and you need to subscribe to Fubo paid subscription plan.
What channels are available with Fubo TV Canada?
Rather than changing the way Canadians view television, fuboTV intends to gain your interest by providing a robust portfolio of sports networks. OneSoccer, BenficaTV, beIN Sports, MLB Network, and fuboTV's own sports channel all give continuous live streaming of sports from throughout Canada and the globe. FuboTV's Canadian users get access to more than just sports. Non-sports content includes Paramount tv shows And movies, the CBC's live broadcast, and on-demand documentaries from CuriosityStream. Below is the list of all 57 Fubo Canada live TV channels.
beIN Sports
beIN Soorts N
beIN Sports Canada
One Soccer
MLB Network
Paramount Network
CBC
Fubo Sports Network
Fubo Movie Network
Law & Crime Trial Network
BTV
ICI Tele
Fuel TV
Inwonder
Taste Made Home
WPT
Outside
Tastemade
Cheddar News
Sports Grid
Comedy Dynamics
Retro Crush
The Bob Ross Channel
Premier League
Revry LGBTQ TV
Introuble
Origin Sports
i24 News
Ticker News
Real Madrid TV
The Design Network
AXS TV Now
Impact Wrestling
Revry News
Unbeaten
Infast
TYT
Fight Network
Game Plus
Fox Sports Racing
Big Network
Euro News
Africa News English
Circle
HGTV
Showcase
W
History
XTV
Food Network
Slice
Adult Swim
Tele Toon
Tree House
Global TV
Lifetime
National Geography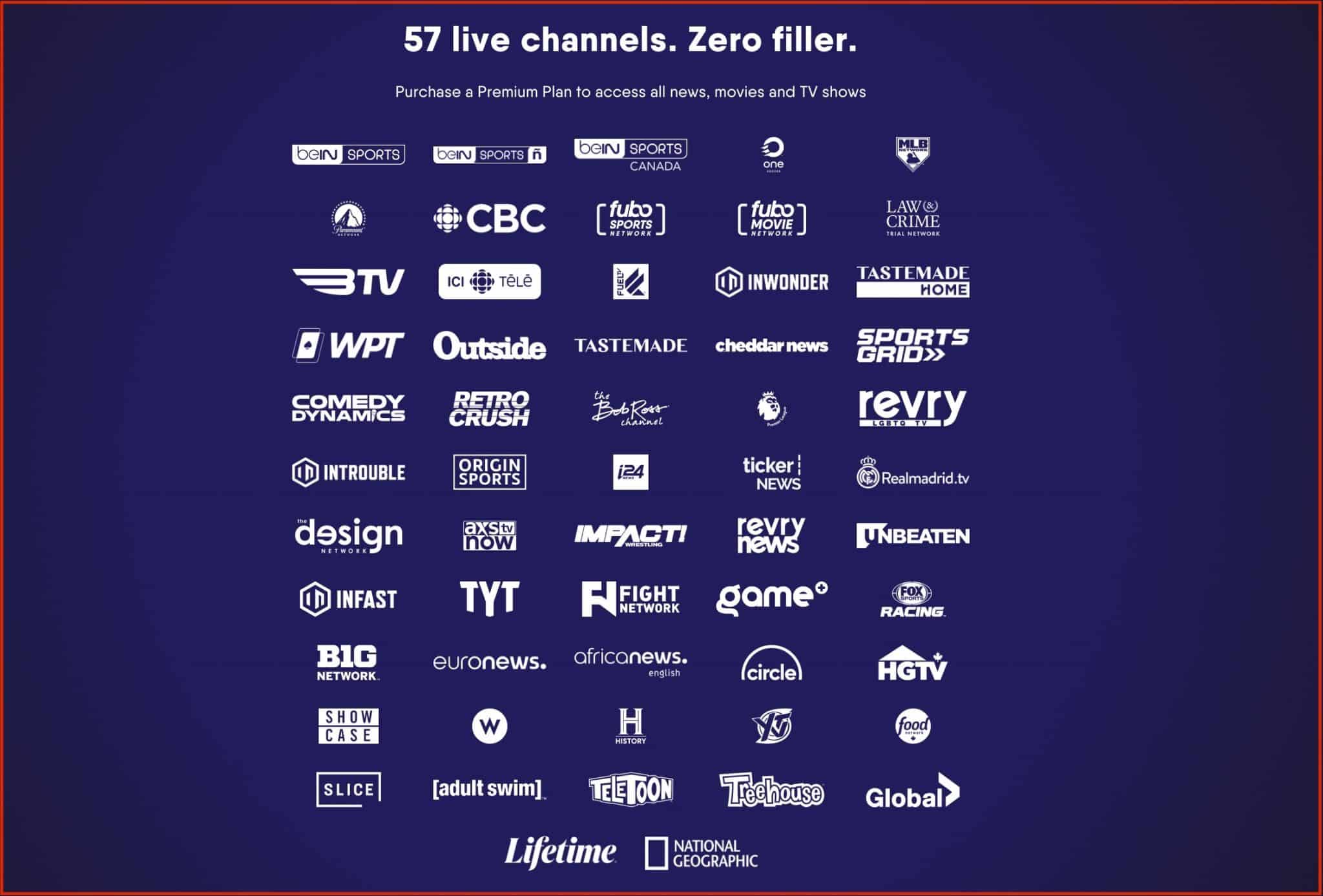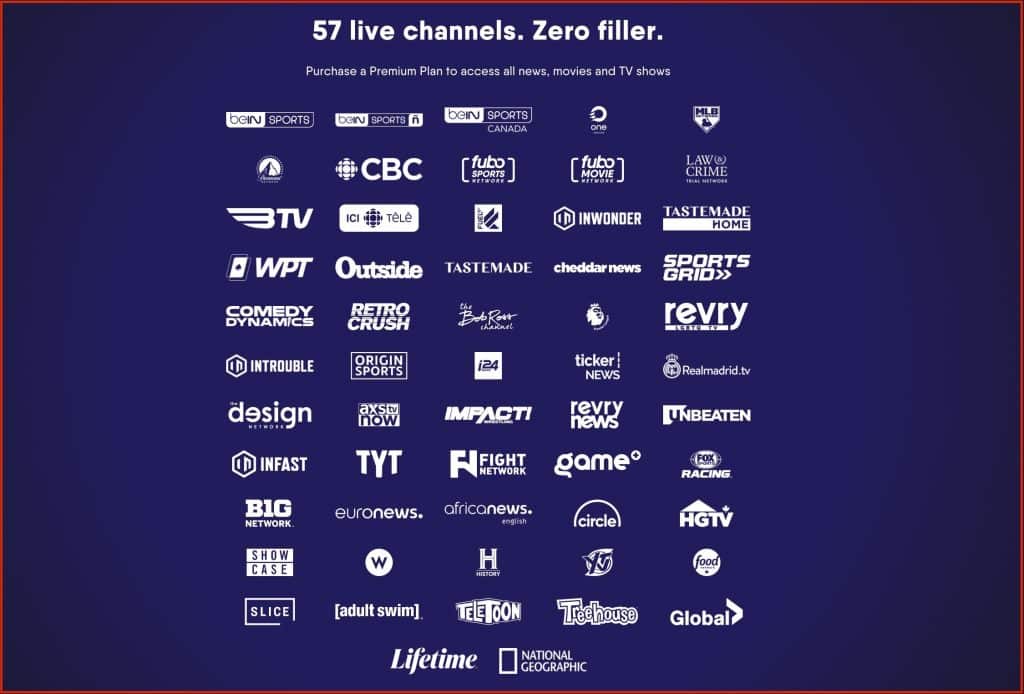 What devices does Fubo TV Canada support?
The fuboTV app is available for installation from the application store of most major streaming services. Devices that can support Fubo TV Canada are Android, iOS, Amazon Fire TV, Android TV, Apple TV, Google TV, and Roku. 
What are the various contents available in Fubo TV Canada?
Fubo TV has gained amazing popularity due to its out-of-the-blue library of live and exclusive content that it houses. Let us look at some of the exclusive and some of the in-house content that Fubo TV Canda has to offer.
Unlimited LIVE watching is available 24 hours a day, seven days a week.
FOX, NBC, Comcast Sportsnet Regional Networks, FOX Sports Regional Networks, and Telemundo are among the local and regional channel lineups.
Intriguing channel lineups, including beIN Sports, Big Ten Network, FOX Deportes, FOX Soccer Plus, FS1, FS2, Golf Channel, GolTV, NBA TV, NBCSN, Univision, Univision Deportes Network, and others.
Coverage of marquee events such as the NFL Playoffs on CBS, NBC, and FOX, the MLB World Series on FOX, the NHL Playoffs on NBC, The Masters on CBS, and more.
Additional sports content includes the Olympics, NCAA Football, and Basketball.
Conclusion
Fubo TV Canada is currently one of the best streaming service alternatives on the market, particularly for sports fans. Thanks to the cost reductions from traditional cable, users will be pleased with their wide variety of programs and luxury add-on possibilities.
It is also great for folks who want the look and feel of a typical cable subscription without the cost. You'll still have DVR capability, live programs, and on-demand entertainment with Fubo TV.