IPL 2022 was started with the first match between KKR and Chennai Super Kings on 26 Mar 2022. Cricket fans were eagerly waiting for the resumption of this mega Cricket event. We have news for you if you are in the USA and have taken a Hotstar subscription to watch IPL 2022 in the USA.
Hotstar discontinued its services in the USA and you will not be able to access IPL 2021 live matches on Hotstar. However, Hotstar current content and upcoming programs will be live-streamed on Disney plus bundle. The current Hotstar subscribers can access the Disney Plus bundle for the remaining subscription period or initiate a pro-rated refund. You should contact to Hotstar support team for the same.
You can watch IPL 2022 live on Willow TV with a Sling TV subscription which will cost you only $5.
The question is how and where to watch the remaining live matches of IPL 2022 in the USA?
How to watch IPL 2022 in USA?
If you are looking for a platform to watch IPL that charges you the least, you are in the right place. I am going to share with you the streaming service that will charge you only $5 during the complete IPL and $15 if you wish to watch Tata IPL 2022 and ICC T20 World Cup 2022. ESPN Plus will also be streaming that will broadcast both Cricket events. However, Willow TV price is more customer-friendly which also offer an extra Cricket Tournament than ESPN Plus.
Can you watch IPL 2022 free?
If you are considering the option to watch IPL 2022 matches live free, this is not possible. Instead, you need to purchase the Willow subscription by paying a monthly subscription cost of $5 only. Moreover, Willow TV does not offer a free trial to its subscriber. Therefore, you will need to purchase Willow TV package by paying a monthly or yearly subscription. 
Competitive Advantage – Sling is your home of cricket because we offer the MOST live cricket all year round — including all the biggest tournaments: Indian Premier League, ICC Men's T20 World Cup, India vs. South Africa – Exclusive on Willow via Sling (and is not available on ESPN+). Willow also have competitive pricing compared to our ESPN +

ESPN+ monthly price – $6.99 and Annual is $69.99.

Sling – monthly price: $5/mo for the first month, $10/mo thereafter and Annual is $60 Offers. Willow have the following offers in the market promoting Cricket focusing on
To watch IPL for $5 – Click here


Secondary Offers
1) Willow Cricket 12 months – $60 only
2) Desi binge + Cricket – $10/mo for first 3 months, $15 thereafter.

IPL 2022 Schedule
The IPL teams played 29 matches during April and May 2021 before the IPL was called off by BCCI. The remaining matches will be played from 19 September 2021. The remaining IPL matches will be played in UAE at three venues:
Sharjah
Abu Dhabi
Dubai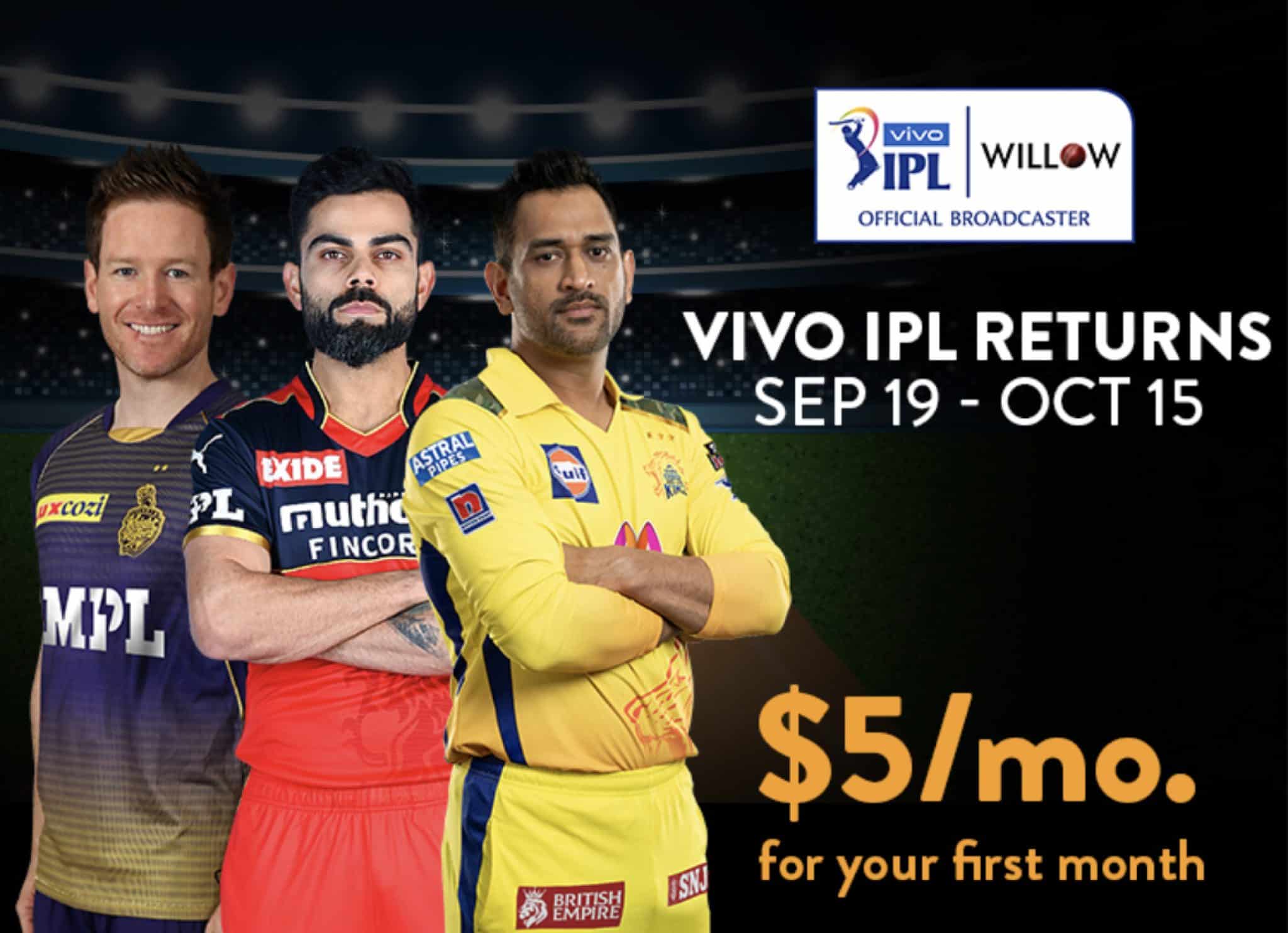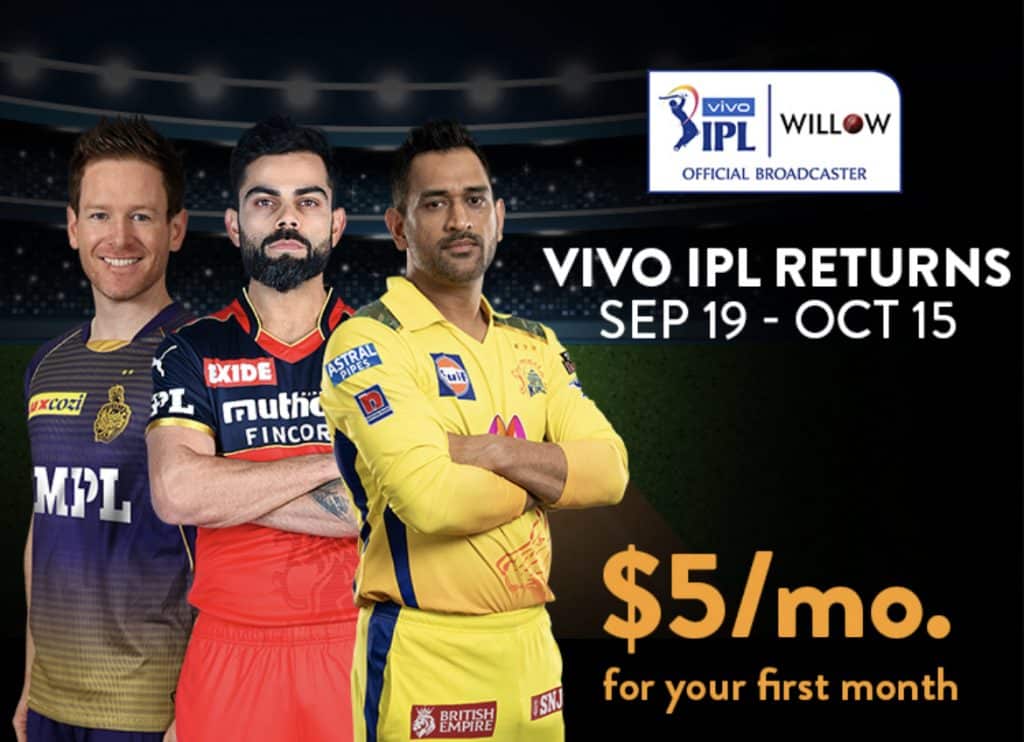 All the matches will be live on Disney plus Hotstar in India, while Willow TV will be streaming IPL 2021 in the USA and Sky Sports will be live streaming IPL 2021 matches in the UK. A total of 31 games are scheduled, including the IPL final on 15 October 2021 in Dubai. When we talk about match timing, all the matches will be live either at 1530 hours or 1930 Hours IST. The IPL fans in the USA can watch games at 0300AM and 0700 AM Pacific Time.
Below is the schedule for IPL 2021.
All timings are in Pacific Time.
IPL 2021 point table
The DC has played eight matches and is on the top of the IPL 2021 points table with 12 points. CSK and RCB have played seven matches each and is on the second and third spot respectively.
Below is the IPL 2021 point table where you can find matches played, won, lost, team points and NRR.