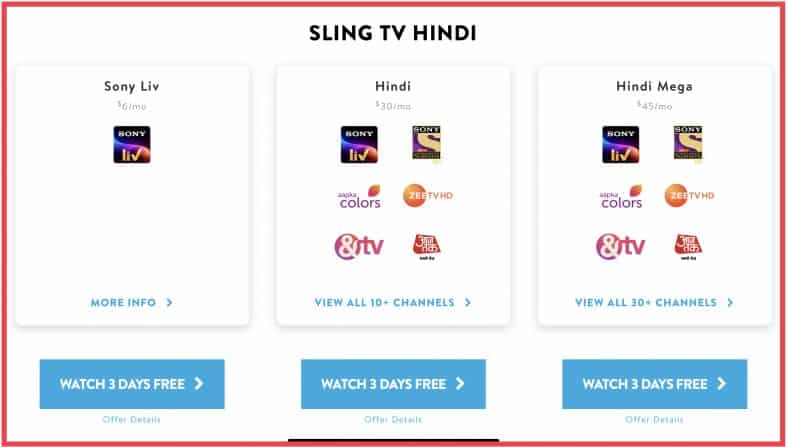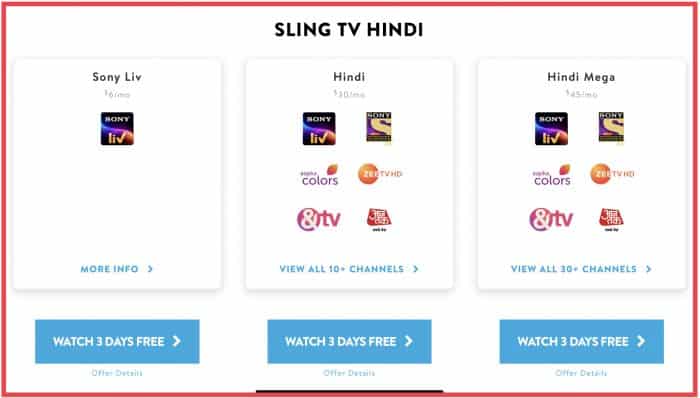 When we talk about the streaming services, Sling TV ranks among the top 5 streaming services in the USA. It offers a wide range of TV channels at very competitive pricing. However, the channels offered by Sling TV are also available on other streaming services. The one thing that makes Sling TV stand out among its competitors is its International packages. You can subscribe to international channels available on Sling TV. Below is the complete list of Sling international packages with pricing and channels.
You should check out Top 5 streaming services 2021 before subscribing to any OTT subscription
Sling international packages
Most of the streaming services have geo-restricted content in their library. Be it Hotstar, Philo TV, Youtube TV or Fubo TV, all have limitations about international content. But Sling has covered it well and offers south Asian package, middle eastern package, European, South American, East Asian and International sports package. These subscription plans are further subdivided as per the choice of the subscriber. You can select individual channels and packages as per your requirements. Here is the complete breakdown of the Sling international subscription plan.
Sling Sony Liv subscription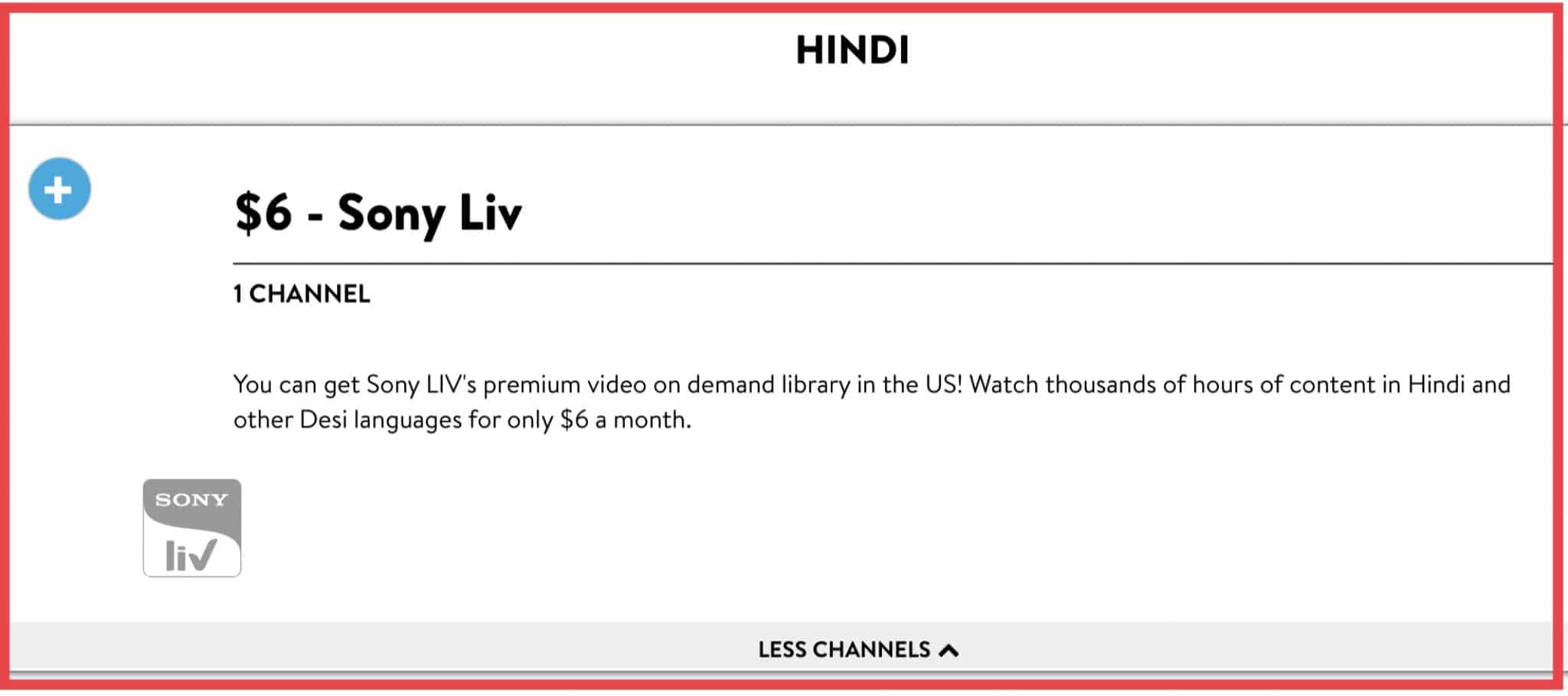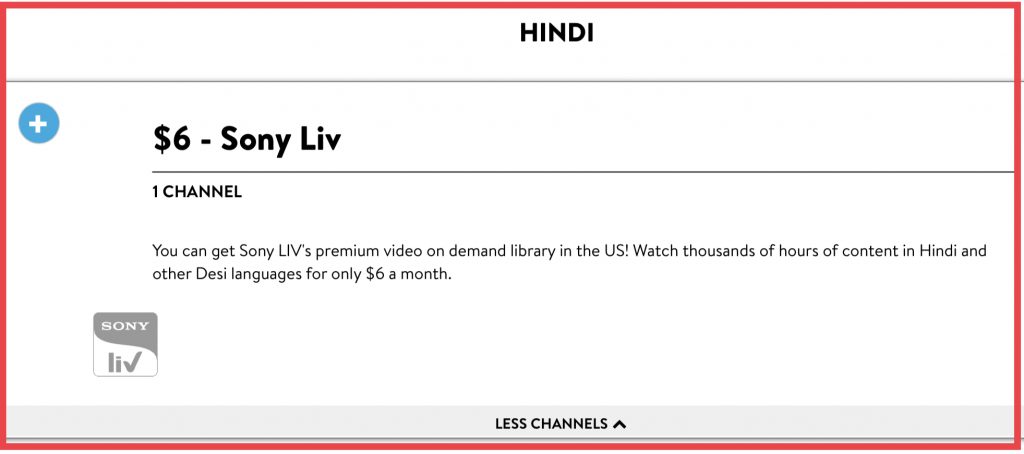 This is the cheapest Sling International Hindi package which costs subscriber-only $6 a month. You will get only one channel Sony Liv with this subscription plan. You can watch Hindi movies, TV shows, Sony Liv originals and kids' content with this package.
Sling Hindi Package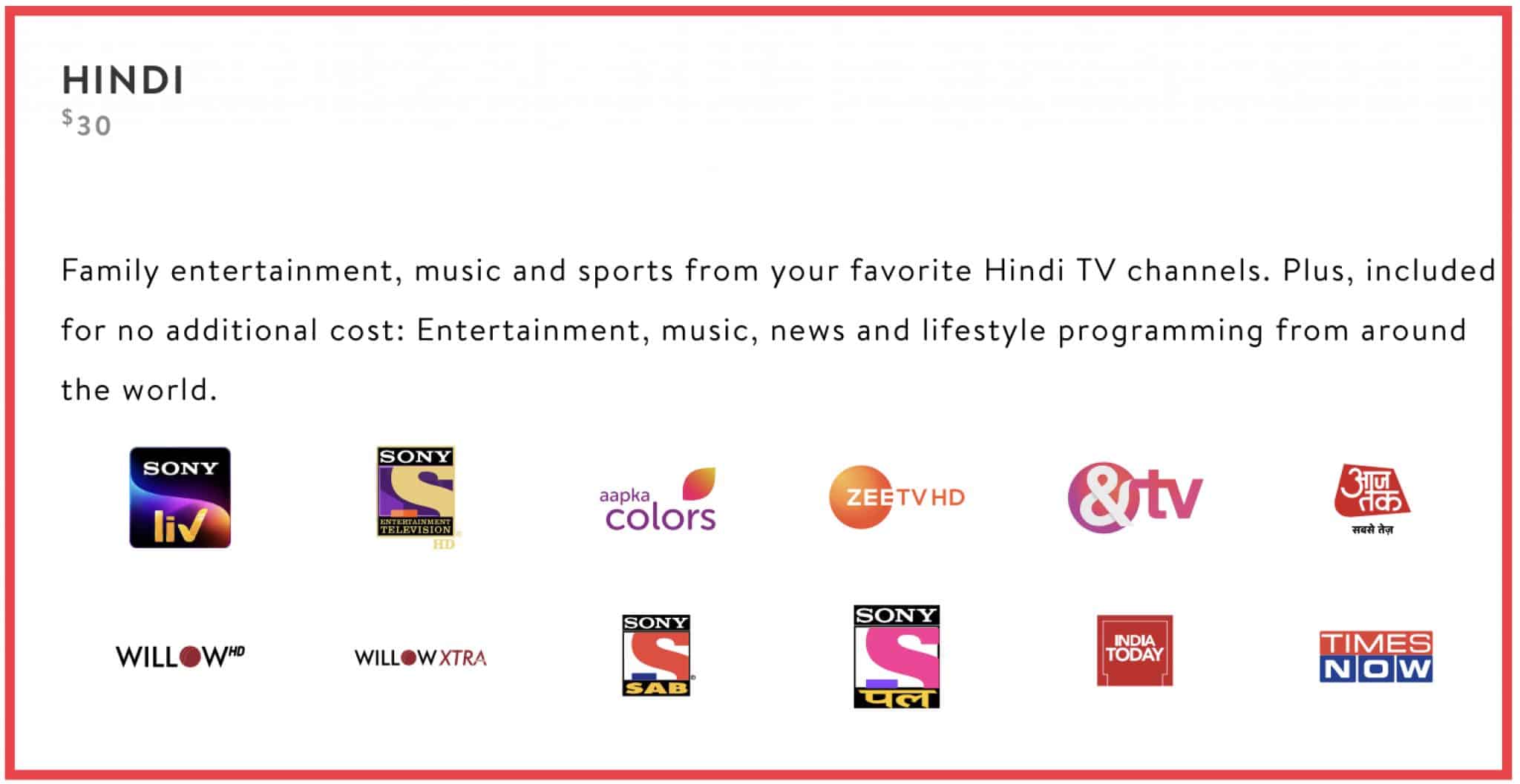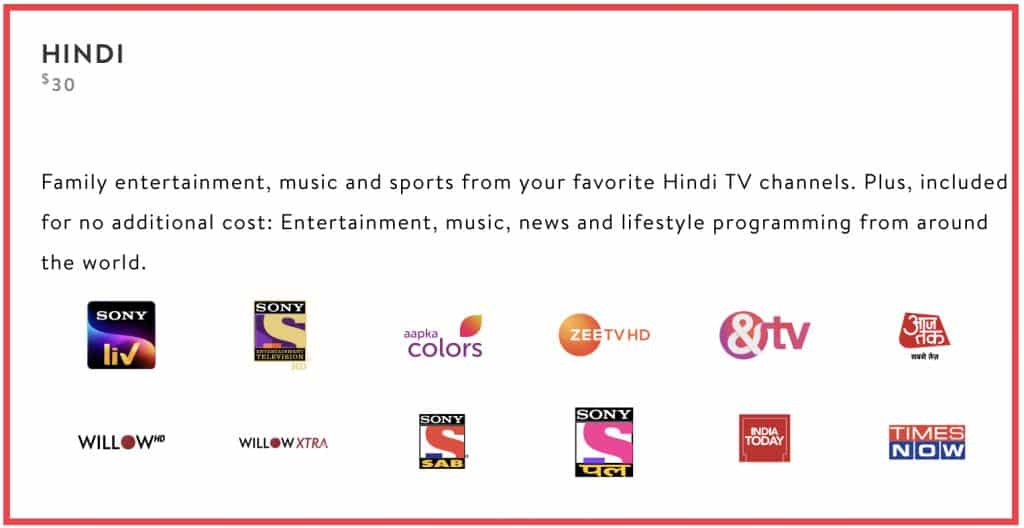 This subscription plan costs $30 a month. It includes the Sony Liv and the subscriber doesn't need to purchase it separately. This subscription bundle offers 12 Hindi channels which cover Entertainment, news and sports niche. The subscriber can access this package free of cost for three days. You can sign up for the Hindi package by clicking here Below is the list of all channels available with this plan.
Sony Liv
Sony HD
Aapka colors
Zee TV HD
& TV
Aaj Tak
Willow HD
Willow Extra
Sony Sab
Sony Pal
India Today
Times Now
Sling International Hindi Mega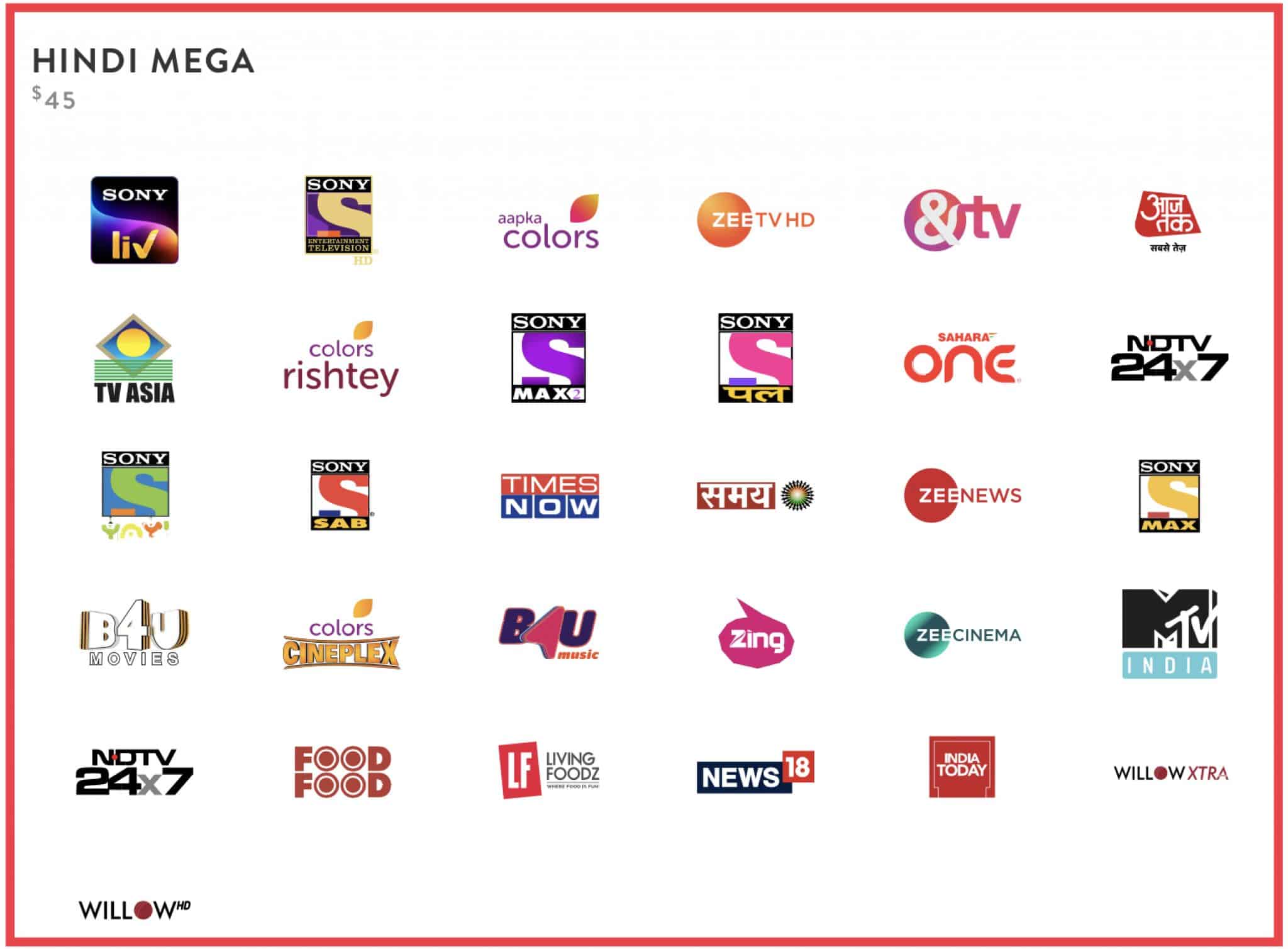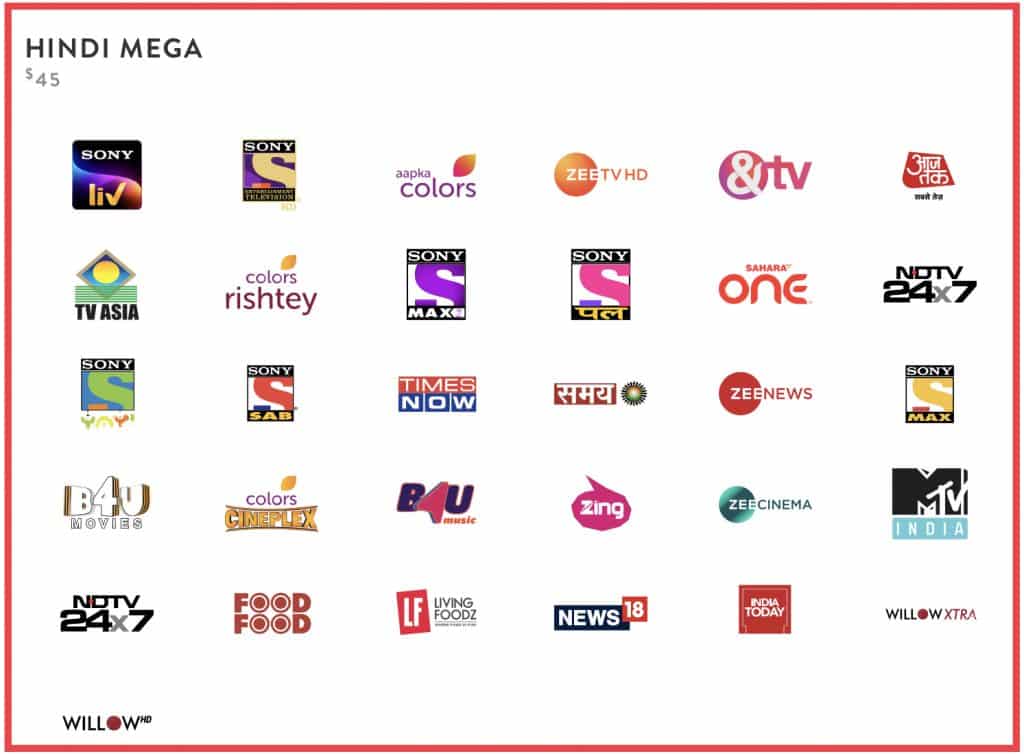 This is the premium subscription that includes both Sony Liv plus Hindi package channels. Additionally, you will get 20 Hindi channels. It offers a total of 31 channels and you will need to pay $ 45 per month to subscribe to this package. The subscriber can access these channels on three screens simultaneously. Below is the list of 20 additional channels available with this bundle.
TV Asia
Colors Rishtey
Sony Max
Sahara One
NDTV 24 X 7
Sony Yay
Times Now
Samay
Zee News
Sony Max
B4U Movies
Colors Cineplex
B4U Music
Zing
Zee Cinema
MTV India
Food Food
Living Foodz
India Today
New 18
Sling Bangla Super plan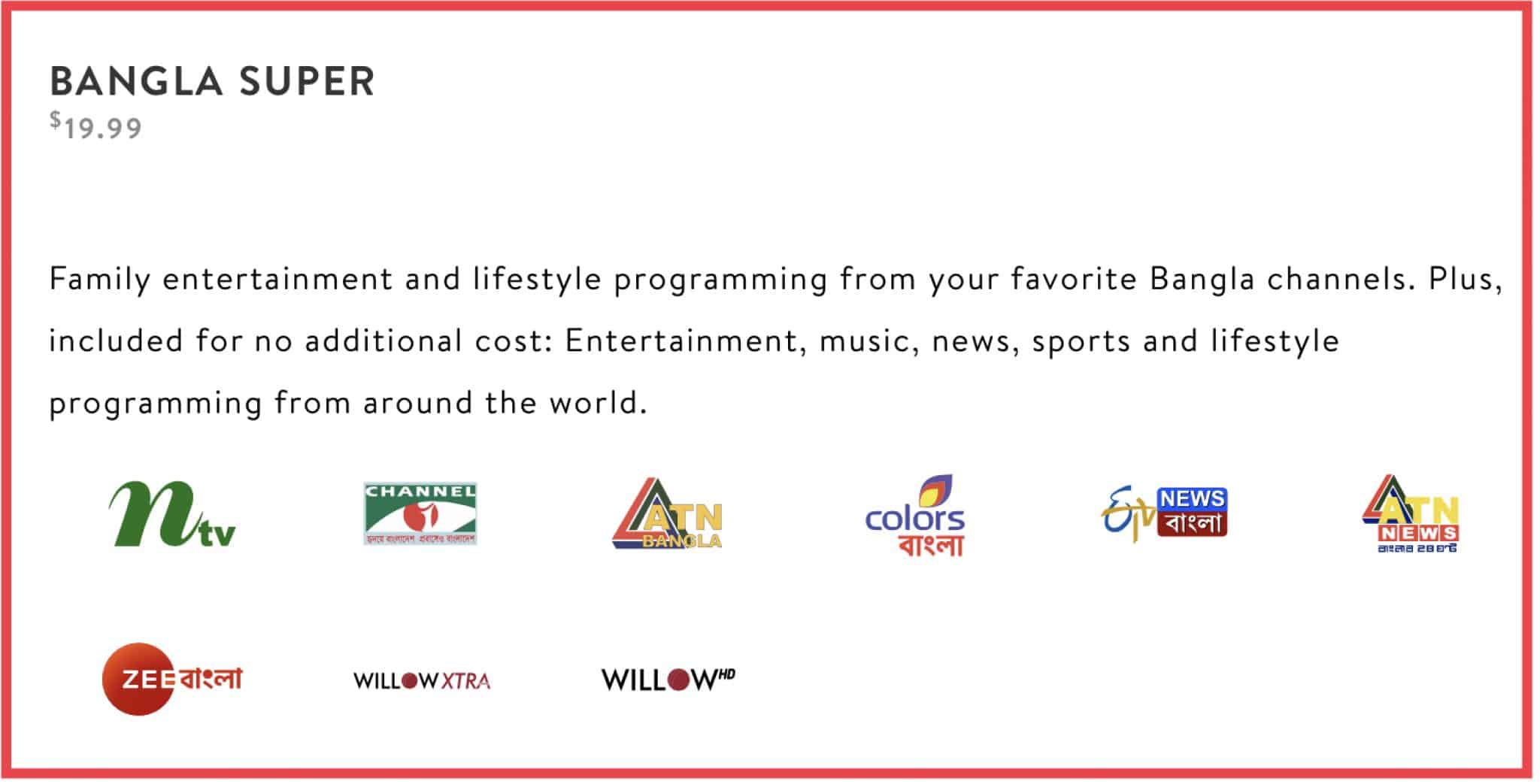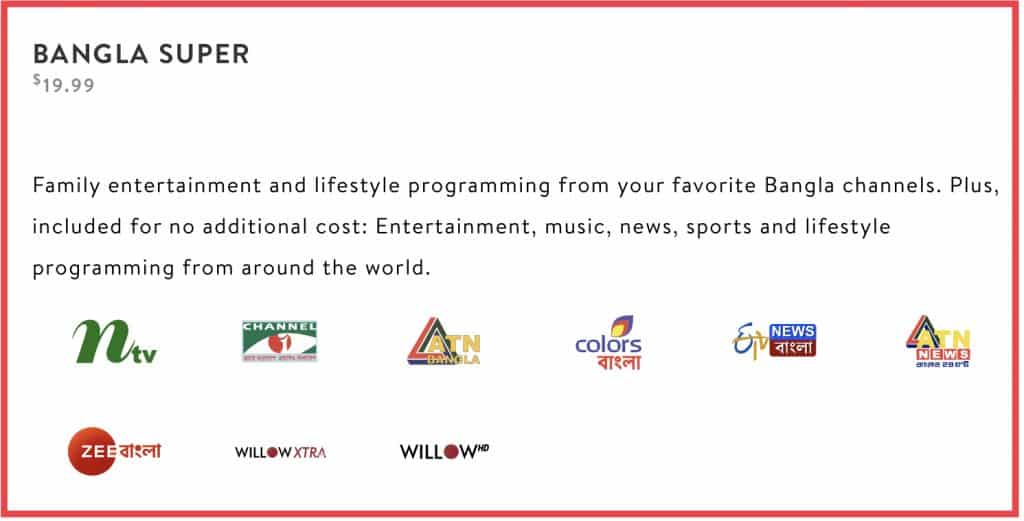 Sling charges $19.99 a month for the Bangla channels plan. This package has channels of Bangla language and has channels of entertainment, sports and news niche. There is also a free trial of 7 days with this plan and offers streaming on 3 screens simultaneously.
NTV
CHANNEL I
ATN BANGLA
COLORS BANGLA
NEWS BANGLA
ATN NEWS
ZEE BANGLA
WILLOW EXTRA
WILLOW HD
Sling Kannada package
Sling International has two bundles for Kannada subscribers. One is a bundle of Kannada language channels only while the other plan is a combo of Hindi and Kannada Channels. The Kannada only package price is $20 a month and you will get 7 channels to live stream. You can check out all the channels in the below Image.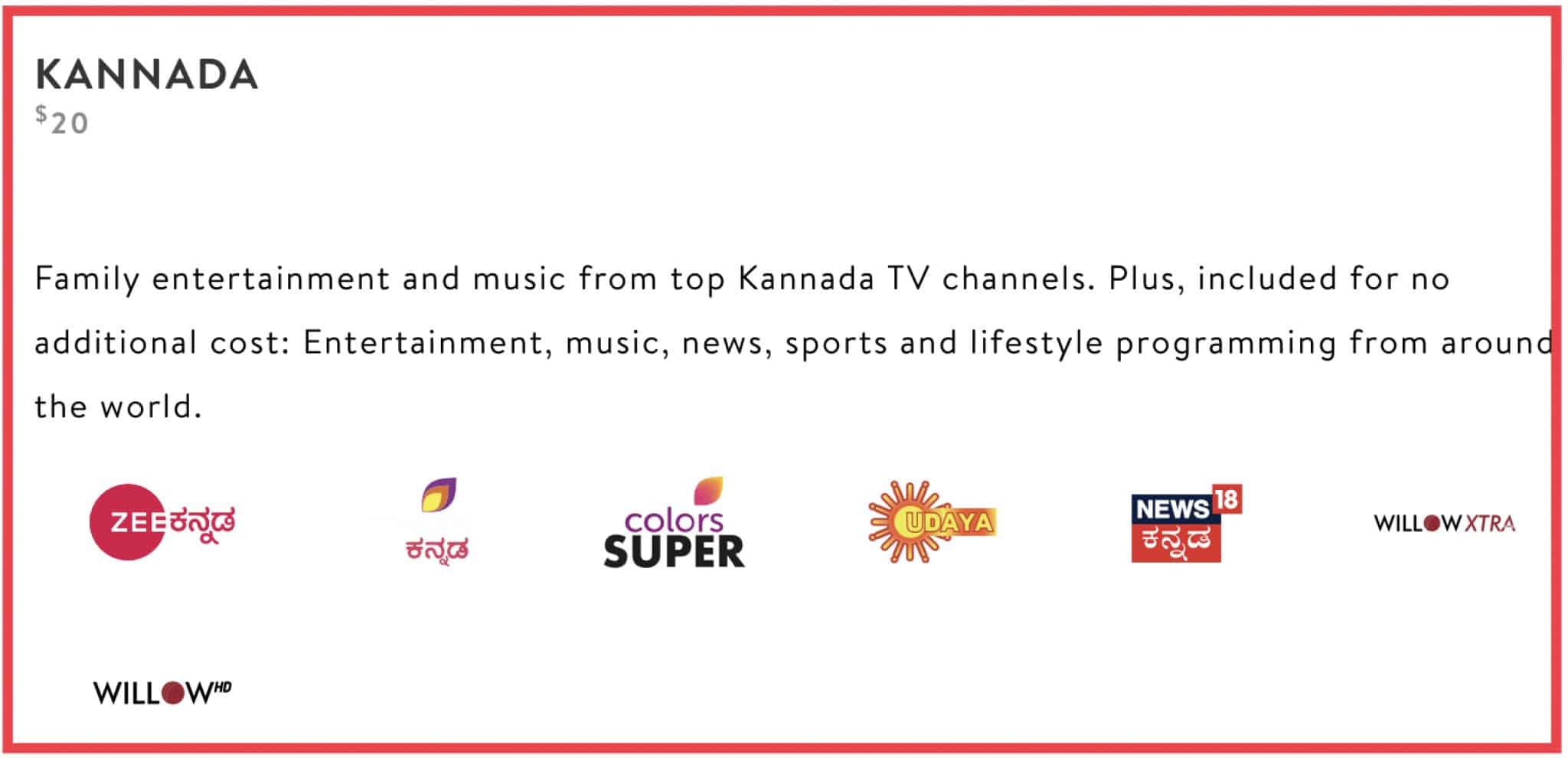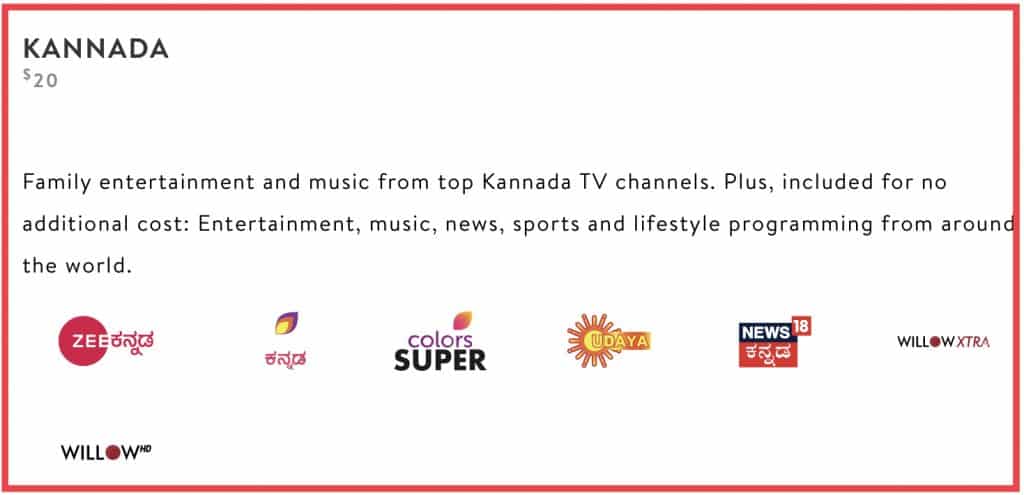 The Kannada Hindi plan offers more channels in Kannada and Hindi language. It will cost you $ 30 a month. You can watch 14 channels and offers streaming on 3 screens at the same time. This plan comes with a free trial of 7 days and you can also avail a discount of $10 with promo code SLINGER77. Check out all the available channels with this plan in the below image.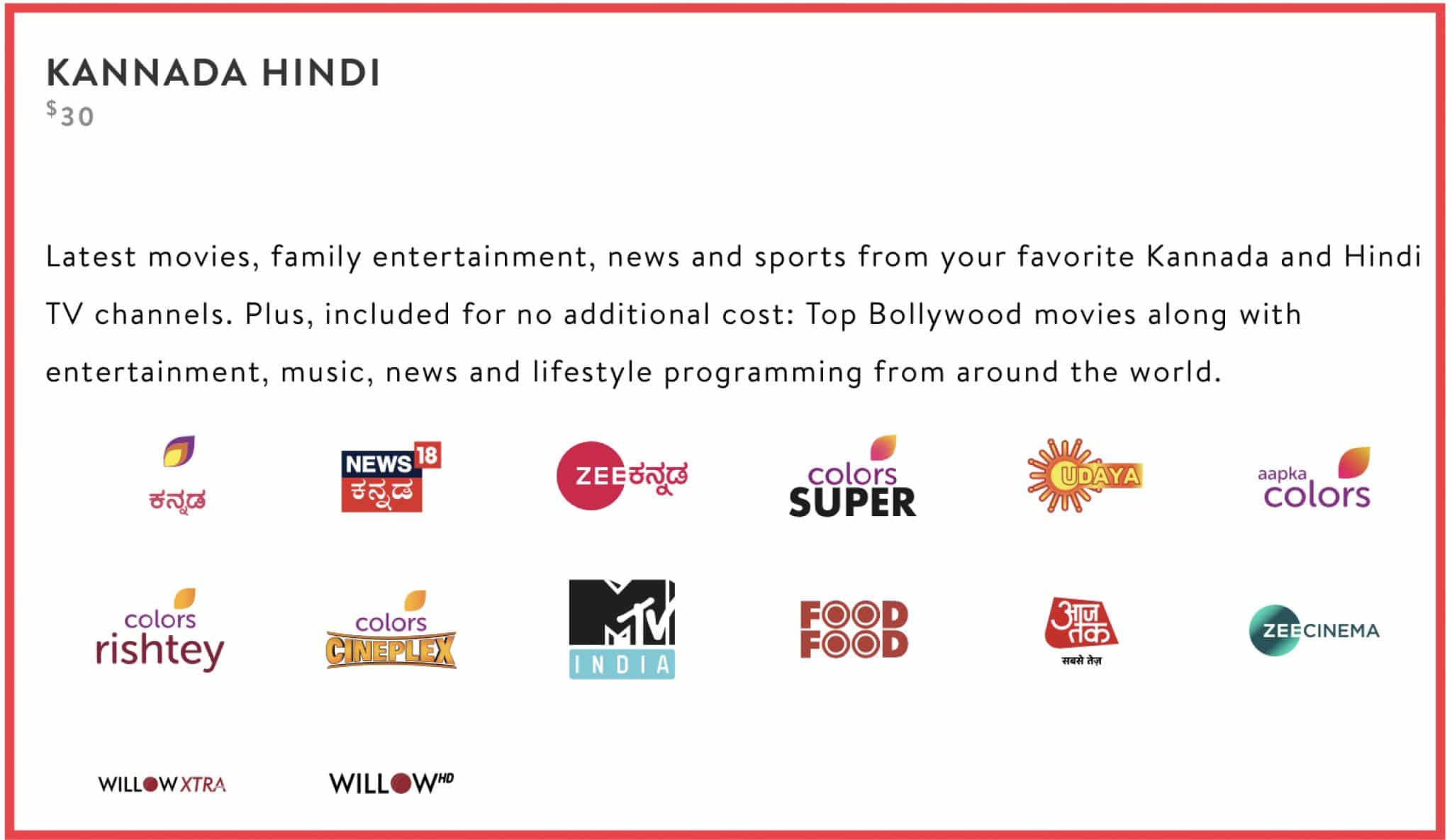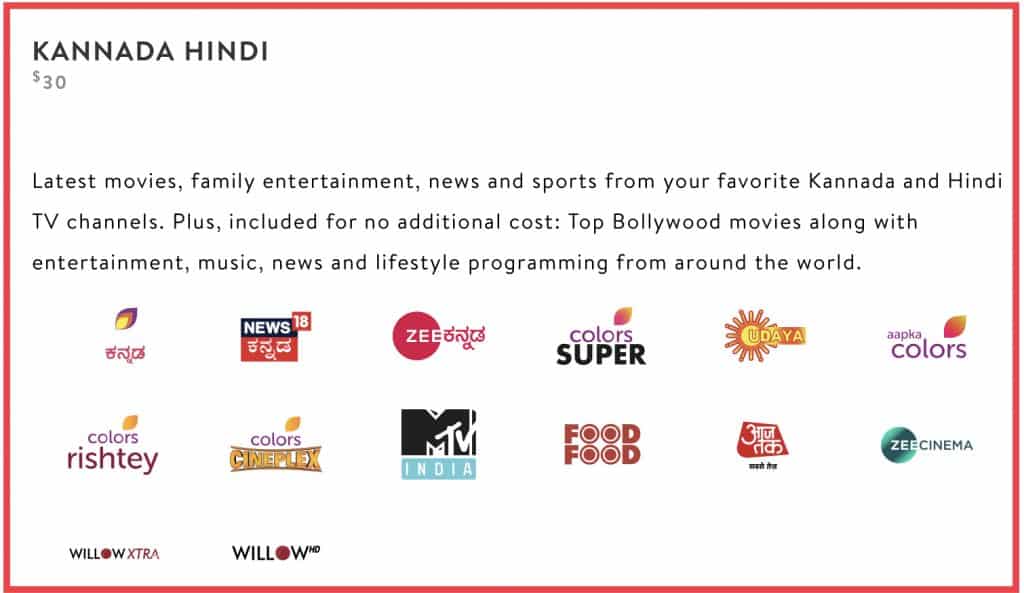 Sling International Malayalam Plan
Similar to Kannada package, subscribers get two option to access Malayalam content on Sling tv.
Malayalam Gold
Malayalam Hindi
The Malayalam Gold give a subscriber access to 9 Malayalam channels and costs $25 a month. The plan comes with a 7 days free trial. You can find the all channels available with this plan in the below image.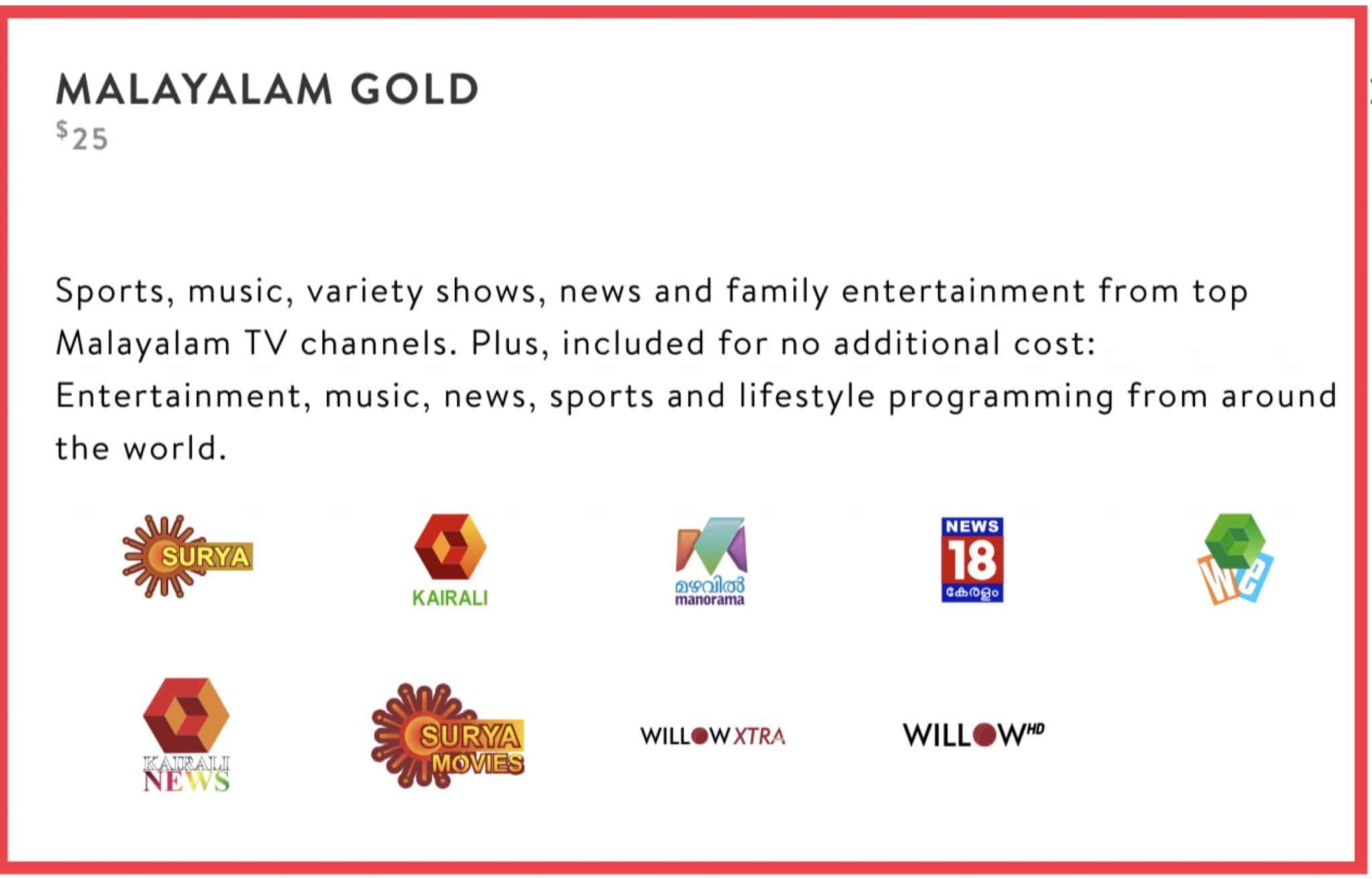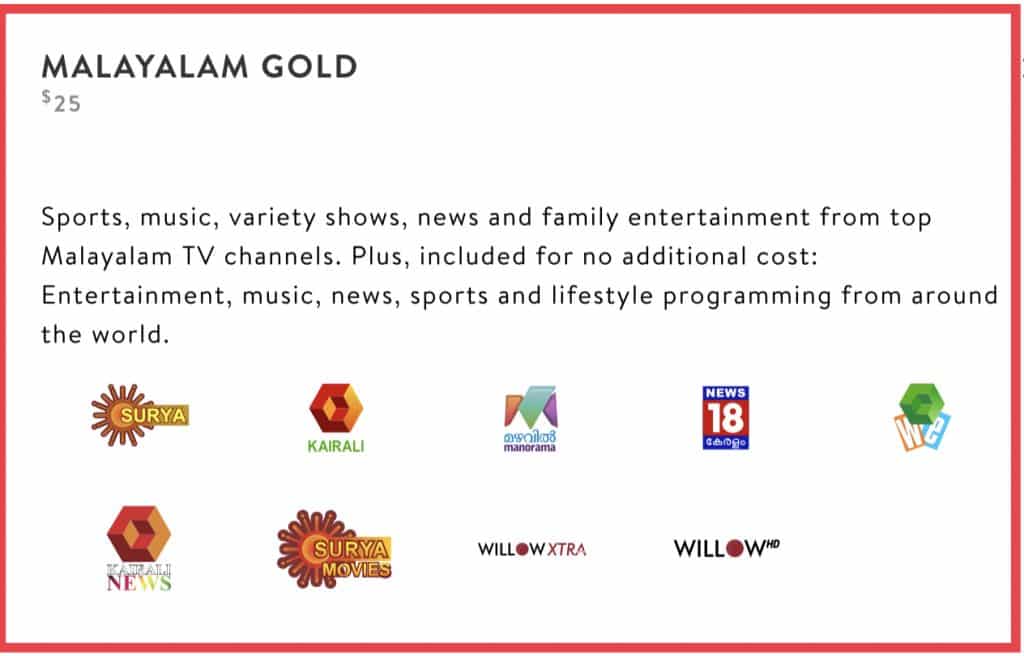 The Malayalam Hindi package costs $30 a month and offers additional Hindi channels in the Malayalam Gold plan. This subscription has 16 Hindi and Malayalam Channels. Moreover, you will get access to 25 plus free Hindi channels which include TV shows, Bollywood movies, news and sports channels.
In addition to these channels, subscribers can watch American TV channels too. The most popular American TV channels that come free with this plan are :

TNT
Food Network
ESPN
CNN
CNBC
NICK JR
HGTV
Cartoon Network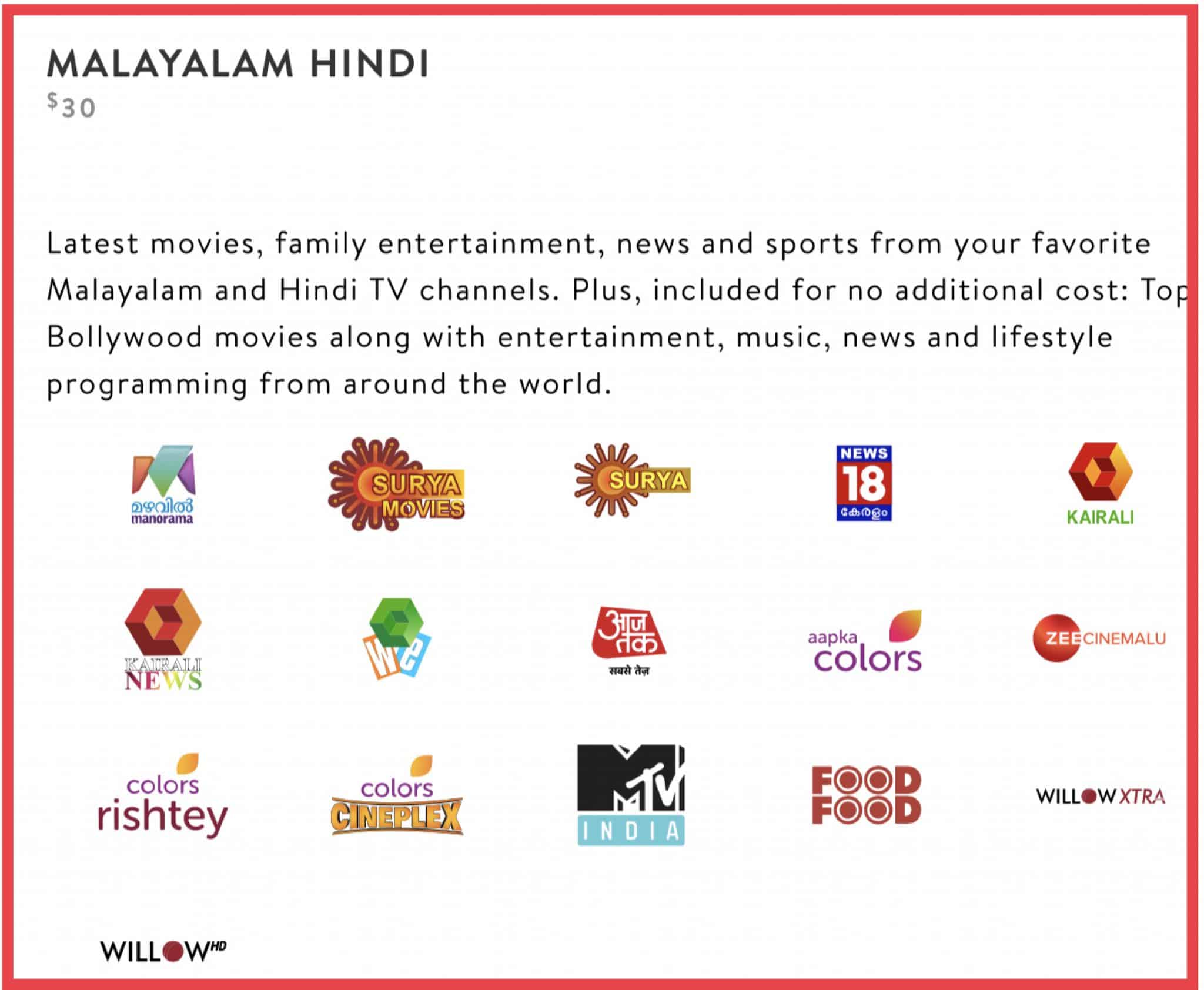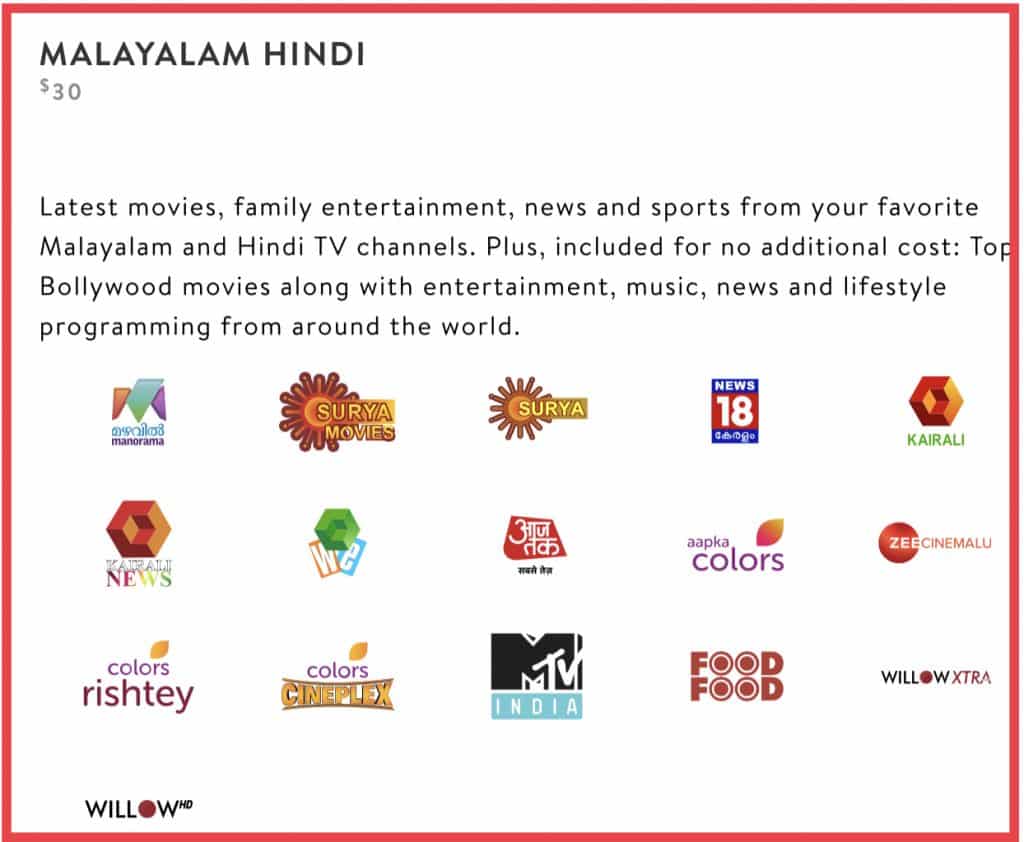 Sling Marathi Subscription
Sling Marathi package costs subscribers $18 a month and gives access to 6 plus Marathi channels. The list of Marathi Channels is given below.
Colors Marathi
Zee Marathi
Zee Talkies
IBN lokmat
Sony Marathi
Zee 24 Tas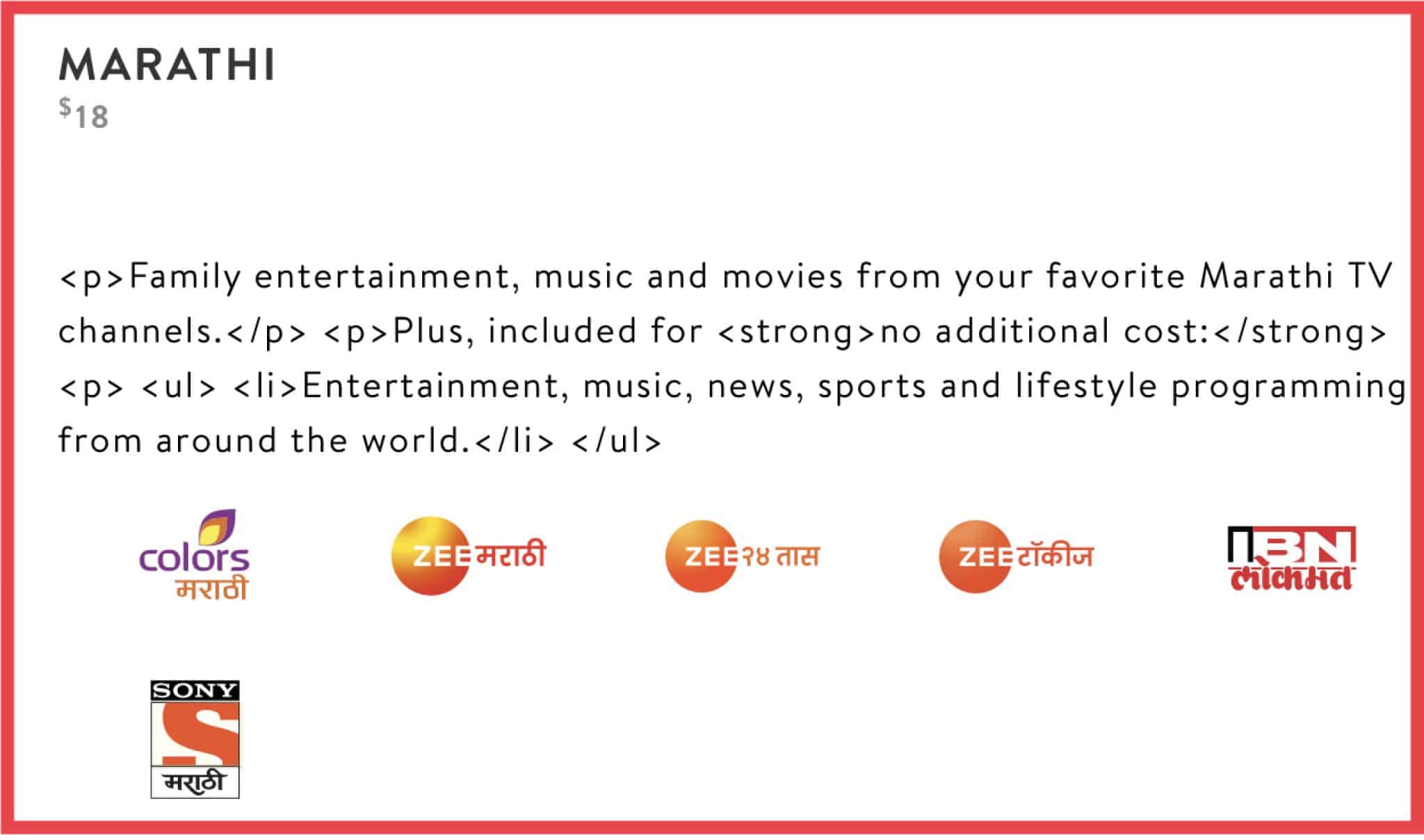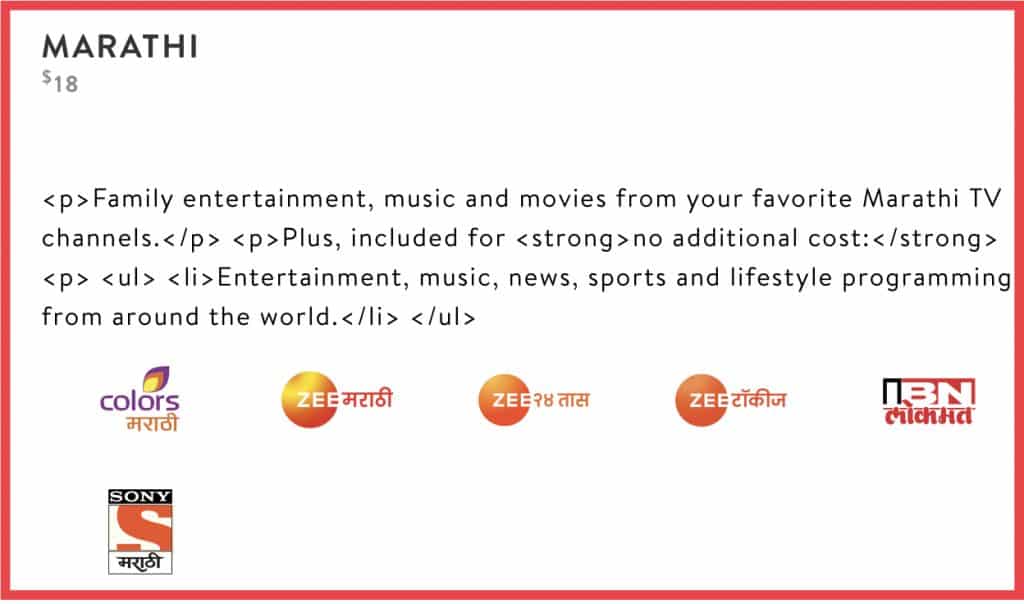 Moreover, you will get access to 25 Indian TV channels and 8 American channels to watch news, sports, movies and kids shows.
Sling International Package Punjabi
Sling has customized the Punjabi pack and it is available in three subscription packages.
Punjabi
Punjabi Super
Punjabi Hindi
All three subscription packs can be tested by subscribing to a free trial of 7 days. You can unsubscribe from the free trial at any time without paying any fee. Punjabi plan Costs $15 a month and offers 6 Punjabi channels. You can find the details in the below image about the Sling International Punjabi plan.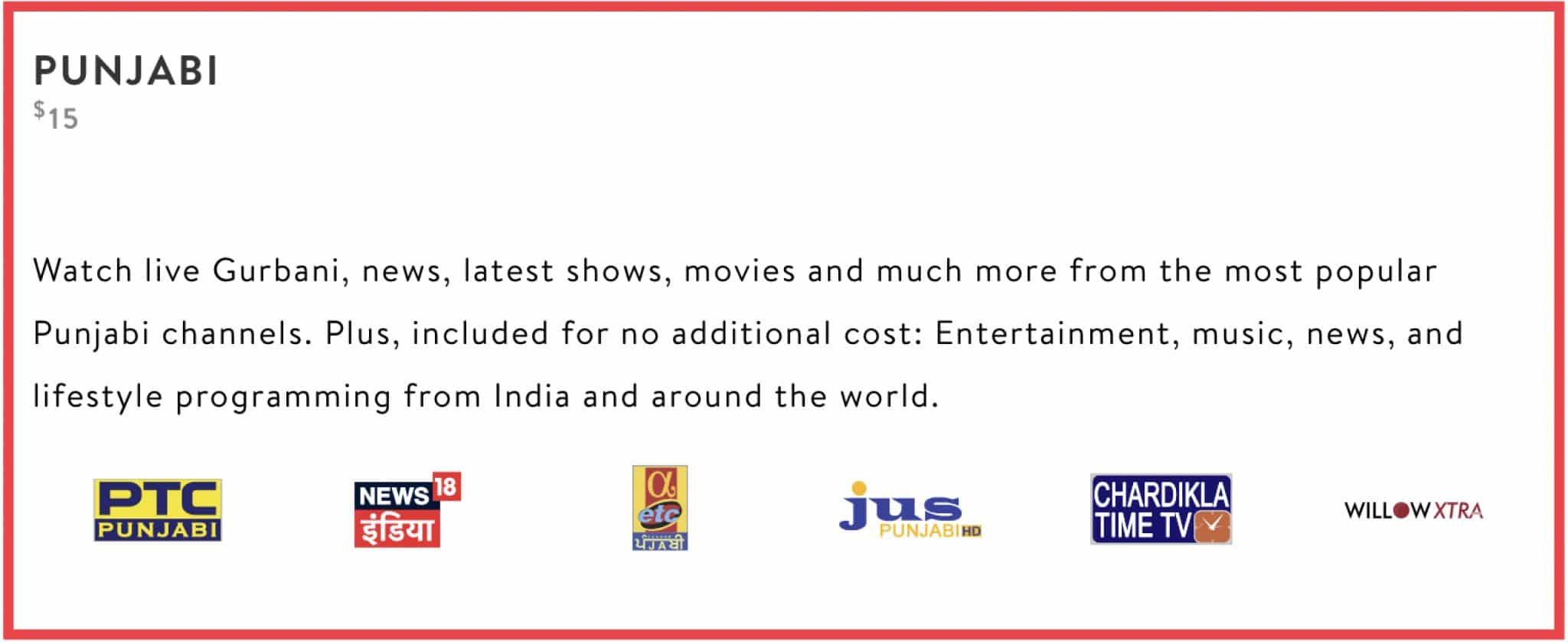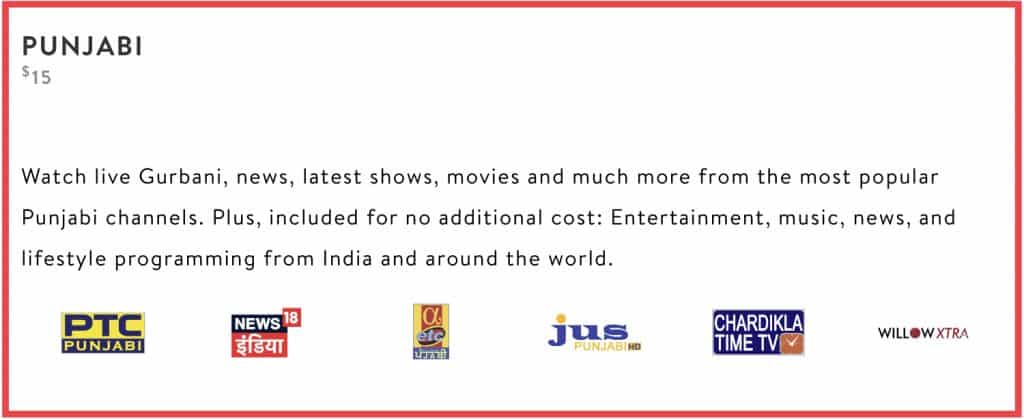 In Punjabi super package, the subscriber will pay $25 a month and can stream 22 Punjabi channels. However, these 22 channels include some Hindi channels too. But this package has most of the popular Punjabi Network Channels.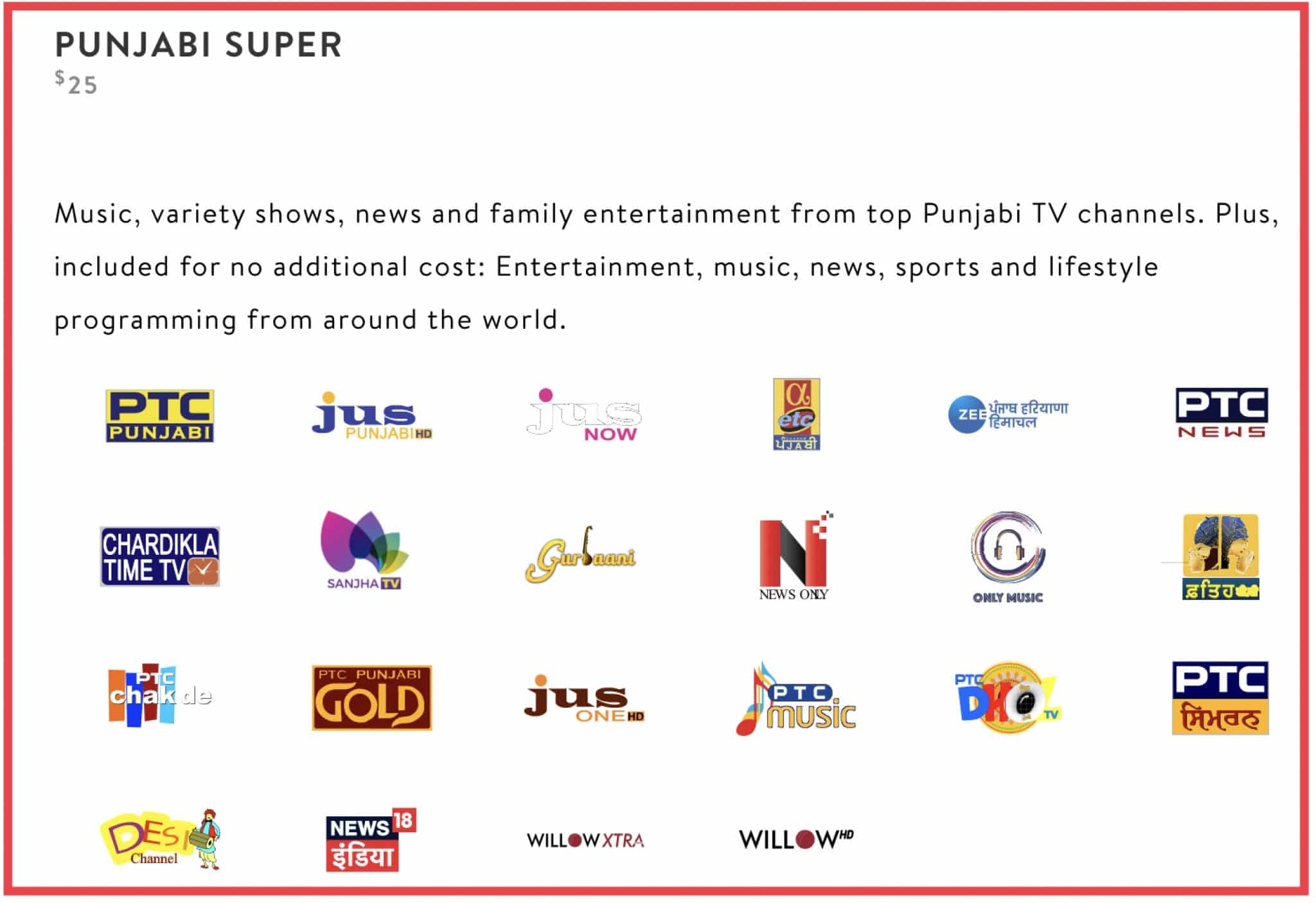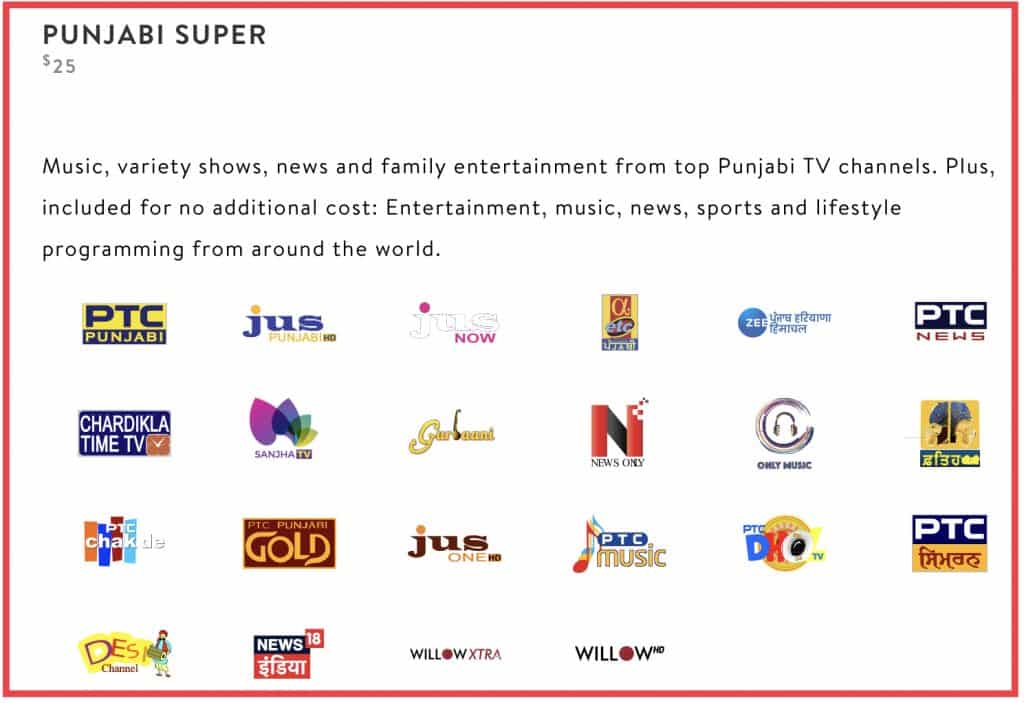 Punjabi Hindi package offers 16 channels to its subscribers and costs $30 a month. You can find complete details of this package in the below image.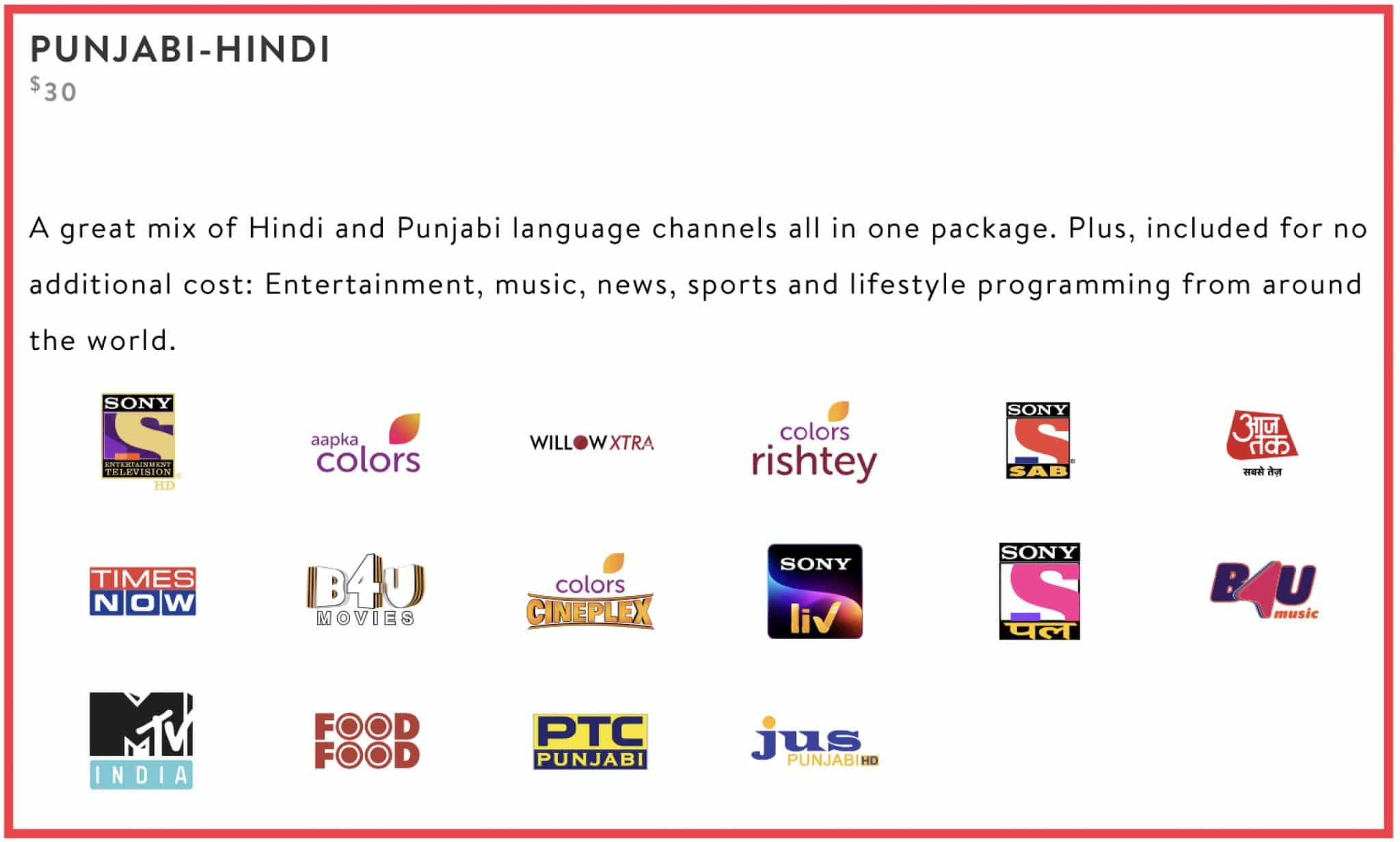 Sling International Tamil Package
Similar to the Sling Punjabi package, the Tamil package is also available in three variants Tamil, Tamil Gold and Tamil Hindi. All three package includes Tamil channels with streaming on three screens simultaneously.
Tamil package offers 6 channels and costs $15 a month. The channels available with this plan are:
Jaya TV
KTV
SUN TV
Willow HD
Willow Extra
Zee Tamil
Tamil Gold package has more channels than the Tamil base plan. Click below image to check out offer.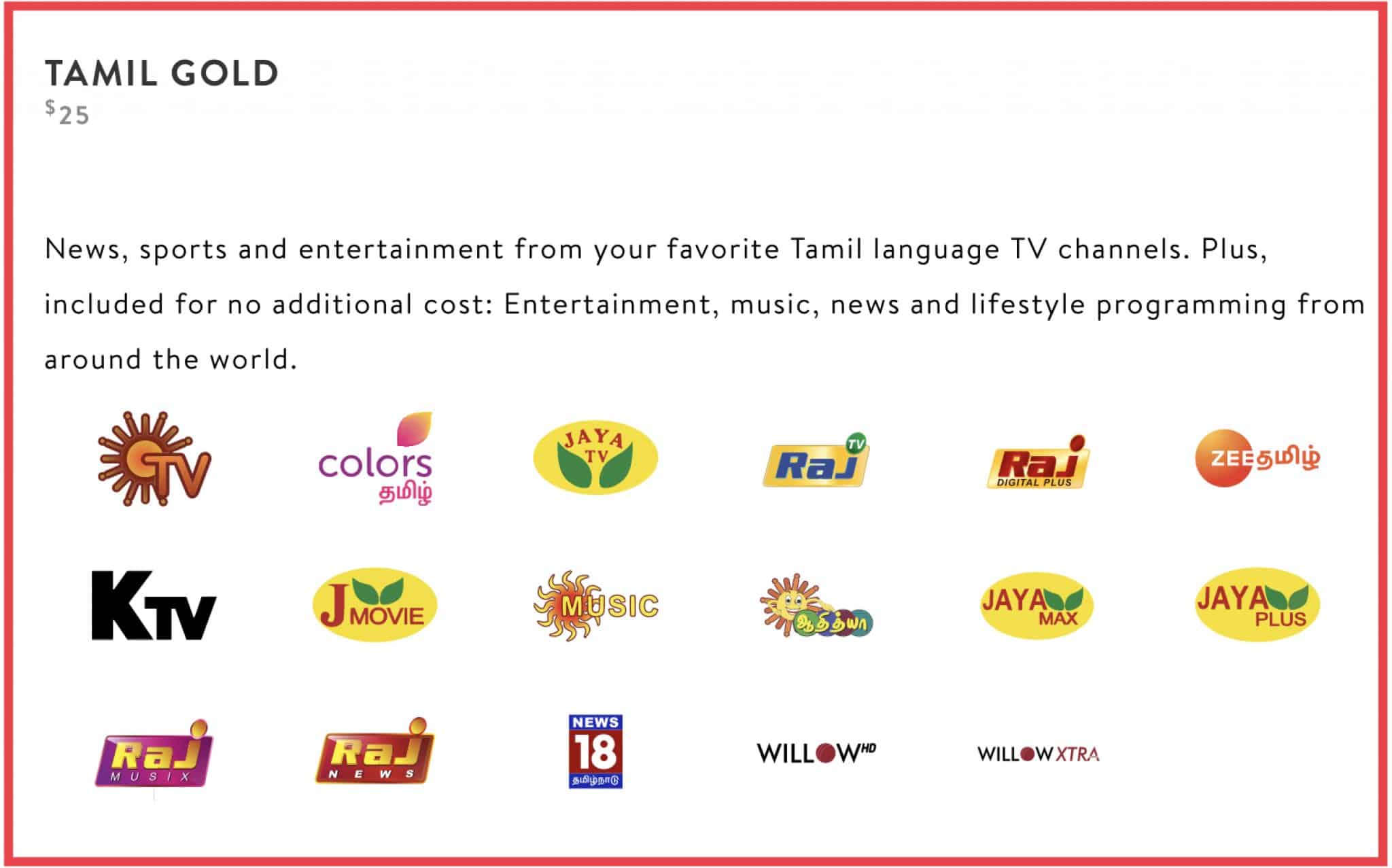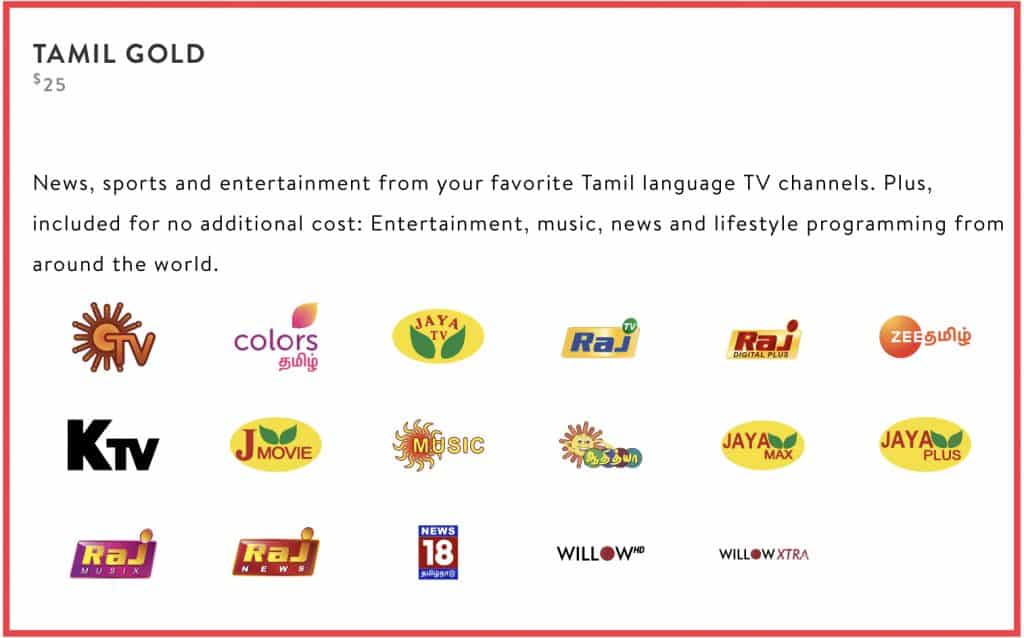 To subscribe to Tamil Gold, you will need to pay $25 a month and will get access to 17 Tamil plan channels and free Hindi and American channels available with each Sling International package.
In the Sling TV Tamil Hindi package, Hindi channels are also included with Tamil language channels. If you subscribe to this subscription, you don't need to purchase another add-on to watch Hindi Channels. Also, check out Sling TV domestic plans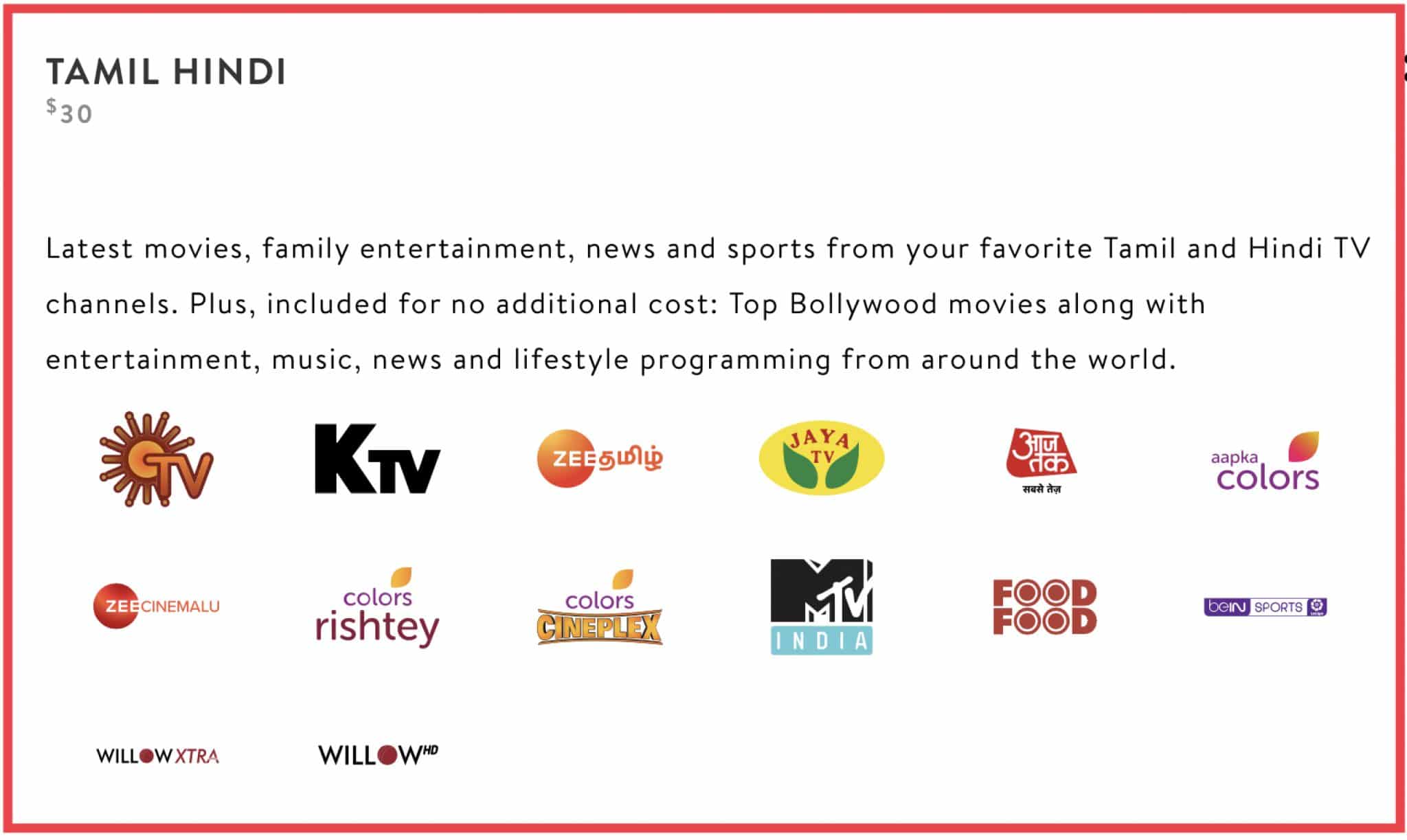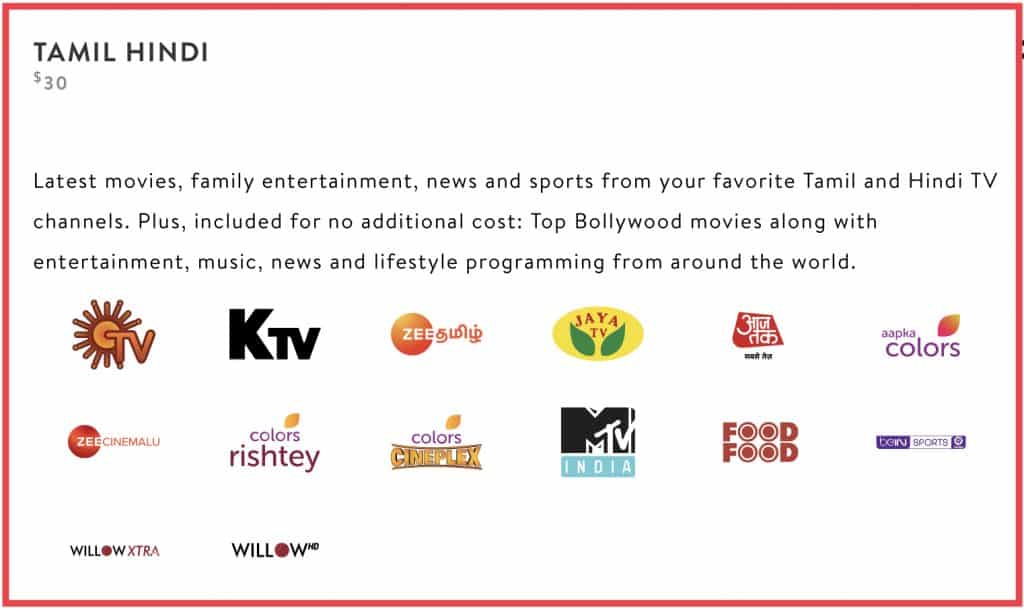 Tamil Hindi channel bundle will cost you $30 each month.
Sling TV Telugu subscription
The Tamil, Telugu and Punjabi plans have the same pricing and number of channels but with different channels. You get 06 Tamil channels with Tamil base plans and you will not get access to additional Hindi premium channels.
While in Telugu Gold, You get access to 9 Telugu channels and pay $25 a month. Check out the channel details in the below image.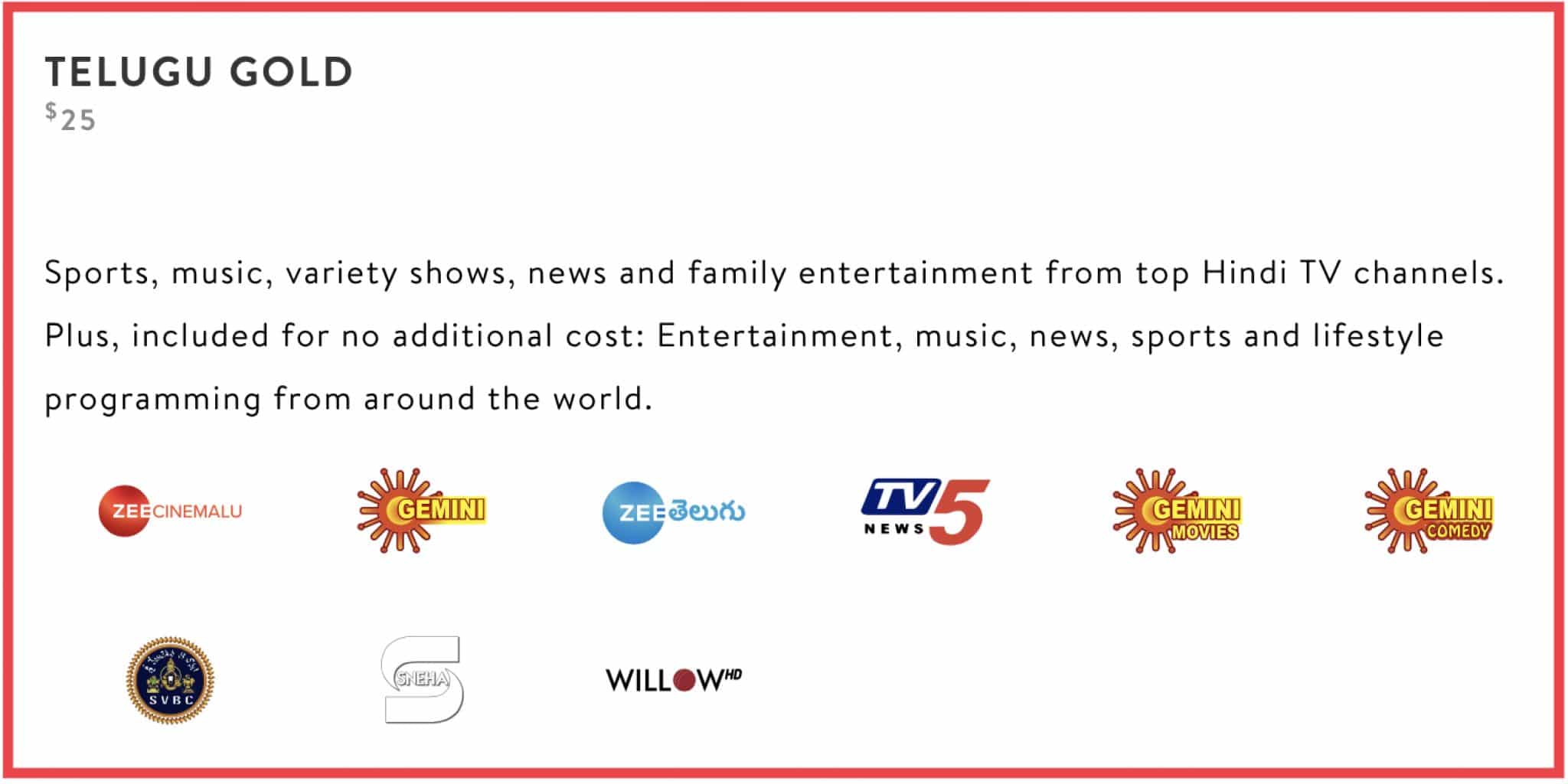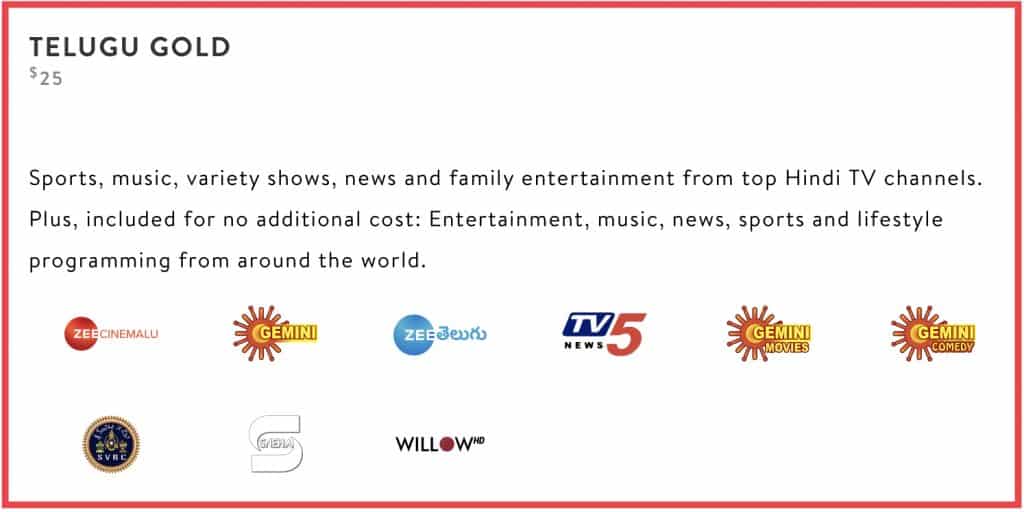 Telugu Hindi plan is a bundle of Tamil and Hindi channels. This package price is $30 a month and you can watch 12 Hindi and Telugu channels. Considering the other Sling international packages, the Telugu plan seems expensive as the channels available are less as compared to other plans.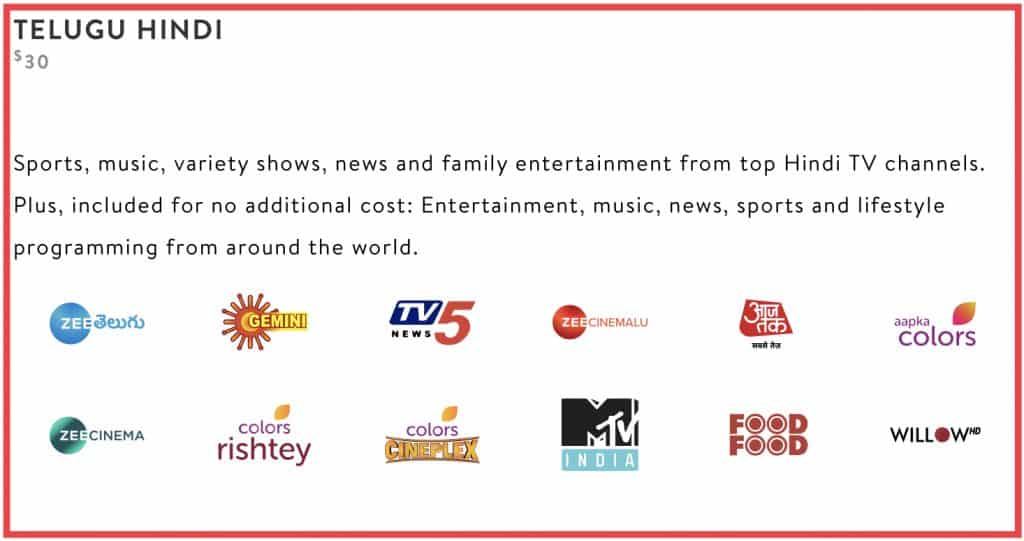 Sling International free trial
Sling also offers a free trial of 7 days to watch Hotstar international plan channels. However, you need to submit your personal details and credit card details to activate the Sling free trial. Once your trial period is over, you will be charged the subscription fee as per your subscription.
Sling DVR storage
Sling also offers a DVR storage of 10 hours free of cost with all its international packages. This feature is very useful if you want to watch the program later. You can save your favorite shows in DVR storage and access them later. In case, you need additional storage, you can purchase up to 50 hours of DVR storage by paying $5 a month.
Additional streams
You can access the content on 3 streams at a time. You don't need to purchase an extra stream to watch content on three different devices simultaneously. You can share your subscription bundle with friends and family members due to the availability of additional streams. It will help you to reduce subscription costs by sharing packages with others.
Free replay feature
I found this feature very useful. You don't need to spare your time for your favorite Sports match or TV shows or movie. Sling replay feature saves it for you for 8 days and you can watch it any time. In case, you want to access it after 8 days, you can save it in DVR storage.
These are some coolest features Sling international offers its subscribers with all international plans. Moreover, you are getting a bundle of American free channels and Hindi channels with each subscription plan. I will recommend you to try its free trial for 7 days and make your decision.