Streaming services have changed the way to consume digital content online. We can watch content online 24×7 on all available devices. This flexibility has made streaming services more popular. This is the reason OTT platforms are expanding their user base globally. Hotstar launched its services in Singapore recently. Earlier, it was available in India, the USA, Canada and the UK. You can check out Hotstar in USA, Canada and Hotstar UK by clicking these links. I am going to share each and every detail about Hotstar Singapore here.
Hotstar Singapore subscription
First thing always first, How much do you need to pay to avail of the Hotstar subscription service in Singapore? There is only one subscription package available currently, which will cost you SG$68.99 a year. Hotstar offers only an annual subscription plan. If you are looking for Hotstar Singapore monthly subscription or Cricket subscription, unfortunately, Hotstar doesn't offer monthly and exclusive Cricket subscriptions in Singapore.
In addition to Hotstar annual subscription, you can subscribe to Hotstar with Starhub TV plans, Broadband plans, and mobile packages.
Starhub subscription plans for Hotstar
If you wish to try Hotstar free, you can sign up for Starhub TV, Broadband, and mobile packages annual terms. The existing customers of Starhub already have access to Disney plus Hotstar in Singapore. The downside of this deal is that you need to buy a StarHub package for a minimum period of 12 months.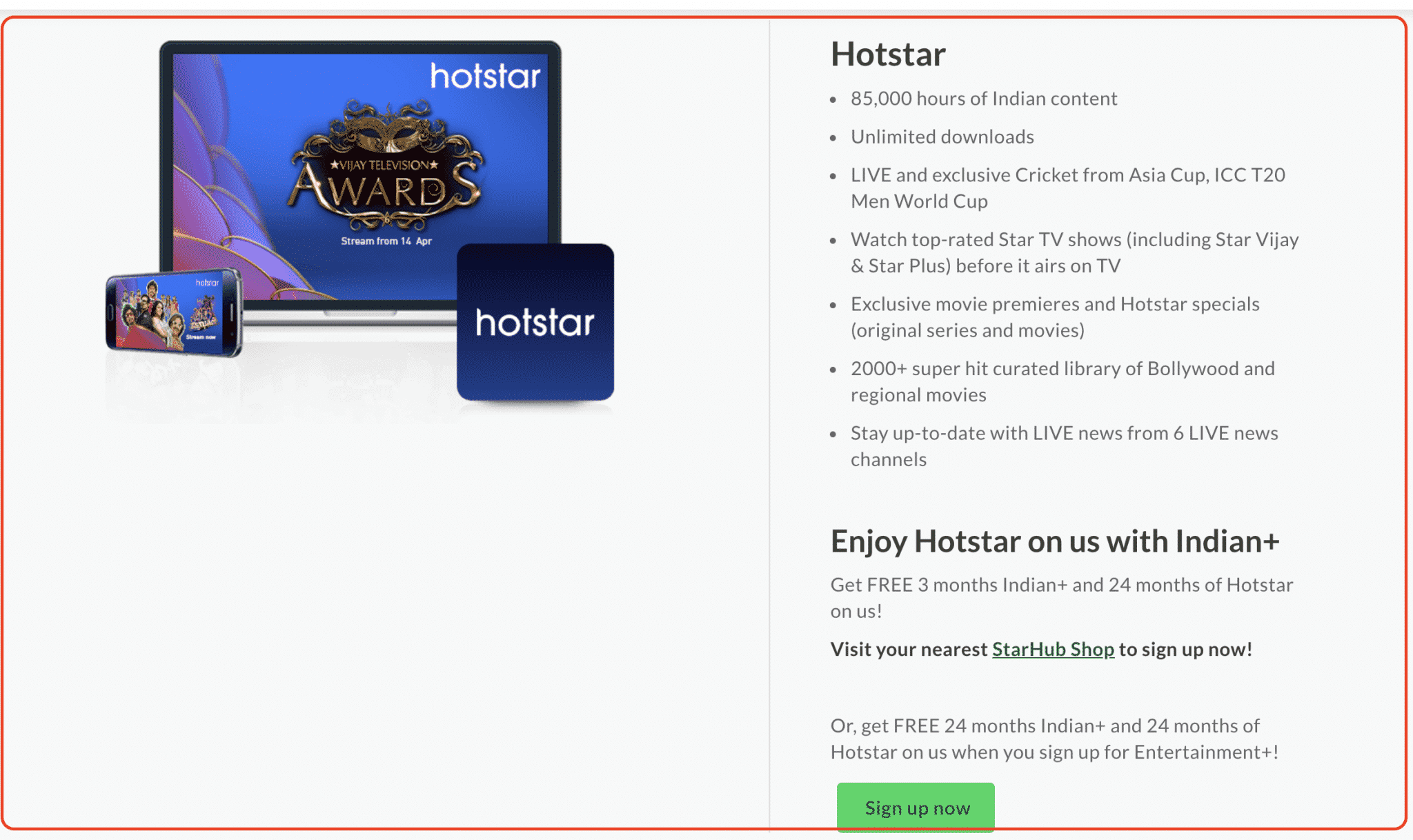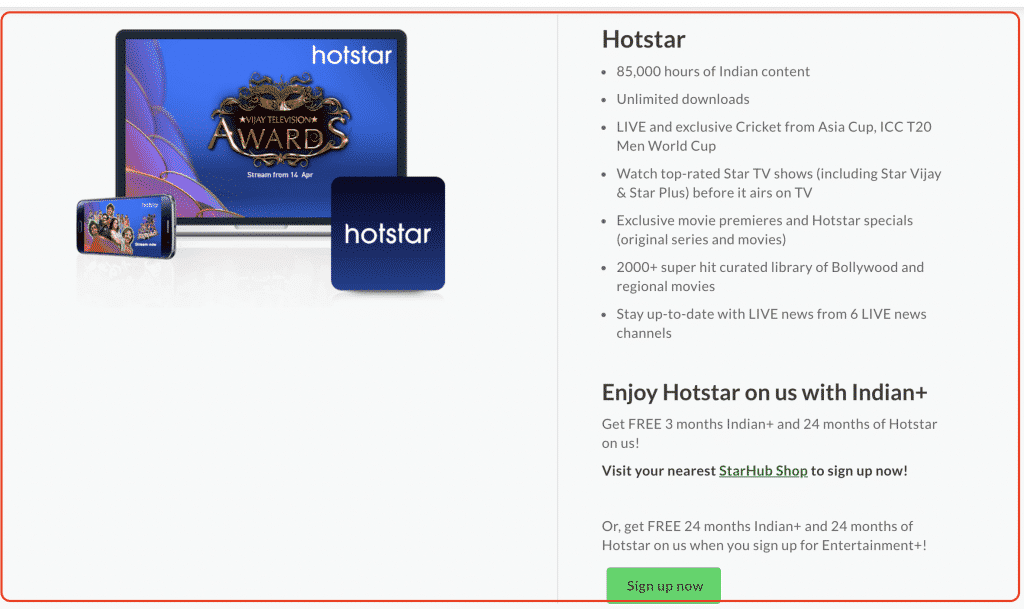 Unlike the USA, Canada, and the UK, Hotstar offers Disney plus access with its package in Singapore. After India, Singapore is the only country in which the Hotstar package includes Disney plus programs. With Starhub TV + plans, the Hotstar package is free for two years. You need to purchase any of the two Starhub subscriptions to avail free access to Hotstar in Singapore.
Starhub TV+ (Entertainment+offer) will cost you $30 per month and give you access to Entertainment + package and free 2ond TV+ pass and Disney + for 24 months. However, you are bound for 24 months contract for this package.
StarHub TV+ – With this package, you will get any 2TV+ pass with a price of $15 a month. You get Disney plus Hotstar free for a period of 12 months and 24 months. This offer is valid with 24 months and 12 months duration, and the subscribers are not bound with any contract.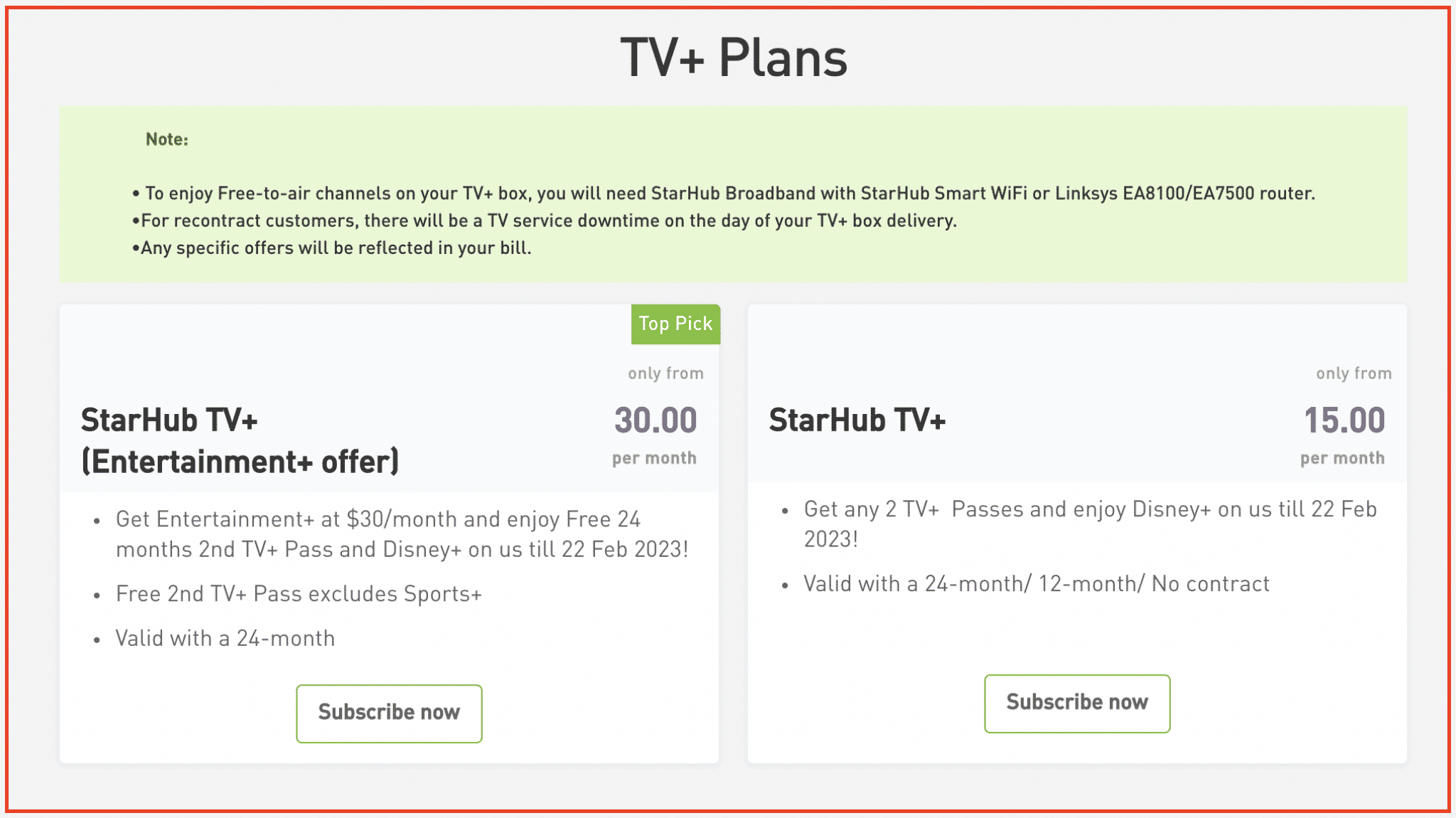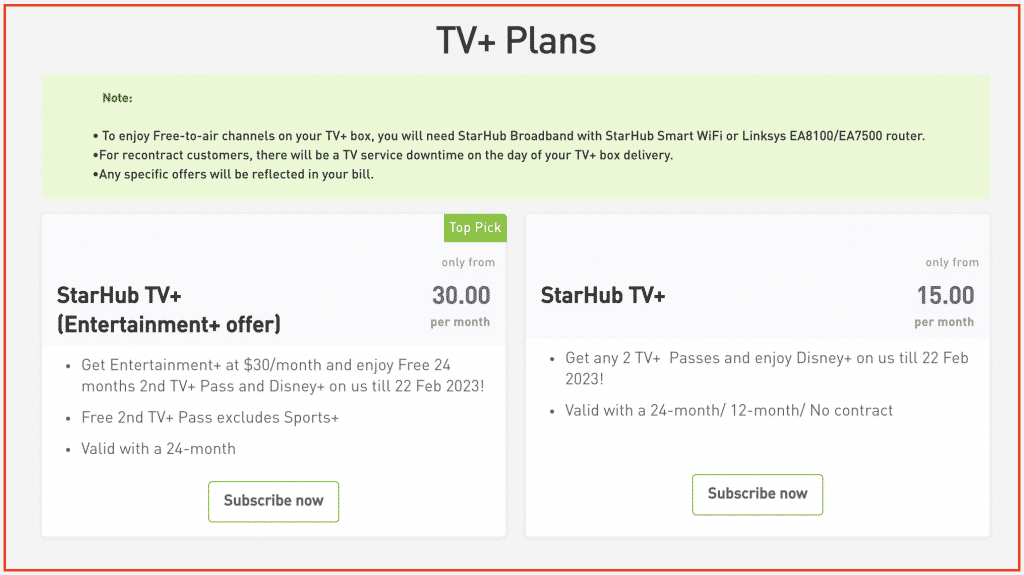 You will also get free Hotstar for a period of 3 months with Starhub broadband packages. The duration of free Hotstar is the same with both broadband services. Sign-up for any of the broadband plans for a period of 24 months and get 3 months of Hotstar free of cost. With this bundle, there is a contract of 2 years. If you purchase for fewer than 2 years, you will not get free Disney plus Hotstar.


Starhub has bundles free Hotstar with its mobile plans also. Moreover, you don't need to purchase mobile plans for a period of 2 years. You will get free Hotstar for 3 months when you purchase 4G SIM with a year plan. In contrast, you need to purchase a mobile + two years term for a free Hotstar subscription.


How to watch Hotstar in Singapore
To watch Hotstar in Singapore, you need to activate your subscription package. Follow the given steps to activate the account.
Visit Hotstar official website

Click here to visit Hotstar Singapore. You will get subscribe tab on the right upper corner of the home screen page. Click on the tab.

Create or Login Hotstar Singapore account.

You will find the account creation step on this page. You can log in if you have already signed up for Hotstar Singapore. You can also use your Facebook account to log in.

Apply Coupon code

You can use a promo code to get discounts on the Hotstar Singapore package. To apply the promo code, click on the apply coupon tab and apply the promo code as shown in the below image.

Enter Payment details and activate account.

In this step, you will need to select your payment mode. You can pay through a debit card and credit card. Enter the credit card number, date of expiry, and CVV number. Click on the pay securely tab. Once the payment is made, Hotstar will activate your account, and you can start watching Hotstar Singapore on your devices.
Devices Hotstar supports
You can watch Hotstar on different devices. It supports most of the popular devices. Be it web browser, TVs, mobile operating system, or streaming devices, you can activate and access Hotstar 24X7 hassle-free.
Android
IOS
Mobile website
Android TVs
Apple TV
Samsung smart TV
Web browser Mozilla Firefox, Google Chrome, Safari and Microsoft Edge
Google Chromecast
Amazon FireTV Stick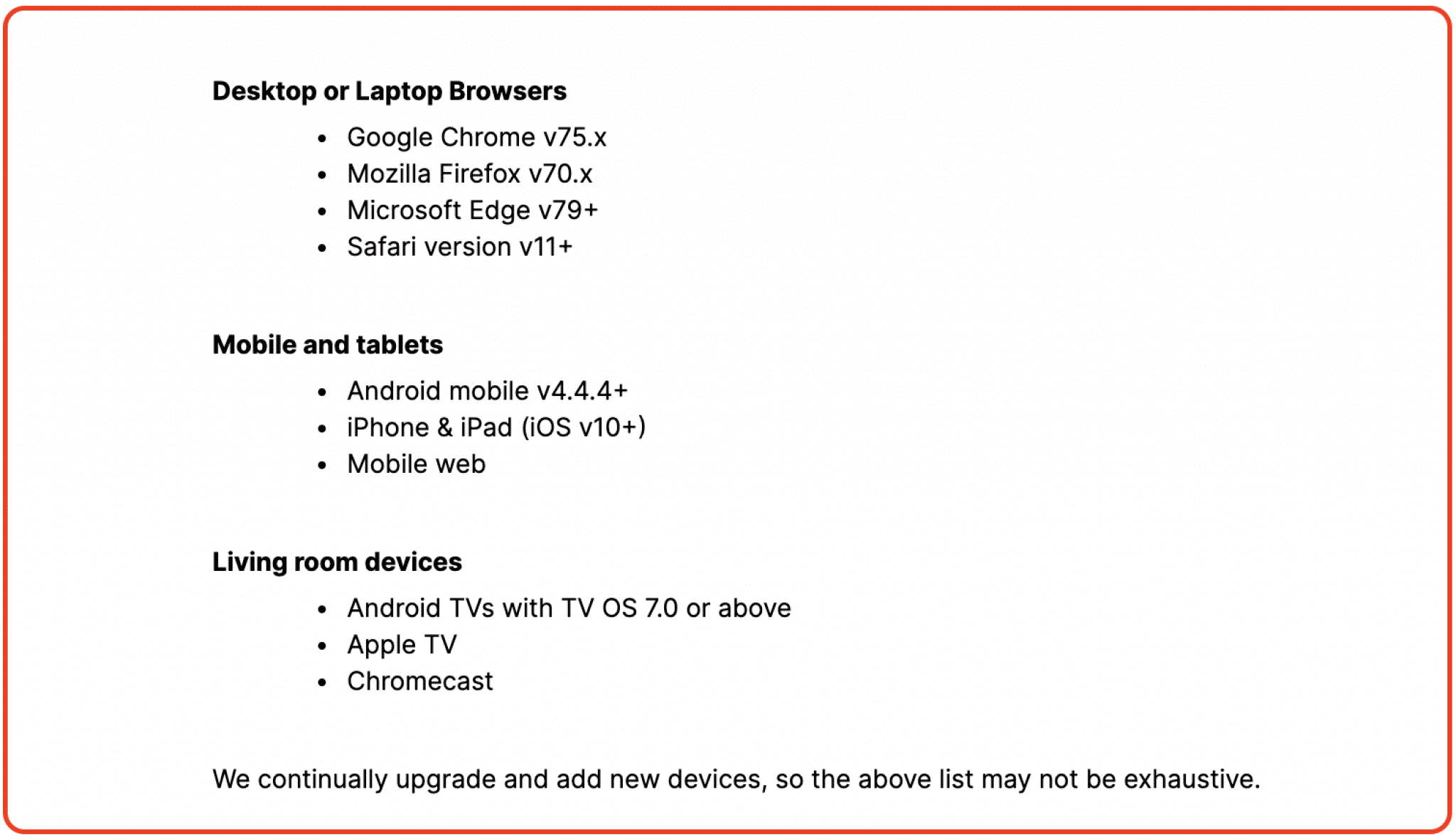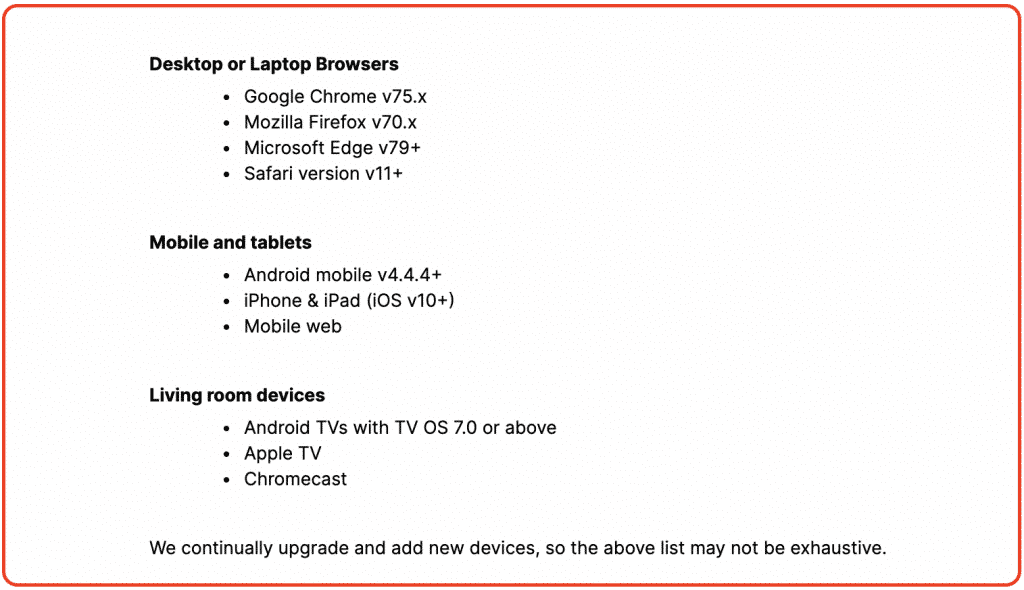 What you will get with Hotstar Singapore
Watch on 2 Screens – Hotstar gives access to two screens at a time with an annual subscription. It means you can watch two programs at a time on two devices.
Subtitles in different languages – Hotstar supports 8 Indian regional languages. You can switch the subtitles of most of its programs to different languages. Moreover, there is content for all Indian languages.
Live TV Channels – There are around 24 live TV channels of news, entertainment and sports niches.
Unlimited download – There is no restriction on the number of downloads. You can download as many programs as you want and can watch them when you are offline.
Full of entertainment – Hotstar claims to have more than 85000+ hours of content available for its subscribers. Moreover, it releases Hotstar specials, movies and TV shows from time to time.
Live Cricket matches – You can watch live cricket matches on Hotstar. It covers the bilateral cricket series of India, world cup matches, IPL and the T20 world cup.
Conclusion
When we compare Hotstar with other streaming services in Singapore, it is far better in pricing, features, and content. However, most of its content is for Indian demography. If you are a Cricket lover, Hotstar is the must-have app for you. However, its subscription package should be more flexible. There should be a free trial of at least 3-7 days so that subscribers can experience its feature and content before payment. Moreover, there should be an option of a monthly subscription also.