Sling TV is an on-demand and live video service offering videos from common sports, news, and entertainment channels. The video services are subscription-based; yet, Sling TV free trial provides a way to keep your money in your pocket and still enjoy hours of on-demand and live videos. Using this service, you will have access to the trending movies and hits without paying a single penny. Are you interested to know the Sling TV trial offer? Here is how you use it.
How to sign up for Sling TV free trial?
Sling TV is currently offering a 3-days free trial for new customers. After the end of the three days, you will be charged according to the plan you have subscribed to. The Sling TV free trial offer is available for Sling blue and orange plans but not available for Tivo Stream 4K service.
For the Sling TV sign up, follow these steps:
Time needed: 5 minutes
To subscribe with a credit or debit card, follow this step by step guide.
Open the website

Head to the Sling TV website here, click on the orange "Free for three days" button on the top left corner, or click on the "sign in here" button, and you will be directed to the sign-in page.

Create an account

New customers will need to set up an account by clicking "Check us out" option. Now, create your account but note that you must be 18+ to use Sling TV.

Select your plan.

Currently, there are the Sling blue, Sling orange, and the orange + blue plans. Each offers different channels. Select whatever method suits your taste, and scroll down to select the Add-on services as well.

Check out to start Sling TV Free Trial

Finally, you will have to fill in your payment information and hit Finish & Submit. Note that the Sling TV free trial lasts for three days only from your subscription date. So, you will need to cancel your subscription before it charges you when the free trial period is over.
Sling TV free trial duration
Sling TV has a one free trial option now that lasts for three days. Using this option, you will have access to content based on your selected plan and Add-ons. Note that Sling TV changes its trial periods constantly, the default one is seven days, but you may find a Sling TV free trial 30 days or 14 days according to when you sign up.
Sling TV 14 days trial
The Sling TV Free trial 14 days option is currently off. It may be retrieved in the future but in all cases, using this option is the same way you use the three days trial option.
Sling TV 3 days trial
It is an offer available now. You can find the button directing you to the offer on any page on the Sling TV website.

Sling TV Free Trial
Free Trial sign Up
Sling TV 30 days trial
The Sling TV free trial 30 days offer allows you to access several premium contents. Unfortunately, it is not always available, so you need to follow up.
Is there any way to sign up Sling TV free trial without a credit card?
Sling TV offers a separate service named Sling free. This service is available to anyone; even customers who are already on a subscription plan can downgrade to a Sling free. The best thing about the service is that it has no limits. You can stay a free user as long as you find the content you want on Sling Free.
To watch free content, launch the Sling free website, and click on "Watch Free Now." You will find many of the content available on other subscription-based plans free of charge and doesn't need any registration or subscription.


What are the features available during the trial?
For the trial offer, whether it is the Sling TV 14 days trial offer or three days or whatever offer available, you will enjoy the same features of your selected plan. Some of these available features are:
Multiple Streams – For the Sling blue plan, you have three streams at a time, whereas Sling orange is limited to one stream only. You have the option to buy an orange + blue Sling plan to enjoy four streams at the same time.
Compatible Devices – Watch your favorite channels on different devices, including Android and IOS devices, your PC or laptop, and even an Xbox gaming console. You can also use Apple TV, Amazon Fire TV, Chromecast, and Roku. We recommend using the Sling TV free trial Roku streaming as Sling supports the old and new Roku models with the most straightforward setup process possible.
Several Channels – At the very minimum, you will get access to 30+ channels with a Sling Orange subscription. Other plans will give access to 50+ channels. You can add extras as news or an extra comedypackage for additional 5 or 10 channels. All are available in the 3-days trial period.
Cloud DVR – Never miss any of your favorite movies or talk shows with the Cloud DVR service. You can record up to 10 hours of video for free with any of the available plans. If you choose to continue with a paid subscription, you may add a Cloud DVR plus to get 50 hours of recording monthly.
Payment
Sling TV accepts payment using a credit card or a PayPal account. In either way, you will have to provide full details before subscribing and using the free trial. After that, you will be charged unless you canceled your Sling TV subscription.
How to Cancel Sling TV free trial?
Sling TV allows you to cancel your subscription or switch your plan at any time easily. To use the Sling TV free trial cancel option, follow these simple steps:
Log in to your account and head to the My Account dashboard.
Click Cancel subscription and follow the instructions that appear on the screen.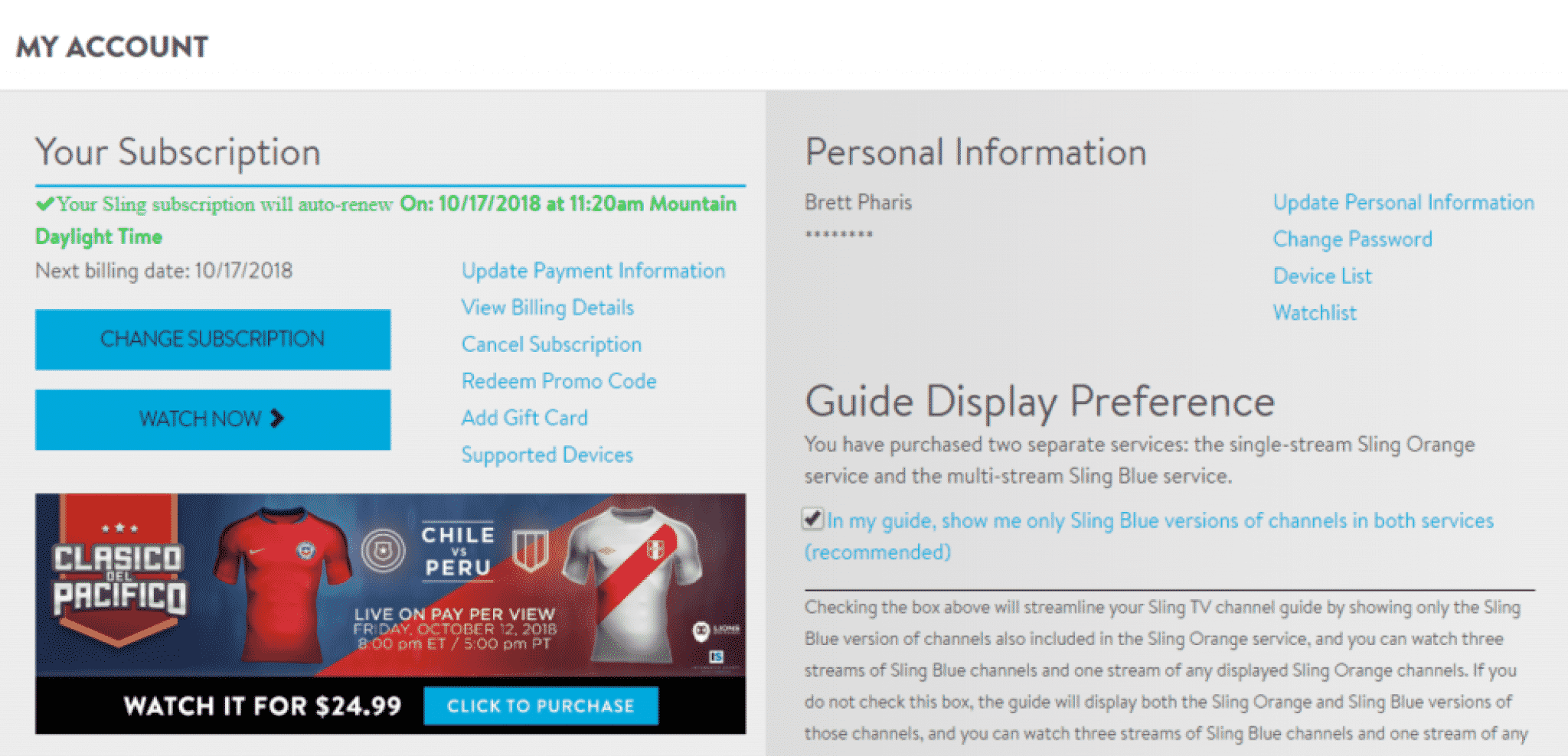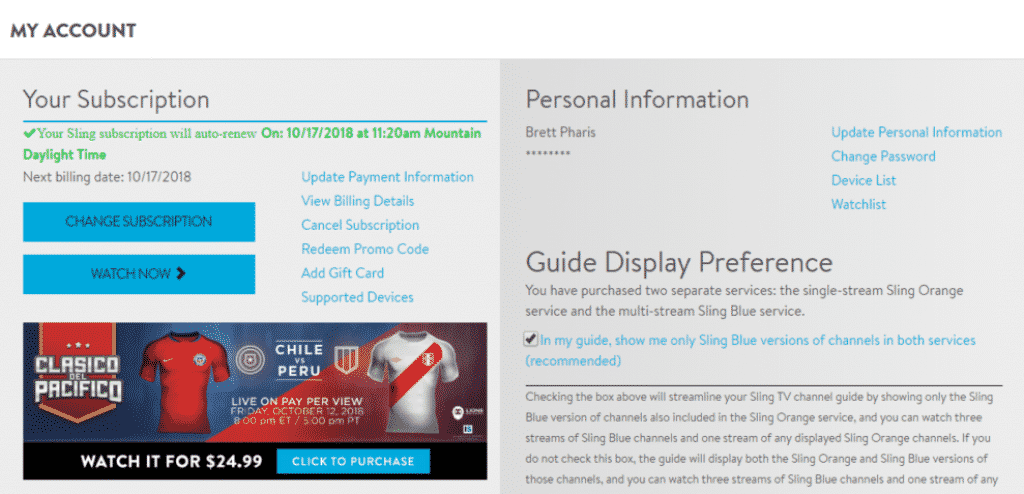 Your subscription is now canceled, and you will receive an email confirming the cancellation.
Note that you can always reach customer service or visit the help page if you have any cancellation process issues.
Also read
Sling international packages and offers
Sling TV is one of the best budget-friendly on-demand and live streaming video services with different content for everyone to choose from. Whether you opted for a trial or a paid subscription plan, you are saving money while enjoying many features.