Does leaving your dog alone at home while you are out for work make you feel bad? In order to make sure your dog is not getting bored, depressed, or destructive spending time alone, the DOGTV streaming service might be your perfect solution.
DOGTV is primarily developed for keeping your dogs entertained, active and focused. It is a solely dedicated channel to improve your dog's life in an engaging way. Their programs are all developed scientifically after years of research to meet the unique traits of a dog's vision and hearing senses. Other than helping and entertaining your dogs 24/7, this channel also helps dog owners to get a better understanding of their pets.
Continue reading to learn about DOGTV's cost of subscription, supporting devices, DOG TV review, and more!
DOGTV Subscription Plans
DOGTV had two subscription plans – A monthly subscription and an annual subscription. They also offer a 3-day free trial, after which the subscription prices are as follows:
The above costs are applicable if you subscribe through dogtv.com, Roku, Apple TV, iOS or Android, and Amazon Fire TV.
The DOGTV price will be $4.99 per month through Cox, Comcast Xfinity, DIRECTV, Dish, RCN, Sling TV, and Mediacom if you are a cable subscriber.
You can choose to try DOGTV for 3-days using their free trial plan. Your card will only be charged after your free trial expires.
Both the monthly and annual plans offer the same features, and the only difference between them is the price. If you choose a monthly subscription, you have to pay $9.99 every month. However, if you choose a yearly subscription, you have to pay $84.99 every year, which is only $6.99 per month.
The DOGTV channel is offering a 50% discount for a limited time, and you can get an annual subscription at just $59.99 per year or 4.99 per month. Unfortunately, there is no offer on the monthly subscription currently.
You do not enter a contract with DOGTV when you subscribe, which means that you can easily cancel your plan if you change your mind after subscribing. Note that the subscription will be renewed, and your card will be automatically debited until you cancel your subscription.
DOG TV Shows
DOGTV has three scientifically designed programs for dogs, and these three categories match with a dog's typical daily cycle and help them stay calm and focused. The 3 DOGTV shows are as follows: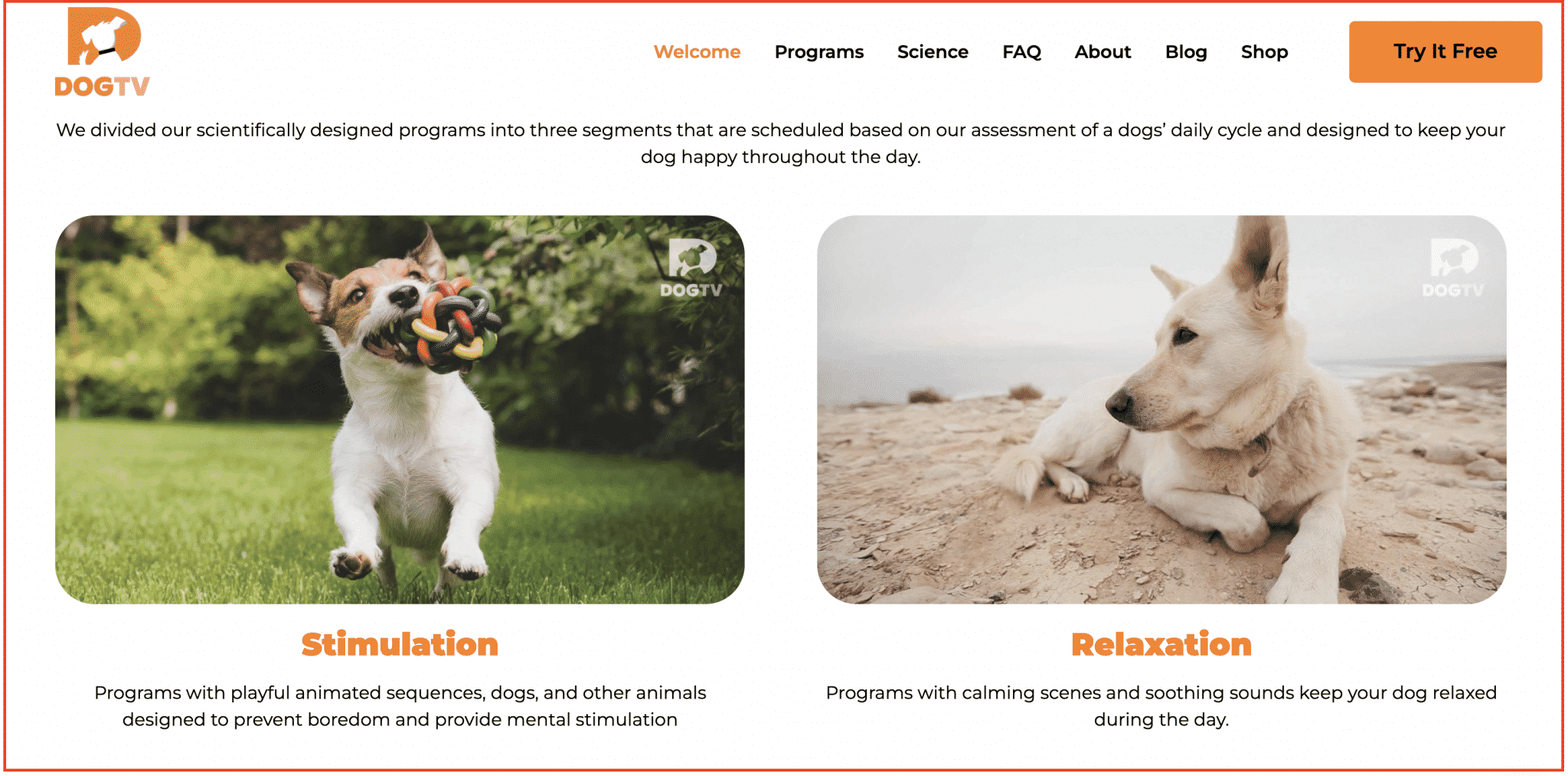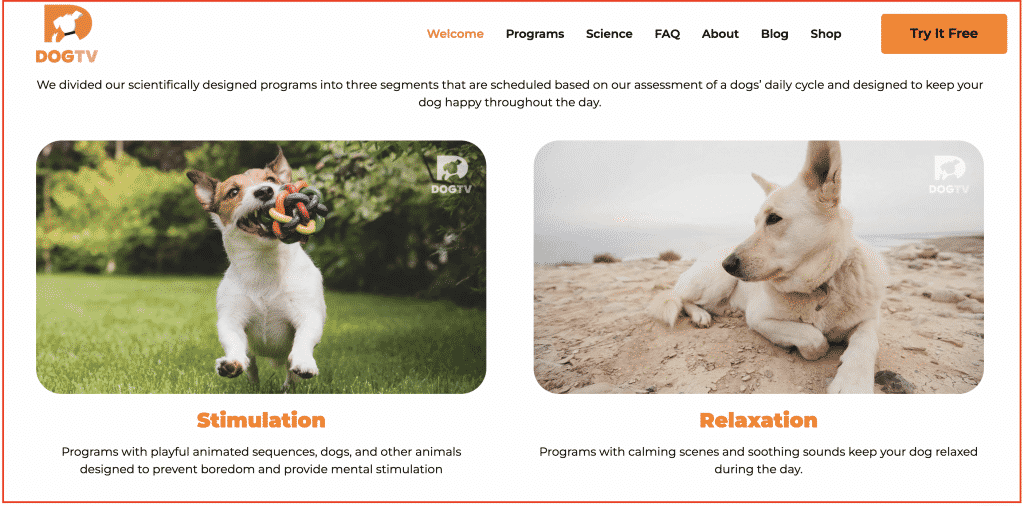 Relaxation – The content in this program is designed to help reduce your dogs' stress levels, help them relax, and keep them calm using scientifically researched music, visuals, and sounds. This can be especially useful if your dog has separation anxiety or if you leave your dog alone at home while you go out to work or run errands.
Stimulation – Stimulation is an essential activity for dogs, and it will help keep them occupied so that they don't get bored or have the time to express destructive behaviors. This is especially hard to achieve if your dog is left at home alone. DOGTV does this task for you! They use stimulating scenes that include or exclude other animals, animated sequences, and moving objects to ensure that the dogs pay attention. They use the correct frequencies and sounds that will help encourage your dog's playful behavior even though you are not present at home.
Exposure – DOGTV used sounds and visuals that are based on advanced veterinary science to help make your dog feel more comfortable in its surroundings. They do so by exposing your dog to various day-to-day stimuli.
DOGTV is dog parents and has hundreds of fun and entertaining programs like – The Dog Chef, Paws For Love, Road Dogs, The Adoption Show, Things We Woof About, and Meet The Breed.
Supporting devices
DOGTV supports almost all kinds of devices that are available out there. It is also accessible via cable TV connection.
The following are the compatible devices to watch DOGTV:
Desktop/mobile browser – Chrome
Roku
Apple TV
iOS devices
Android devices
Amazon Fire TV
XBOX ONE
The following are the online streaming and cable service providers that offer the DOGTV channel:
Cox
Comcast Xfinity
DIRECTV
Dish
RCN
Sling TV
Mediacom
DOG TV Review
Awesome
DOGTV is the biggest and most talked-about dog-friendly channel that operates 24 hours a day and seven days a week. It is available on many online streaming platforms and cable TV as well. In addition, they have apps for iOS and Android users, making the channel even more accessible to everyone worldwide. Your dog can now watch something that they comprehend and can watch and hear things instead of sitting on the couch next to you while you watch YouTube TV or a sports streaming service like ESPN Plus. The programs played on the channel are all scientifically designed and are dog-friendly. The saturation, brightness, contrast, music, and camera angles are adjusted in a way that fits your dog's abilities to see and hear things. Unlike 'human streaming services' like Sling TV, the subscription costs are pretty affordable. They offer two kinds of subscription plans – monthly and annual, and a 3-day free trial, which can be very useful for you to decide whether your dog would be interested in watching the channel. Of course, they always have great discounts for their customers as well.
Positive
Scientifically designed shows to suit your dog's hearing and vision needs
It helps to keep your dog calm and focused 24/7
Many fun and entertainment programs for dogs
Compatible with multiple devices, cable TV and streaming services
Affordable pricing
Negatives
Site functionality could have been better
FAQs
What channel is dog tv on DirecTV?
DirecTV users can access the Dog TV channel on channel No 562.
What channel is dog tv on the dish TV?
The dog TV channel is also available on Dish Network and can be watched on channel No 285.
How much dog tv on Xfinity?
Dog TV is available on Xfinity and it will cost you $4.99 a month.
What channel is dog tv on the spectrum?
Dog TV is currently not available on the spectrum.
How much is dog tv on directv
It will cost you $4.99 a month on DirecTV. There is no annual plan available on DirecTV.
What channel is dog tv on cox cable?
You can search Dog TV using a voice-controlled remote available with Cox cable.
Conclusion
Overall, DOGTV is a wonderful companion for your dog when they are at home alone. You can count on the channel to keep your dog occupied, reduce separation anxiety and even stimulate their minds while you are gone. The added advantage is the scientific research conducted by DOGTV before they set up the channel.
This scientific research enabled them to modify various factors like the contrast, sound, sharpness, etc., of the videos they are playing on their channel, helping your dog comprehend information shown on the channel better.